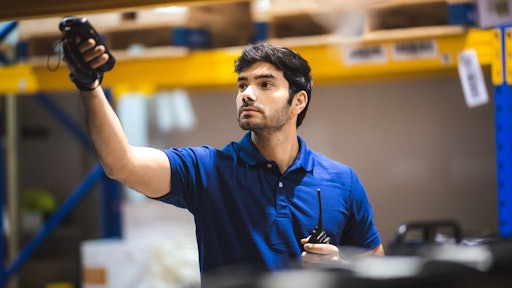 This content brought to you in partnership with Barcoding Inc.
As your tech stack grows in scale and complexity and internal and external stakeholders ask for more, your enterprise IT environment needs to improve. Best practices for asset monitoring, maintenance, and problem-solving all come down to one thing: data. Move your role as a supply chain, IT or logistics manager away from the ad-hoc order-taking that has happened in the past to a more proactive, architected approach that aligns everyone's goals, from top-down management to purchasing decision-makers and end users.
Operational intelligence comes not only from having a lot of data, but from having formatted, useable data. Vast volumes of data are available in real-time in most organizations today. The questions remain: Can you access the data and is there full visibility to everyone in the organization who needs it? The answer: Without the right inventory solution and IT asset management system, probably not.
Here are some tools and solutions that allow you to turn organizational paralysis into progress. Transitioning to a data-first organization isn't simple, but it is essential to evidence-based decision-making. As an IT, supply chain or operational support manager, you can put data to work for you.
1. Make data an asset of your entire organization
Too often data is viewed as a simple by-product of doing business. That discounts its true value as a rich resource to grow your business. Forming a working group within your organization will allow you to help prioritize which data to collect, how to standardize and manage it, and how to best deliver insights to users across the enterprise. As the old saying goes, "You can't manage what you don't measure." A cross-departmental committee can get the word out that data collection processes exist and help everyone understand why they matter. That leads to better data quality, consistency, and timeliness. It also means your users will get exactly the data they need to do their best work.
2. Create a data strategy
Your enterprise data strategy should start at the micro-planning level by recognizing what data is most important to individual users. Survey your colleagues and customers and have your working group peers do the same to find answers to the questions:
Who needs this information?
How will they use it?
What challenges or roadblocks might prevent them from being successful?
Then you can devise and implement the right systems to make the data accessible and ready to use when and where any customer needs it, in real time.
That means identifying where and how data is captured, ensuring that it's standardized and secured through the transformation and transmission processes and making it easy to access and use. Barcoding Inc., the leading provider of barcode asset tracking software since 1998, can do just that.
Barcoding's services work in tandem with the IntelliTrack asset tracking platform, which drives operational excellence around assets, contracts and inventory. IntelliTrack allows you to:
Consolidate RMA data

M

anage contracts and expirations

Track any brand of hardware in a single location
Centralize your data into a single repository for one source of truth
All of that creates supply chain visibility that improves productivity and reduces maintenance downtime.
3. Work smarter not harder using data
Your data customers shouldn't have to spend time trying to make the data useable. One of the biggest killers of a good data strategy is bad data output—raw, unformatted data that requires tedious manual processes that take significant time to manipulate. Data should be delivered as a ready-to-use resource, on-demand, personalized for their needs and organized for quick decision-making. Understanding the processes, tools, applications, automations, and objectives of users should inform your data management approaches.
4. Monitor and ensure compliance at every level
Global enterprises have complex, sometimes conflicting compliance requirements, particularly in light of the many and varied data and privacy regulations that exist country-to-country and in the U.S., state-to-state. What's more, many industries are now offering regulatory requirements and best practices, and, of particular concern, local governments are offering stricter rules around storage of their residents' personal data.
If you're new to data regulation, start by reading up on the EU's General Data Protection Regulations and California's Consumer Privacy Act. Remember: it's not just customers' personally identifiable information that matters; website visitors' information reported in aggregate and employees' data collected as a necessity of doing business needs to be protected. That means implementing proactive compliance measures and ensuring regular compliance updates. At its simplest, anyone working with your data should be familiar with proper handling techniques and your organization should have a data privacy compliance officer who can answer questions as they arise.
5. Automate as many tasks as possible
Manual processes are slow, error-prone and more likely to deviate from your protocols and best practices. Using automation wherever possible helps standardize collection and ensure enterprise-wide consistency. One such tool that many proactive supply chain managers utilize is RFID, or radio frequency identification technology, which automates asset tracking and reduces the need for employees to physically locate and count inventory. RFID supply chain solutions abound, and the keys to success with them are in the up-front tasks of planning and piloting.
Build data collection standards into every implementation and deployment of any new application, device, or other data source. While your IT department is responsible for monitoring data sources to prevent unanticipated changes that can have far-reaching consequences for users across the enterprise, everyone, including your supply chain and logistics teams, is responsible for enacting the standards set by IT and reporting any possible concerns to IT for swift resolution.
6. Implement data processes that help you grow, not hold you back
A data-as-enterprise-asset strategy means every new application, device, integration, and process is evaluated with consideration for its potential effects on data. That said, too often organizations get mired in the thick of establishing processes and never actually implement them and benefit from them! If you're a supply chain manager, you need data now that is right-sized to help your team grow and meet the changing environment and evolving responsibilities with which you've been tasked. That requires a consistently forward-looking approach with an eye on technologies and innovative applications and direct line of sight into what IT is doing and how it can benefit you. IT's job is to help ensure that the enterprise has the flexibility and agility to stay competitive well into the future. Your job is to ensure that their solutions help improve your supply chain.
7. Partner with the experts to go to places you never could have imagined
Here's a fact: Tech innovation and the rise of data are outpacing the growth of IT departments, and it rarely makes fiscal sense to field a full-time, in-house team of top-tier experts in every aspect of data management and integration. That's especially true when you consider the highly specialized needs of your organization's supply chain from end-to-end.
Yet at the same time, you need interdisciplinary expertise and significant industry experience. Looking for a partner you can trust can allow you to be nimble to these needs and bring in expertise on-demand.
A partner like Barcoding addresses data capture, tracking and digitization challenges of all sizes to innovate your supply chain—increasing revenue, reducing operational costs and improving customers' experiences. Barcoding can increase your supply chain visibility and make the difference in helping you meet your enterprise data objectives while protecting your budget.
One of the benefits of working with a partner is that their deep relationships become yours. Barcoding, for instance, has long-standing relationships with manufacturers and software providers that expand your team. Barcoding partner Honeywell has a suite of solutions that reduce your total cost of ownership and make the Internet of Things (IoT) accessible, critical assets in your day-to-day business operations.
8. Maximize your data assets for continued success
Legacy technology issues like silos, outdated management systems, and arbitrary data collection standards can create serious obstacles in your path toward data-driven supply chain operations.
But with the right asset management and inventory tracking tools, you can embrace a holistic approach to data, and fully integrate your enterprise system of systems.
This content brought to you in partnership with Barcoding Inc.