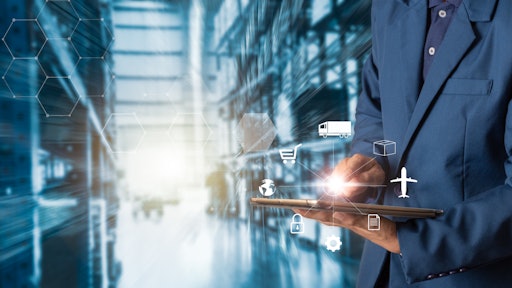 Getty Images
The Coronavirus disease (COVID-19) pandemic has been the ultimate test for global manufacturing and supply chains, from factory shutdowns and choked ports to inland transportation challenges, natural disasters and steel shortages.
Companies have hurdled challenges to keep customers supplied while making on-time deliveries. All supply chains contain four ingredients -- people, process, technology and information. Combine the right proportions of each and you create resiliency in an increasingly complex world.
People
The first priority to ensure the security of the supply chain is to protect the health and safety of people.
Trucking, in particular, has become one of the biggest challenges in U.S. supply chains because of a shortage of drivers and trucks. As a result, companies have struggled to find freight capacity while causing freight rates to spike.
Because drivers are essential, protecting them and other frontline associates means redefining facility operations on the fly. This equates to implementing new procedures and work schedules to minimize exposures and provide rapid response to situations that could potentially threaten your ability to service customers.
Having an installed asset base and solid stocking strategies, coupled with a robust transportation management system to match loads to capacity helps smooth out the rough edges of an imperfect supply chain to ensure continuity of operations. It also helps keep transportation costs in check and products moving efficiently.
Process
Risk is rarely an isolated, one-time incident. It's a cascade of multiple events. From the stockpiling of paper products and cleaning supplies at the beginning of the pandemic to semiconductor chip shortages to labor issues, many businesses have endured the equivalent of a lifetime of disruption in the past 18 months alone.
As businesses try to return to a normal state, the lessons learned from the pandemic bring about the opportunity to reassess and rethink their approach to risk in their supply chains. Risk mitigation is not just about "hardening" facilities by making sure there are enough generators in case of a hurricane or finding new places to store inventory. Proactive risk mitigation begins by looking at every step or action from source to customer.
Leverage advanced demand planning systems to monitor order patterns and flag deviations. This allows teams to have more control over complex supply chains in a very uncertain time and avoid unnecessary stockpiling. It's also best to expand your data analytics capabilities to harness the power of artificial intelligence and machine learning to gain continuous, real-time monitoring of the supply chain and market environment.
Technology
Companies are expanding their digital capabilities to help strengthen connections with suppliers and customers and drive innovation aligned to their changing needs.
An e-commerce platform creates a seamless experience for order status, invoicing, transaction history and safety and regulatory documentation. Customers also can track the real-time status of orders.
For suppliers, it's about helping them find, engage and retain customers through a new marketing-as-a-service platform.
Information
Accurate information is essential for reducing risks in the supply chain and maintaining business continuity. A growing number of businesses recognize the many potential benefits of enterprise resource planning (ERP) systems when it comes to managing business information in their supply chains.
ERP systems play a vital role in streamlining workflows and eliminating information silos that impede efficiency.
Experts predict the current supply chain disruptions will linger into next year. It's never too late to make the necessary investments in people, process, technology and information to enhance supply chain visibility and resilience.