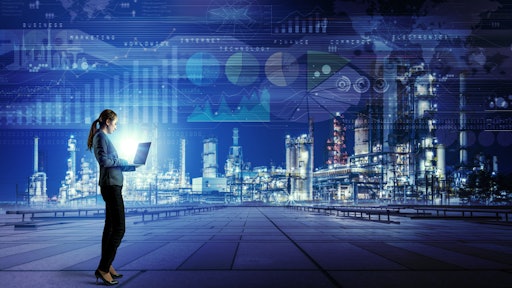 AdobeStock_182350781
Falling case rates and economy re-openings may be helping the world put the Coronavirus disease (COVID-19) in the rear-view mirror, but the way forward remains unclear, particularly for global supply chains. From the Fukushima Earthquake to the Hanjin bankruptcy and the computer chip shortage, history has taught us that supply chain disruption should be the expectation, not the exception.
McKinsey & Company's recent research into the cost of supply chain disruption found that over a 10-year period, firms may lose 42% of their annual profits due to disruptions. COVID-19 has once again demonstrated how destructive disruptions can be for supply chains. The ensuing factory stoppages, import restrictions and shifting supply channels led to shortfalls in food, household items and commodities. The shocks have reverberated for months and are still felt today in elevated commodity prices and freight rates. A recent study by GEP estimated the losses from COVID-19-related supply disruption to be more than $4 trillion.
As a result, the focus has shifted from just-in-time delivery and cost savings to flexibility and resiliency. Over the past year, supply chain resilience has become a board level topic. With Gartner reporting that 87% of supply chain professionals plan to invest in resilience in the next 2 years. An Everstream Analytics survey also revealed that 57% plan to implement proactive risk management within the next 12 months.
Yet supply chain resilience is not a blank check exercise. Resilience must be compatible with cost effectiveness. Resiliency is compatible with efficiency when it optimizes for cost effectiveness on an expected value basis, rather than unit costs assuming successful shipment. Decades of scrutiny on supply chain efficiency have addressed easy wins. Supply chain experts must dig deeper into the data to discern where resilience and cost effectiveness intersect.
Resilience optimized for cost effectiveness is value accretive enhancing long-term competitiveness. There are several ways to mitigate these disruptions, while maintaining or improving competitive position:
1. Reexamine the true costs of your supply chain structure and policy
Existing policies and strategies optimized solely for operating costs may be suboptimal when considering variability and disruptions. For instance, plant that lay dormant for two months due to unavailability of a SKU that was both small and inexpensive. Apply a standard policy limiting days inventory across all SKUs regardless of unit costs, storage costs and supply chain disruption considerations. Now the plant can adjust its policy to reflect holding and replacement costs.
2. Improve supply chain visibility
Businesses often know their direct suppliers well, but rarely have visibility into their full supply chain network. Disruptions that occur far upstream can ripple down and magnify challenges for downstream partners. Gaining a comprehensive view helps identify and mitigate inherent risks. Supply chain mapping and risk assessment tools are emerging to solve these issues.
3. Enhance supply chain flexibility
Economies of scale optimize on short-term costs but may introduce supply chain rigidity. For example, fixed warehouse arrangements are efficient with predictable, stable supply but inappropriate for the seasonal variability common for retail and e-commerce businesses.
4. Enhance mitigation strategies.
Data analytics that incorporate sensors, real-time data and machine learning can fine tune risk mitigation strategies and enable adjustments in dynamic, rapidly changing situations. Technology platforms provide procurement professionals with insight into supplier options with ongoing capacity to reduce vulnerability and exposure.
The market is responding to this opportunity. In the year following the onset of lockdowns (April 2020 through March 2021), supply chain technology companies raised $3.1 billion in early-stage venture deals (Seed to Series B). Many of these businesses combine new technology and business models to transform legacy supply chain operations.
Digitization and artificial intelligence (AI) are two horizontal technologies driving this transformation. As more processes digitize, it will become easier to create standards and make data-driven decisions. This shift will improve supply chain operations and velocity, while bolstering resilience. Optimizations developed today may mitigate future disruptions without sacrificing competitiveness.
Over the past year, COVID-19 has acted as a catalyst for re-evaluating supply chain strategies. In the long run, incorporating resiliency will yield cost savings. It will require short-term investment in the right tools and strategies, but it will enhance long-term competitive positions. A well-designed strategy will be accretive in both short- and long-term timelines. Technologies that support resiliency will become an integral part of building a modern, competitive supply chain.
Click here to hear more about to learn more about technology and resiliency in the supply chain: