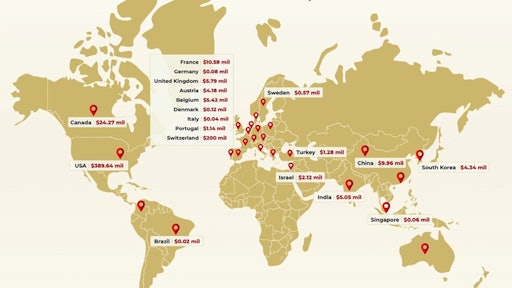 Distrelec
The $6.9 billion predictive maintenance market is projected to reach $28.2 billion by 2026, according to a report from Distrelec.
Just over a quarter of the total companies analyzed were found in Canada and the United States, with 23% of these being U.S.-based. They were also found to receive some of the largest investments, with total funding for U.S.-based companies standing at $389.64 million across 26 companies and $24.27 million for the four Canadian companies.
Meanwhile, 42% of companies were found across various corners of Europe, with countries like France, UK, and Belgium receiving sizeable investments, and Switzerland receiving a substantial investment of $200 million across just one company.
"The map shows significant adoption across Asia, particularly in China, India, and South Korea. Analysis showed five companies in China, nine Indian companies, and four South Korean companies, demonstrating the potential for market growth over the coming years," the report says. "Meanwhile, the analysis showed predictive maintenance companies to be in their infancy in Australia and South America."
From IoT Analytics:
· Germany totaled eight companies working with predictive maintenance across seven different cities.
· Data shows there are five companies in China working with predictive maintenance.
· Almost all companies adopting predictive maintenance have received some sort of funding for their solutions, something to keep in mind when Supply & Demand Chain Executive's new Top Tech Startup award opens.