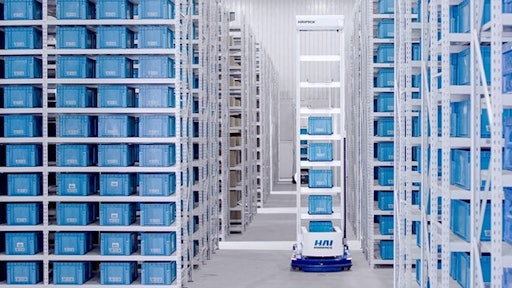 HAI Robotics
HAI ROBOTICS announced a Series B+ round of $15 million led by 5Y Capital, Source Code Capital and Walden International to fuel research and development, operational capabilities and business expansion for its autonomous case-handling robotic system (ACR system) for logistics and industrial automation.
"With an increasingly aging population worldwide, automation is the future of warehousing. However, many warehouses still haven't adopted automation technologies," says Richie Chen, founder and CEO of HAI ROBOTICS. "Many warehouse automation solutions fail to meet the requirements of customers, such as short construction time, low cost, high storage capacity and high efficiency, and HAI ROBOTICS helps to optimize these crucial requirements."
From HAI Robotics:
HAI Robotics developed the HAIPICK system, what is said to be the first ACR system that uses ACR to store and retrieve up to 8 cases at a time in tall, narrow storage aisles in 3PL, apparel, e-commerce, electronics, energy, manufacturing, pharmaceutical and other industries.