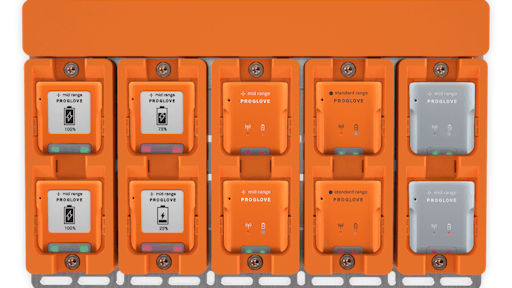 ProGlove
ProGlove announced the availability of its brand new 10-SlotCharging Station for its award-winning MARK family of wearable barcode scanners. This new ProGlove accessory allows users to reload ten MARK devices simultaneously and comes with multiple mounting options. It is compatible with all MARK devices so that users can now recharge all their ProGlove barcode scanners in one place. This latest ProGlove accessory complements the existing 2-slot charger and features a power supply unit with four attachment plugs (US, UK, EU, AU3).
Depending on the individual model, a ProGlove MARK scanner lasts for up to 10,000 scans per charge load. Typically, this number of scans will cover three eight-hour shifts in most work environments. When fully depleted, the wearable MARK scanner reloads in two hours or less; a thirty percent recharge generally takes thirty minutes or less. The number of devices recharging in the ProGlove accessory does not affect the charging process. The LEDs or e-ink display on the MARK barcode scanners provide status information pertaining to the current charge.
Accessory Facilitates Asset Management
The availability of ProGlove's latest accessory facilitates processes and asset management. This is especially true when compared to barcode scanners which require replaceable batteries. Most other wearable barcode scanners, such as ring-mounted scanners, are powered by removeable batteries which often do not hold a charge for more than two hours. This means batteries must be swapped up to four times per shift.
"ProGlove accessories, as the rest of our products, take a human-centered design approach", says Thomas Kirchner, co-founder at ProGlove. "Hence we refrain from rechargeable batteries because they increase complexity and the requirements for asset management and additional servicing. Rechargeable batteries certainly also raise the risk of potential damage because of the multiple swapping procedures per shift. But most importantly, they disrupt the workflow for the human worker. That is precisely what we want to avoid. Our objective is to supply a wearable barcode scanner that comes with maximum comfort, optimal efficiency, and easily takes the worker through an entire workday. We designed the ProGlove 10-Slot Charging Station to support that experience."
The new 10-Slot Charging Station is a welcomed addition to equipment stations for shops already well supplied with MARK wearable barcode scanners. Fewer outlets are needed as there are more charging slots per power supply. And as MARK integrates the rechargeable battery into the device thousands of uninterrupted scans per shift are possible with no additional supply of outboard batteries.
The new 10-Slot Charging Station is available for order now with delivery before end of October, just in time for businesses to ramp up for holiday season.