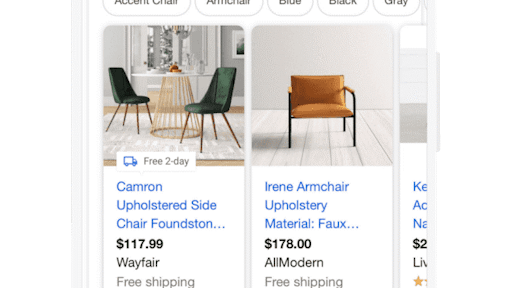 ware2go
Google has recently taken a deep-dive into behavioral research to understand what really drives the decision-making process for online shoppers. Their research clearly indicates that "The Power of Now" contributes significantly to a consumer's decision to purchase one product over another, confirming that speed of delivery is a major competitive differentiator for merchants jockeying for position in the marketplace.
Based on their findings, Google is incorporating some exciting innovations to their Smart Shopping campaigns to help influence consumer decisions and grow online sales for merchants enrolled in Google Shopping. Their recent announcement of a new Free & Fast annotation, which highlights products that can be delivered within 1-3 days, comes as an effort to shorten the time between the purchase trigger and a completed purchase with "The Power of Now" value proposition. Ware2Go is working closely with merchants to ensure that they meet all requirements for the Free & Fast program, allowing them to start leveraging this new feature quickly, easily, and at no additional cost.
This new integration between search ads and fulfillment is ground-breaking, given that most shoppers today will likely turn to Google to research a product before they ever make their way to an eCommerce site or online marketplace. Capturing consumers' attention in this first phase of their purchasing journey is an important marketing strategy in the new digital-first lifestyle adopted by most consumers. In fact, Google merchants enrolled in Free & Fast beta testing saw measurable improvements in revenue drivers including a 7% increase in conversions, a 10% increase in conversions per dollar, and a 9% increase in overall conversion rate. As the ongoing pandemic continues to drive consumer preference for online shopping and 1-2 day delivery, retailers have an opportunity to fully optimize their digital sales channels to drive consumer preference for their brand by enrolling in the Free & Fast program ahead of their competitors.
Integration Matters More Than Ever
Ware2Go's platform integrates seamlessly with Google to provide real-time inventory updates by warehouse location, allowing Google to automatically display the Free & Fast banner for eligible customers based on their zip code and inventory levels at the warehouse nearest to them. This way Ware2Go merchants never miss out on an opportunity to leverage their 1-2 day delivery footprint as a revenue driver and conversion tool. Additionally, Ware2Go's suite of supply chain tools enabling network and inventory optimization and demand forecasting are the perfect complement to Google's new enhancements to simultaneously keep sellers' fulfillment networks operating at optimal efficiency and elevate consumer awareness at the top of the sales funnel. This seamless, high-tech integration means that as Google works to promote a merchant's delivery promise to every eligible shopper, Ware2Go is working to enable merchants to make that promise to as many shoppers as possible. This symbiotic relationship creates a marketing powerhouse that allows merchants to fully capitalize on their distributed warehouse network and 2-day shipping guarantees.
Meaningful Partnerships Matter More Than Ever
Google has proven its commitment to retailers' success by implementing the Free & Fast enhancement to the Google Shopping experience. Their research-based and data-driven approach demonstrates their desire to drive real and measurable results for their merchants and an elevated shopping experience for their customers. Consumer demand for 1-2 day delivery is a proven and continuing revenue driver, and Google is not only allowing retailers to capitalize on this competitive advantage but is actively empowering them to improve their delivery speed by partnering with Ware2Go as an approved logistics provider. At the same time, bringing this high-value service offering to the forefront of Google ads will enhance the customer experience by highlighting brands that can satisfy their need for faster delivery. Merchants looking to compete in an increasingly crowded marketplace have a new opportunity to establish partnerships that will enable them to extend their 1-2 day delivery footprint and drive consumer preference for their brand. Ware2Go is pleased to collaborate with an eCommerce and marketing trailblazer like Google and is thrilled to offer this robust new integration to its merchants.