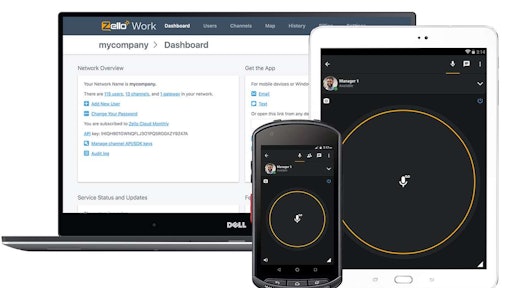 Zello
Zello, the leading provider of push-to-talk, live voice technology that connects 150 million users globally, today unveils a set of new features to address the communication and collaboration needs of transportation teams. Modeled after walkie talkies, Zello's push-to-talk app runs alongside dispatch software on both desktop and mobile, so transportation teams can communicate with the push of a button, connecting drivers directly to the first available dispatcher, without crowding channels with chatter from other conversations.
With a communication tool that's designed with drivers and dispatchers in mind, teams can work safely and focus on improving on-time delivery and turnaround rates. What's more, the feature-rich app lets users share photos, send text messages, track locations and trigger emergency alerts in critical situations. With this improved mode of communication, transportation teams are empowered to quickly resolve issues like truck breakdowns, locked customer gates, or unknown driver locations.
Zello is compatible with hands-free accessories for drivers to use safely on the road – no more distracted driving: with Zello, a single button push can connect you with dispatch. Live voice transmissions can be replayed when convenient and safe. Dispatchers can also track drivers' locations on a map and visualize breadcrumbs of past locations.
"From drivers to dispatchers to shift supervisors, transportation teams need the right communication tool for successful and efficient pickup and delivery," said Bill Moore, Zello CEO. "That's where Zello comes in. Transportation teams can use Zello to communicate live over their smart devices to solve problems, coordinate logistics and connect in emergencies."
From freight and LTL companies such as YRC Freight and New Penn, to couriers and limo services like Quicksilver Express, Crossroads Courier and Priority Dispatch, to package delivery and ambulance service companies such as A-Line Messenger Service, ComTrans, and Bud's Ambulance, many Zello customers choose to boost the efficiency and productivity of their workers with Zello Work, the company's solution for work teams and communities that offers instant and crystal-clear voice messaging, while also reducing operational friction and cutting IT costs.
"Zello has kept our drivers safer and compliant, while still enabling them to do their jobs," said Erica Magdelinskas, marketing manager for Chaney Enterprises. "I can't stress enough how important communicating with our drivers is to what we do. There are all kinds of issues that our drivers face on the road, whether it's traffic or road work or an accident. Or our customer changes their mind as far as exactly where they need the product to be delivered on the jobsite. Zello allows us to be very versatile while delivering our concrete and aggregates on time and in spec."
The desktop application for dispatchers adds commonly requested features to Zello. Now dispatchers automatically share the call load as driver requests enter a queue. That means faster response times, fewer missed calls, and more on-time deliveries. Dispatchers can now also access a history of the last 1,000 messages that are sent to and received from drivers, send broadcasts, and monitor drivers in real-time without having to continuously switch windows or manage multiple applications.