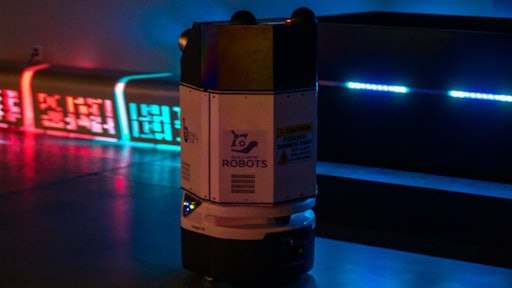 Build With Robots
Fetch Robotics, Build with Robots and the City Of Albuquerque announced the launch of the Breezy One disinfecting autonomous mobile robot (AMR).
Designed to protect employees and passengers from both harmful pathogens and cleaning agents, Breezy One can quickly, safely and effectively decontaminate spaces over 100,000 square feet in 1.5 hours with a patented, environmentally safe disinfectant. Breezy One was co-developed with the City of Albuquerque's Aviation Department, where it autonomously sanitizes the Sunport's facilities every night in the ongoing fight against COVID-19.
In response to the COVID-19 pandemic, many organizations have implemented routine sanitization procedures to eliminate traces of the novel coronavirus from public spaces. Disinfection is a time intensive task for spaces of any size, as every surface – from visible ones like door handles to less-visible areas like the undersides of seats and tables – has to be sanitized in order to fully eliminate the virus. These challenges are multiplied for large scale facilities, which require significantly more manpower and labor costs to sanitize, and which often expose employees to cleaning chemicals which can be harmful in their own right.
The Breezy One autonomous mobile robot is the first solution to offer efficient, hands-free, and safe sanitization specifically designed for large scale facilities. Breezy One can disinfect a 100,000 square-foot facility in 1.5 hours eliminating 99.9999% of viruses and bacteria. The disinfected space can be re-entered in as little as two hours with no harmful residue or risk to employees or passengers.
Co-developed with the City of Albuquerque's Aviation Department and built in the United States, Breezy One launched earlier this month and has been shown to effectively and safely sanitize the entire airport. The Build with Robots team is able to remotely change the robot's paths, schedules and frequencies as needs change, thanks to Fetch Robotics' cloud software and base robot.
"We are pleased to add Breezy One to our team to help keep the entire Sunport community safe. Our custodial staff is one of the best in the nation, and this is a welcomed addition to not only help with our new cleaning and sanitization procedures, but to keep them safe in the process," said Nyika Allen, Director of Aviation for the City of Albuquerque. "This is one of several measures we've put in place to welcome travelers back to the Sunport in a COVID-19 world. We want travelers to know that when they're ready, we're ready for them."
The Sunport is using Breezy One to conduct nightly sanitizing runs to ensure the airport is as clean and safe as possible for passengers and employees each day. The largest commercial airport in New Mexico, the Sunport currently has four Breezy Ones deployed for facility-wide disinfection. Thanks to Breezy One, the Sunport is able to protect custodial staff from tactile exposure to COVID-19 germs and harsh chemicals while also allowing them to focus on providing service and value across the airport rather than spending time on extra sanitization procedures.
"At Build With Robots, our mission is to bring safe, effective and scalable sanitization solutions to the places that will have the biggest impact on both visitor and employee safety," said Kimberly Corbitt, Build With Robots Chief Commercial Officer. "As the world's most effective autonomous disinfection robot, we are excited the Breezy One can be deployed to partners like the Sunport where it will keep visitors safe, while also protecting hard-working employees."
Throughout the design of the Breezy One, a key concern was selecting a disinfectant strong enough to eliminate harmful viruses and bacteria at scale while being safe for employees and passengers to re-enter in a timely manner. Most disinfecting robots either do not have the high rate of elimination of harmful pathogens or require up to 24 hours before entry back into the disinfected space.
"Airports are a heavily trafficked facility, and the Sunport is New Mexico's largest commercial airport. We have a duty to keep travelers and employees of the Sunport safe and healthy," said Albuquerque Mayor Tim Keller. "Breezy One and the disinfectant developed right here in Albuquerque are two critical pieces to aid in that very important task."
Breezy One's disinfectant was originally developed by Sandia National Laboratories for mitigation and decontamination of chemical and biological agents and is one of the strongest and most vetted disinfection agents commercially available. The EPA-registered disinfectant has been tested by nine government agencies and over 10 independent laboratories, is effective against viruses (including the novel coronavirus), bacteria and spores, and meets nationwide hospital requirements for pathogen disinfection.
"Now, more than ever, the top priority for any facility is to ensure the health and safety of employees and customers," said Melonee Wise, Fetch Robotics CEO. "Through our work with the Build with Robots team, we were able to move from product conception to commercial deployment in only three months, a timeline that reflects the urgency of the challenge and the world class team responsible for the robot itself."