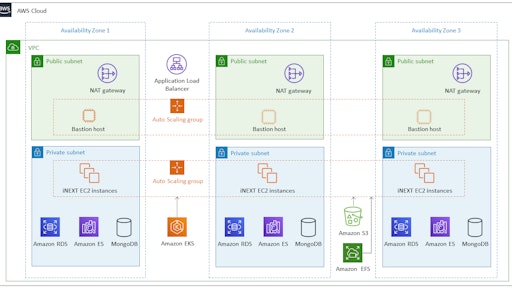 iBASEt
iBASEt has announced the availability of Solumina's Manufacturing Execution System (MES) solution as an Amazon Web Services (AWS) Quick Start application. This expanded distribution channel offers an ideal platform to further iBASEt's vision of how an MES is defined and delivered faster through an agile approach.
The importance of operating as a digital enterprise has never been so acute of a focus than it is today. As the world battles COVID-19, organizations are challenged to seamlessly integrate disparate operations, systems, and applications through digital ecosystems – those that are agile enough to ideally be operated and managed by remote workers. This strategy can improve efficiency and collaboration while unlocking new intelligence for improved, near real-time decision support, especially for organizations that are resource constrained.
iBASEt customers can keep their digital transformation programs on track by embracing AWS's proven global infrastructure, breadth, and depth of services. As one validation point, the AWS Quick Start can deploy iBASEt's Solumina MES on AWS in about 1.5–2 hours.
"Working closely with AWS is part of our strategic shift to better leverage the cloud and microservices to ease solution delivery, provide greater application support, and improve end user collaboration," said Naveen Poonian, CEO of iBASEt. "We are committed to investing in new technologies that can accelerate and support agile MES deployments and deliver faster value through proven ROI at a lower risk."