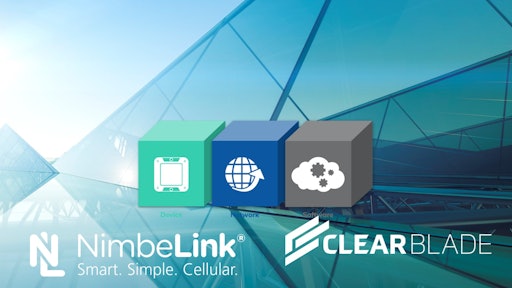 ClearBlade
ClearBlade and NimbeLink Corp announced a secure and scalable IoT edge solution aimed at simplifying the process required to track, monitor, and alert assets rapidly. The companies have been working together and have implemented an out of the box solution capable of rapid configuration in any industry, including transportation and logistics. The ready to use solution comes with full function asset monitoring, but with all the benefits of an open approach, giving customers choices of visualizations, custom rules, enterprise integrations, and 3rd party partner collaborations.
"Simplicity, convenience, and value economics are driving collective wins and providing value to our customers," said Eric Simone, CEO, ClearBlade. "Our opportunities with NimbeLink and their best of breed asset tracking sensors are huge, given the response we've received and the success of our integrated solutions.
NimbeLink's Asset Tracking Solutions are intelligent edge-to-enterprise offerings enabling organizations to track, protect and optimize assets, combining their award-winning asset tracking devices with highly configurable network connectivity, and software. This offering leverages ClearBlade's platform for provisioning, management, and maintenance, and together the companies deliver a robust, full-stack capability.
"With ClearBlade as our partner, we amplify our ability to provide a flexible, best of breed, end to end asset monitoring solution for clients seeking to improve situational awareness of their critical assets," said David Houghton, GM, Asset Tracking Solutions for NimbeLink. "After successful integrations and implementations with Fortune 500 companies in the rail and aviation industries, we are now making our combined offering available to the broader markets, with specific emphasis on large enterprises."
NimbeLink's family of Asset Trackers are ruggedized devices, operate indoors and out, and delivering industry leading battery performance. Each device is globally capable, highly configurable, and designed to support enterprise-level projects.
Benefits of the combined offering include:
Full Stack Capabilities, either integrated with existing enterprise systems or with a dedicated application and dashboard, depending on the goal
Opex Pricing Models – flexible and scalable, "by the drink" pricing is highly competitive to both direct clients and distribution channels
Use Case Diversity – a range of choices with a range of trackers, added sensors, and orchestration of the entire solution with robust configurability extended to the management application which can all be fully customized
ClearBlade's entire platform supports any combination of endpoints and works with all network protocols, providing important choices to buyers of NimbeLink's hardware and firmware. Together, the companies have put together an OEM "out of the box" solution making it possible for customers to buy a single tracker, pay by the month, get access to a customized ClearBlade Asset Monitor dashboard, and scale as growth demands.