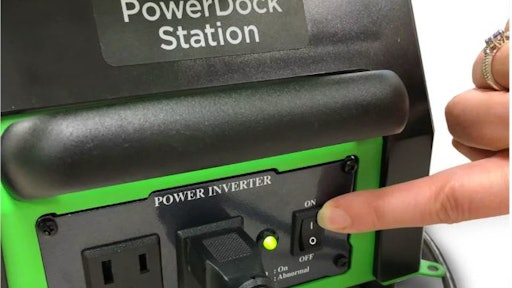 Newcastle Systems
Newcastle Systems, a leading provider of mobile-powered workplace solutions designed to make warehouses, manufacturing facilities and retail floors more efficient, announces the latest product in its PowerSwap Nucleus line, the PowerSwap Nucleus MINI Lithium Power System.
Designed to expand productivity into all spaces on the warehouse, production floor and other industrial environments, this rugged yet lightweight battery system provides quiet, seamless AC power for 4-8 hours at a time. Devised to mobilize and power smaller devices such as desktop barcode printers, laptops and tablets, the system can be mounted to existing picking and non-powered industrial carts or paired with Newcastle's EcoCart series Mobile Workstations.
Popular applications include raw materials receiving, quality testing and finished goods labeling for manufacturing, inbound labeling, inventory control/cycle counting, picking, outbound labeling and mobile supervision for warehouses and shelf labeling, inventory management and mobile point of sale for retailers.
With a 5- to 7-year battery life (or over 3,000 cycles), The PowerSwap Nucleus MINI offers an affordable and convenient alternative to costly cable drops or dangerous extension cords in warehouses and manufacturing facilities. Adding the PowerSwap Nucleus® MINI to a mobile workstation, or upgrading an old SLA battery system, will give customers even more ways to utilize mobile power in their facilities.
"We're extremely excited to announce the addition of the PowerSwap Nucleus MINI Lithium Battery System to our dynamic line of products," said Newcastle CEO John O'Kelly. "This light-weight battery system is competitively priced and will provide new customers with a more compact power option. It will also give existing customers the option to upgrade their older SLA battery systems to a swappable lithium system."
The PowerSwap Nucleus MINI Power System comes standard with 1-2 swappable lithium iron phosphate batteries, a PowerDock station with (2) AC outlets, and a stand-alone PowerCharge Station. The power output provides a continuous 120 watts and holds a charge for up to 8 hours depending on hardware. Once the battery charge is depleted, it can be easily swapped in seconds with a fully charged battery from the system's stand-alone charging station enabling a 24/7 operation. Batteries can be charged in about 2.5 hours.