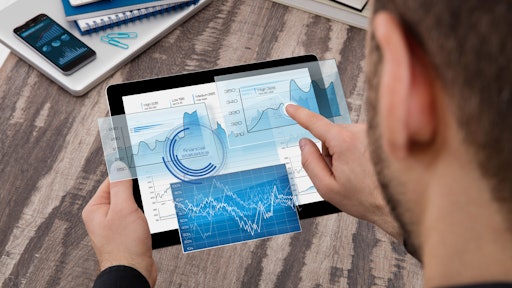 Getty Images
With the rise of zero-dollar commissions at custodians and low cost robo-advisors, the financial industry—and Financial Advisors—are at a competitive disadvantage to artificial intelligence. By 2030, an estimated 80% of heritage financial services companies will go out of business, struggle for relevance, fail to use technology to change their business model, or become commoditized. Real Intelligence LLC is warning Financial Planners of this potential outcome plagued by technology enhancements, like robo-advisors. Real Intelligence, however, is executing a real-time solution that provides a patented dynamic mapping system in conjunction with human effort.
"Thirty percent of advisors will exit the business in three to five years," predicts Jeff Mount, president of Real Intelligence. "It's imperative that the financial industry pivot its business model to align with new age tech."
It is forecasted that "robo-advisors" will manage around $4.6 trillion of consumer money by 2022, with more than 200 robo-advisor companies currently active in the US alone. Yet, the financial landscape is ignoring and bashing the rise of 'robo-advisors,' who are set to replace conventional advisors and take client orders, according to Mount. With the rise of AI, Mount says financial advisors need to swim upstream and target "middle-class millionaires" who have assets of $750,000 and up.
According to Mount, small investors and accounts will move to robo-advisors, because evidence shows they do not take financial consultants seriously. Mount emphasizes that middle-class millionaires, however, will want to ultimately work with a human being. This is because they often have sufficient funds at risk and will be prompted to only work with qualified, real financial advisors.
"The real catalyst for change needs to be an acknowledgement that the financial services industry has undergone a massive technology upgrade," says Mount.
A deep dive into the world of a Real Intelligence solution—Dynamic Mapping and the Essential Family Office—will help financial advisors overcome the competitive challenges of artificial intelligence.
Real Intelligence says it's focused on changing the Financial Planning paradigm in the United States. Their Dynamic Mapping system will include an intense training program that will prepare human advisors who are up to the challenge of overcoming the real barrier of becoming obsolete with AI. Dynamic Mapping helps advisors build that 'perfect' book of business, which is usually defined as serving one hundred clients who each have over one million dollars in assets to be managed. To further reach more financial advisors, Mount has also established a world tour, city by city to allow for a full, comprehensive two-day training, online program. This course will require a high grade before advisors can be Dynamic Mapping certified.
Established financial providers will have to move faster on the newest technology by building digital platforms or finding niche products and services to sell on others' platforms.
"An industry influx is wreaking havoc on Financial Advisors who operate by the status quo," Mount states. "The key here is to not focus on new rivals, but improve the value of their financial products to their customers."
In the age of AI, financial advisors, money managers and wealth management, firms must realize that the industry has completely changed. Between zero commissions on stock sales, EFTs at custodians, mutual funds being reduced in price due to competition and robo-advisors gaining acceptance, FAs must embrace and modify the evolving digital services technology to stay relevant.