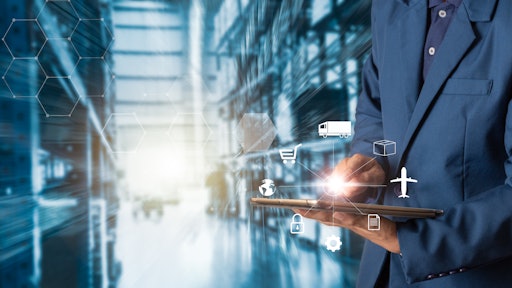 Getty Images
Technology is transforming the supply chain and logistics space and professionals are rapidly trying to adapt to the change.
In a report released by Coyote Logistics found that there needs to be a balance of 60% technology and 40% human expertise in order to optimally manage supply chains.
"At Coyote, we know that the supply chain of the future requires a blend of both technology and human support – not one or the other," says Christina Bottis, Chief Marketing Officer, Coyote Logistics. "As an authority in the logistics industry and a leading developer of innovative supply chain solutions, we are uniquely positioned to offer the expertise needed to enable shippers and carriers to leverage this optimal balance between human and technology capabilities. The data from Tech + Humanity provides insight into how we can best equip them with tools and resources they need as their businesses evolve."
The survey explores perceptions from shippers and carriers about the evolution toward a more digital world, shedding a light on how technology and human expertise can work together in the supply chain.
Striking a Balance
To better understand how shippers and carriers can strengthen efficiencies in the supply chain, Tech + Humanity analyzed tasks that are best suited for human expertise, which functions can be optimized with technology and which require a combination of both.
The results demonstrate that human expertise is still needed in creative, decision-making and strategic-thinking tasks. However, for automation, shippers and carriers found that it is best positioned to strengthen operational functions, such as managing inventory and booking shipments.
Still, there are several opportunities to incorporate technology to the supply chain. However, respondents did not identify any functions that are best served only by tech. Instead, shippers and carriers advocated for a 60:40 mix of technology and human expertise in supply chain tasks.
"The best results happen when technology and humans are all working together, as we focus on keeping up with the changing demands of the market and consumer. Neither can exist in a silo," Bottis said. "Technology provides visibility and data that's critical to building a supply chain strategy, while human expertise is the key to unlocking the real value of the tools, synthesizing data into actionable supply chain initiatives and making the best strategic decisions for the business."
What This Means for Shippers and Carriers
To achieve the ideal blend of technology and human support, shippers and carriers should begin by evaluating their current supply chains to identify which tasks technology can handle, and which are best left for human engagement. From there, supply chain professionals should investigate opportunities to increase efficiency and identify gaps in the business that technology or skilled talent can fulfill.