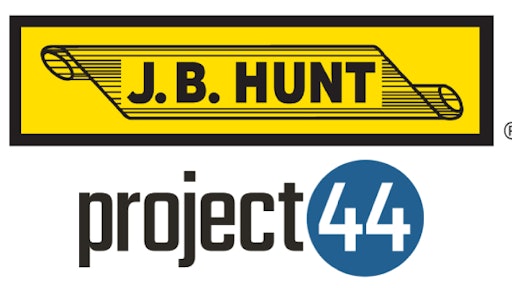 Project44 and J.B. Hunt Transport Services are teaming up for a technology collaboration to advance visibility into J.B. Hunt 360, a proprietary marketplace that connects shippers and carriers using data to match freight with capacity. The partnership with allow shippers to have real-time access to shipment information regardless of carrier, while also removing the need for multiple carrier data integrations.
"The challenges our customers are facing today require greater visibility into their transportation network," says Shelley Simpson, executive vice president and chief commercial officer of J.B. Hunt in a statement. "By integrating project44 technology within J.B. Hunt 360, customers can view and manage multi-carrier freight from a single platform, helping them streamline operations and meet their supply chain goals."
The collaboration is focused on expanding its technology platforms capabilities and services for J.B. Hunt 360. last year, the company announced a five-year $500 million investment focused on creating disruptive technology and enhancing operating systems and infrastructure. With the agreement, the company is committed to developing innovative solutions that cater to customers' digital supply chain needs.
Project44's advanced visibility technology will enable shippers and third-party logistics providers to have proactive updates on ETAs and delivery exceptions. The company will also be able to improve their operational efficiency by shortening wait times, improve utilization of warehouse and yard resources while reducing their need for safety stock.
Since the companies started collaborating, project44 has been committed to exploring new and innovative ways for the companies to work together to improve efficiency of its North American transportation network.
Companies in this article