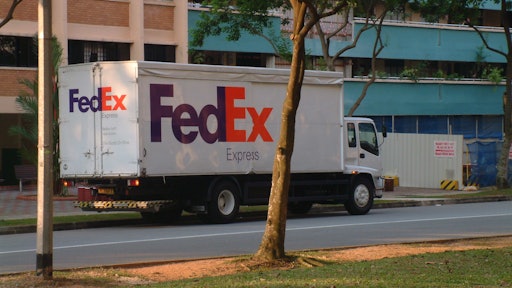 FedEx took a big step toward the advancement of blockchain technologies in the supply chain space this week. The logistics provider was among 14 companies to join Hyperledger, an open source collaborative effort created to advance cross-industry blockchain technologies, on Wednesday.
"We believe that blockchain has big implications in supply chain, transportation and logistics," says Kevin Humphries, senior vice president, IT, FedEx Services. "We are excited for the opportunity to collaborate with the Hyperledger community as we continue to explore the applications and help set the standards for wide-scale blockchain adoption in our industry and others."
Hyperledger is a multi-project, multi-stakeholder effort that includes 10 business blockchain and distributed ledger technologies. Hyperledger enables its global community of more than 270 organizations to build robust, industry-specific applications, platforms and hardware systems to support their individual business transactions by creating enterprise-grade, open source distributed ledger frameworks and code bases. The latest general members to join the community are: BetaBlocks, Blockchain Educators, Cardstack, Constellation Labs, Elemential Labs, FedEx, Honeywell International Inc., KoreConX, Northstar Venture Technologies, Peer Ledger, Syncsort and Wanchain.
"Our community ranges from technology giants and industry leaders to start-ups, service providers and academics," notes Brian Behlendorf, executive director, Hyperledger. "We are gaining traction around the world in market segments from finance to healthcare and government to logistics. This growth and diversity is a signal of the increasing recognition of the strategic value of enterprise blockchain and commitment to the adoption and development of open source frameworks to drive new business models."
Companies in this article