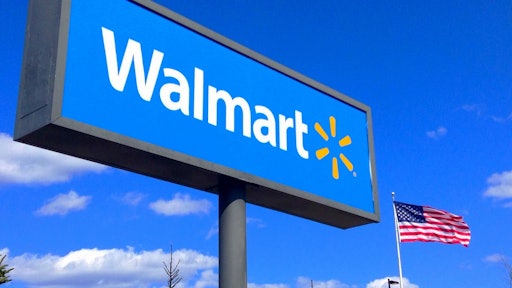 Walmart applied for a patent that details managing smart appliances through blockchain technology, CoinDesk reports.
The application outlines systems and methods for managing smart appliances, with users employing a device, whether it is wearable, that maintains the private key used to authorize a transaction. According to CoinDesk, an example used in the patent was a kiosk for receiving packages from delivery drones saying, "a user may obtain a kiosk and add the newly obtained kiosk to the distributed ledger structure utilizing their smart device to provision and/or authorize the kiosk. In one example, the users device may be a wearable device that maintains the private key used to authorize the transaction. The kiosk may sync with the user device and be automatically provisioned as a home delivery station and added as a device in the distributed ledger management system."
CoinDesk reports that the technology will allow users to customize levels of access and control for the kiosk, including the ability to accept or decline a package or create and order an item.
The patent details that the blockchain server will be able to manage more smart appliances with the support of an IoT ecosystem. It also suggests that the technology will be used to build up a smart home environment.
Walmart has been a champion for blockchain technology. Recently, the retailer has applied for numerous blockchain-powered systems.