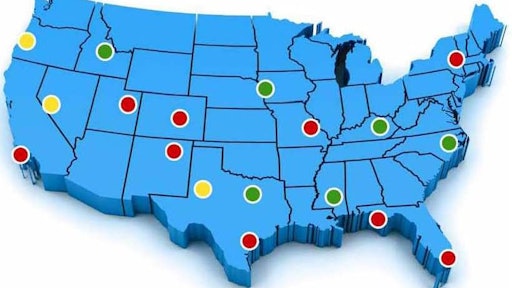 Woodcliff Lake, N.J.—Sept. 18, 2012—I.D. Systems Inc., a provider of wireless solutions for tracking and managing high-value enterprise assets, now offers I.D. Systems Analytics to provide new, deeper insights into the performance of industrial vehicles in manufacturing and distribution facilities. I.D. Systems Analytics is a set of software tools that gives executives and facility managers a single, integrated view of historical asset activity across multiple locations, generating site-to-site comparisons and enterprise-wide benchmarks of material handling operations.
"I.D. Systems Analytics represents an entirely new way to evaluate and improve the performance of industrial vehicles," said Michael Ehrman, Chief Technology Officer, I.D. Systems. "We have drawn on our deep reservoir of vertical industry information to drive insights into asset activity, improve the speed and quality of business decisions, and shed light on the outcomes of those decisions. The key to unlocking this value is understanding—on an enterprise scale—how assets are performing in comparison to each other, the type of facility in which they operate, and their industry overall."
I.D. Systems Analytics provides holistic visibility and analysis of enterprise-wide industrial vehicle activity, enabling management to make more informed, effective decisions, raise asset performance standards, increase productivity, reduce costs and enhance safety.
Specifically, I.D. Systems Analytics:
Quantifies best-practice enterprise benchmarks for industrial vehicle utilization and safety
Reveals variations and inefficiencies in material handling activity across both sites and geographic regions
Identifies opportunities to eliminate or reallocate vehicles, with full enterprise awareness, to reduce capital and operating costs
Helps balance vehicle mix and informs decisions on rentals vs. leases vs. capital purchases
Uncovers activity trends over time to forecast material handling asset requirements
Enables performance comparisons to broad, industry specific benchmarks
"I.D. Systems Analytics is a game-changer for any large enterprise with extensive material handling operations," said Brett Kilpatrick, Executive Vice President of Global Sales, I.D. Systems. "It will help both facility and executive management, regardless of technical skill level, uncover and analyze information with tremendous value. For such a powerful tool, I.D. Systems Analytics is remarkably easy to use. It delivers truly self-service business intelligence to your desktop."
I.D. Systems offers three different analytics licenses: the Basic license sends reports to users automatically; the Standard license provides a comprehensive suite of interactive dashboards; and the Professional license enables advanced users, such as database administrators and analytical industrial engineers, to customize data extracts and presentations. In addition, the solution features 18 primary, pre-built dashboards based on more than 80 key performance indicators. Users can click through the dashboards for progressively deeper data details. The data can be delivered to mobile devices as well as computers.
"From the executive's standpoint—always looking for new ways to streamline operations and generate a greater return on investment from corporate assets—I am confident that I.D. Systems Analytics will drive significant value for our customers," said Jeffrey Jagid, Chairman and Chief Executive Officer, I.D. Systems. "It provides a unique bird's eye view of industrial vehicles across the enterprise to optimize asset utilization, challenge or validate industrial engineering standards, drive productivity increases, reduce costs, and improve safety practices."
I.D. Systems Analytics joins a family of solutions for controlling, tracking and managing industrial vehicles and the people who operate them. Industrial vehicles include all classes of lift trucks, pallet jacks, tow tractors, and other material handling equipment.