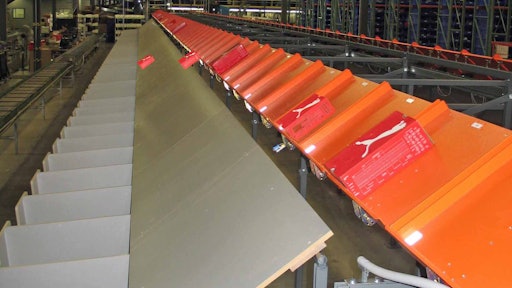 Carlstadt, N.J.—July 31, 2012—W&H Systems Inc., a full-service integrator of conveyor and material handling systems, introduced a high-speed, tilted-tray Reliable Sorting Unit (RSU) to help retailers, wholesalers and distributors increase throughput and productivity. The RSU Tray Sorter provides a durable, low-cost, and accurate method of sorting a wide range of products. The RSU also enables unique system configurations that match specific application needs; and requires a low upfront investment and minimal annual maintenance costs.
"W&H Systems' RSU Tray Sorter is designed to quickly and gently deliver merchandise to shipping cartons or pack-out stations in the most accurate and reliable way," said John Niemeyer, Marketing & Sales Coordinator, W&H Systems Inc. "Some of our clients have tripled their throughput and reduced labor costs in excess of 50 percent."
The RSU Sorter features tilted carrying trays traveling on an enclosed track conveyor. Items are inducted onto the trays either manually or automatically, then conveyed to their destination. To improve productivity, trays are presented to the induction area in a horizontal position and later tilted for sortation. At the pre-defined sort points, doors open on the carrying trays to gently discharge the product. Items gently slide from the trays to their proper chute or directly into their shipping carton.
The Standard RSU model has a maximum speed of 120 feet per minute and can handle up to 5,320 trays per hour per induction area. The RSU high speed (RSUHS) can process up to 8,640 trays per hour. Multiple induction areas can be added to increase system throughput for both RSU models. Custom trays are available to hold a variety of product sizes and shapes.
Clients use the W&H Systems RSU Sorter to sort small to medium-sized cartons; totes; polybags, envelopes; and individual items such as flat apparel; accessories; footwear; books; CDs; pharmaceuticals; direct mail; auto parts; and linens.