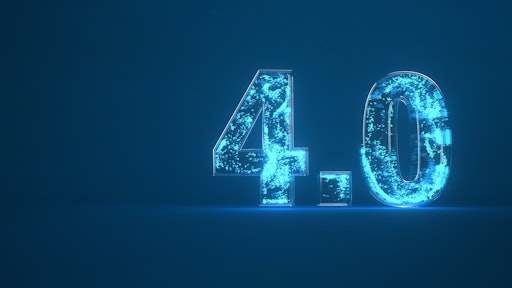 alexanderlimbach/adobe.stock.com
The Fourth Industrial Revolution is upon us. It addresses many challenges and mitigates risks facing all manufacturers today while creating new ways to generate revenue and win. Simply put, Industry 4.0 marries the best practices of traditional manufacturing and the technological world.
It makes use of smart equipment and automation that can analyze, monitor, self-diagnose and communicate ― with other machines and human coworkers. With evolving and complex supply chain needs and ever-rising pressures on price, quality and delivery lead times, the transition to an Industry 4.0 environment surely is accelerating.
To transition smoothly into Industry 4.0, a manufacturer must assess its current state of digital maturity and put in place a long-term Industry 4.0 road map with return on investment (ROI) in mind. A manufacturer's digital maturity goes far beyond simply deploying new technology by aligning the company's overall strategy with people, processes and technology to meet the expectations of both customers and employees.
How to Make the Transition
These six tips will help ensure a successful Industry 4.0 transformation for your business:
1. ROI first: Always start with the business case
How do you measure success? It's essential to tie digital transformation directly to business profit and loss. Measured improvements in uptime and asset utilization, reduction in scrap and rework and overall improvement in labor productivity ― all translate to hard-dollar savings for your business. To achieve long-term, sustainable impact, manufacturers must make financial impact and ROI the epicenter of their transformation.
2. Get connected: Real-time data is the foundation
Are you collecting real-time data from your plant floor? Computerization and connectivity (i.e., Industry 3.0) are prerequisites for Industry 4.0 and a digital strategy. Manufacturing datafication forms the foundation for continuous improvement efforts and allows actionable decision-making ― the right data for the right person at the right time. With the business case in mind, select the key data streams, automate the data acquisition and create your manufacturing data lake.
3. Track metrics: True visibility to improve performance
If it cannot be measured in real time, it cannot be improved in real time. Nothing can replace real-time data to drive real-time actionable metrics and overall visibility on the plant floor and throughout the enterprise. Indeed, shop floor productivity represents only the tip of the iceberg. Digital plant metrics, such as overall equipment effectiveness (OEE), will uncover the hidden potential of an operation. Real-time data provides a true and unquestionable measure of the OEE score as follows:
Utilization (uptime): How long has a machine produced?
Performance: How fast has a machine produced?
Quality: How well has a machine produced?
4. Execute from the shop floor to the top floor
Adopt the principles of manufacturing operations management (MOM) to extend and integrate your shop floor (machine data) to your top floor (business systems, such as ERP), covering production, quality, traceability and maintenance activities.
Production: Consider finite-capacity scheduling, job tracking and labor tracking.
Quality: Monitor process data and track quality parameters for statistical process control and capability analysis.
Traceability: Use data for part traceability and birth certificates from the raw material to the end product.
Maintenance: Manage spare parts and preventive maintenance schedules, as well as work instructions for machine repairs, to optimize maintenance schedules.
5. Predict and prescribe with AI: Drive toward zero downtime and zero defects
One minute of unplanned downtime and a fraction of unwanted scrap can yield tens of thousands of dollars in losses for any manufacturer. Tapping into a connected data lake and implementing predictive analytics using AI and machine learning tools will take the guesswork out of production and maintenance planning, replacing it with accurate predictions that allow for a more worry-free manufacturing process. By leveraging AI tools, you can transform your maintenance activities from a "fail and fix" to a "predict and prescribe" approach and transform your quality operations to "first part correct".
6. Connected workers: Empower your operators with augmented reality
Industrial and digital transformation is not just about smart, connected factories and machines. It's also about the connected worker. Use intuitive, human-machine interfaces that maximize the user experience and overall usability and ergonomics. More recent connected-worker technologies, such as wearables, will employ augmented reality and support operators and workers in performing tasks precisely and in a safer manner. This improves productivity and quality and assists workers with vital training and remote assistance for many production applications, such as maintenance and complex assemblies.
Think Big, Start Small, Scale Fast, Act Now
Global competition is forcing manufacturers ― large and small ― to establish Industry 4.0 strategies with an ROI-based mindset. The best strategy: Start small in relatively mature areas of the business, bring those areas to scale and then advance to more cutting-edge initiatives. Assess digital readiness and work to standardize and mature operations in a phased and systematic approach.
It all starts with plant floor connectivity, creating a data lake of information captured in real time for assets and machines, new or old. Then, using the data captured to drive performance and predictive analytics to realize a zero-downtime/zero-defect future state of manufacturing.
At the end of the day, the digital transformation is fundamentally about aligning people, processes and technology. Embark on your Industry 4.0 journey today, making the strategy and journey operational with proven technology pilots and a business case backing. Implement the transformation and track success. Then, replicate that best practice template out to other plants and processes. Train an internal center of excellence that can shoulder the strategy and technology conversation and execute the vision.
Maintain a zero-downtime/zero-defect vision for the manufacturing operation and leverage technologies in an ROI-based fashion to drive value to end customers and users.