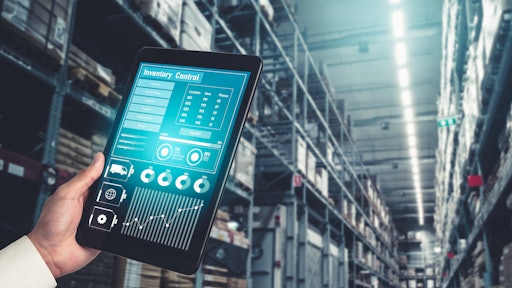 BluePlanetStudio/stock.adobe.com
The COVID-19 pandemic created supply-chain bottlenecks that have had a long-lasting ripple effect on the distribution of raw materials, the production of finished goods and manufacturing schedules across numerous industries. Since emerging from that period, it's become a challenge to ensure that supplies arrive reliably at their intended locations in the same timeframe for which you had planned pre-COVID. Additionally, in the semiconductor industry, a new public policy, the CHIPS and Science Act, is impacting everything from the distribution of raw materials to the construction of new fab space. The CHIPS Act directs an estimated $280 billion in spending over the next 10 years, with $3 billion slated for programs aimed at leading-edge technology and wireless supply chains.
Meeting inventory challenges requires optimizing the flow of information. The faster you obtain information, the faster you can provide it to your decision-makers to factor into their inventory-management decision-making. This means identifying and including new details they may not have had to contend with previously. For example, the cost of a 40-foot container on the Drewry World Container Index between March and June 2023 has been relatively stable, at between $1,680 and $1,859, but this is a vastly different decision-making environment than one year ago, when the price was $8,152 for the same 40-foot container, or in September 2021, when the price peaked at $10,361. While it's obvious that supply chains require diversification, deciding when and where to source from is a more complex decision than ever before.
The value of cutting-edge technologies like artificial intelligence (AI) and real-time modeling is in their ability to connect you to what is important so you can efficiently manage all aspects of your supply chain. These technologies afford three primary, overlapping benefits:
Autonomous functioning
Improved efficiencies
"Light-speed" action
Autonomy
In a traditional supply operation, receiving the wrong shipment or quantity may mean halting the workflow process to allow for human intervention and decision-making to determine whether the error must be addressed immediately. With AI, you can train the model to examine the shipment, make this assessment autonomously and quickly identify an appropriate workflow queue. This decreases exception processing time, which in turn saves you money in inventory overhead and uptime. When your inventory is in the right place, you can focus on your business's core competencies.
Efficiency
Channeling incoming information into an agnostic data platform provides the flexibility to handle data from virtually any source, including micro-insights such as anecdotal customer feedback or macro-insights like social media sentiment. AI can sift through and aggregate thousands of incoming data points, leveraging machine learning to feed the information into a real-time data model that then routes the data to decision-makers. This enables just-in-time order placement and multi-scenario forecasting to ensure continuous improvement. Building out of an established data model also allows for relatively instant benefits in both forecast planning and inventory-management analytics.
Light-speed Action
AI takes all the labor-intensive processes in the supply chain and simplifies them. You can use a widget to check on the ETA of a shipment and automatically feed it back to the database. This streamlines the flow of communication with your vendors, eliminating the need for repetitive emails checking on minutiae and allowing you to concentrate on more impactful interactions. With properly trained AI and a well-built data model, the vendor quote process – typically managed by an individual buyer and three to five emails per part per quote – evolves from a five-minute process to a touchless bid-ask marketplace that consolidates quotes by price and quoted lead time, all in less than 30 seconds.
A huge market opportunity exists for using advanced data modeling in managing inventory. But while businesses are interested in using AI, determining the best approach can be daunting. Moreover, because there are many different models for forecasting, breadth of experience and diversity of data make the difference when selecting an inventory-management partner. Ideally, you want to work with a company that has created a smooth, well-operating approach that can be easily implemented to meet your needs.
In a traditional supply-chain operation, which exposes manufacturers to the risk of inventory under-utilization or even obsolescence, working with AI or real-time modeling takes a predictive, strategic approach to inventory management, offering a comprehensive suite of services designed to streamline inventory operations and improve overall supply-chain performance. By leveraging cutting-edge technology and industry best practices, DSV helps businesses gain better visibility into their inventory, which allows them to reduce costs and increase customer satisfaction.
Unexpected challenges are guaranteed to arise – a strike, a port blockage, a facility fire or some other hurdle. To prevent interruptions in inventory movement or delivery, it's vital to have plans in place to work around these unforeseen events by monitoring and determining how best to prepare for them.
When selecting a company to handle inventory management for your business, it's important to look at its service models. A partner that offers a mix of procurement consulting and a more comprehensive, customizable VMI model – one that leverages AI to predict and navigate around disruptions – will add infinite flexibility to your business. Implementing a modern, AI-optimized inventory-management solution will enable you to anticipate potential disruptions, optimize processes and make data-driven decisions to generate uninterrupted revenue operations.