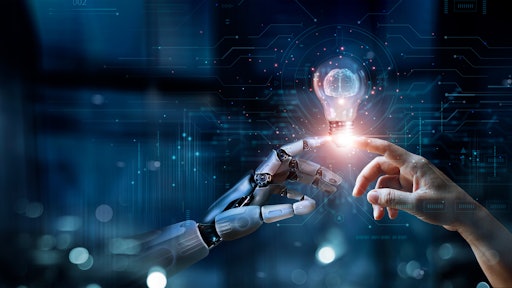 ipopba/stock.adobe.com
The last few years have been anything but an easy ride for the industry with multiple headwinds slowing growth, from rising costs and ongoing labor shortages to rapidly evolving consumer demands and logistics delays to name a few. Added to that is the mounting pressure to make measurable progress towards sustainability and become digital-first.
However, as organizations in the supply chain sector get ready to accelerate their digital capabilities, so too will they improve their ability to navigate both existing challenges and new ones that will inevitably emerge. Those looking to prepare for further uncertain times ahead are focusing their efforts this year on adapting to adversity through technology solutions across their operations, like adopting autonomous mobile robots (AMRs) in the warehouse and ramping up data capabilities to drive end-to-end efficiencies.
But with such a diverse range of technologies to choose from, growing complexity and new developments arising constantly, how can organizations prioritize investments strategically?
Here are four key digital initiatives to look out for that are set to make an impact:
Omnichannel logistics will become the norm
With ecommerce continuing to boom and social commerce also on the rise, the ability to synchronize inventory, logistics and distribution across sales channels on a single platform will be essential to meeting customer demand. This unified omnichannel approach is key to growing logistics businesses as they unlock the ability to distribute orders from multiple channels.
Many have been slow to adopt this approach in the past, with a 2022 report by 3PL Central revealing that only 22% of 3PLs surveyed offered omnichannel fulfillment back in 2021, despite 92% of this group acknowledging that it grew their order volume. Fast forward to today and other businesses are following suit in recognition of the rewards on offer.
What's more, in ramping up their omnichannel efforts, organizations will also make strides towards overcoming long-standing issues with legacy systems and poor inventory visibility as they will have to focus on accelerating digitization to make it easier to share data internally and with partners. As part of this, we'll see a growing adoption of smarter hybrid order picking strategies and real-time process management to realize greater efficiencies.
Reverse logistics and returns management will step up a gear
Handling complaints, returns and reverse flow management smoothly is not only vital for customer satisfaction, but cost optimization too, and many organizations will advance their capabilities to stay competitive. In fact, the expense of reverse logistics currently amounts to a staggering $100 billion each year in the United States alone – a figure that shows no sign of diminishing in difficult economic times.
To cope with rising cost pressures without compromising service, businesses will increasingly seek out smart ways of leveraging predictive data and AI to become more proactive in their operations. It's estimated by Gartner that half of supply chain organizations will have invested in AI and advanced analytics by next year. These tools will be used for forecasting while also enabling a more efficient supply chain. With insight-driven decision making, organizations will have the means to prevent delays and deliver a more consistent, satisfying customer experience.
While having AI embedded into applications is already a reality for many, the key challenge going forward will be managing the growing complexity that comes with it. But as additional data sources are added and complications around proprietary data arise, we're likely to see new companies stepping in to solve these reverse logistics issues.
The growth of leaner, greener
processes
Digital tools have a huge role to play in supporting more sustainable supply chains – not just from an environmental perspective, but also in terms of fueling economic sustainability. As supply chain organizations accelerate digitalization even at the most basic level, they will edge closer to greener operations.
For example, technology and data management will not only drive more productive and sustainable warehousing by digitalizing paper processes (such as operating paperless dock systems), but they will also have a part to play in supporting the effective reuse of material handling equipment. The transition to a circular economy will also gain traction, where technology investments pave the way for reverse flows that collect packaging, used products and parts, as well as to improve the returns process.
Robo-mobility
will alleviate labor shortages
An uptick in leveraging automation will also come as a result of the need to combat a continued labor gap and build a reliable supply chain. With this progression, material flow management will transform as more companies adopt autonomous mobile robots (AMRs) that can adapt to changes in the warehouse environment and shifting process patterns. Deployed to augment the human workforce, these robots are also much quicker to implement and more cost-effective than traditional automation systems such as conveyor sortation.
The roadmap for 2023 and beyond
A survey by CNBC uncovered that confidence levels are low in reaching an end to disruption, as more than half of the logistics managers said they do not expect the supply chain to return to normal until 2024 or after. What is clear, however, is that organizations are homing in on efforts to build flexible, dynamic operations to strengthen their resilience. With digital capabilities such as real-time data processing and analytics at the heart of their operational strategies and an agile approach to transformation, supply chain business will be in the best position to take hurdles in their stride.