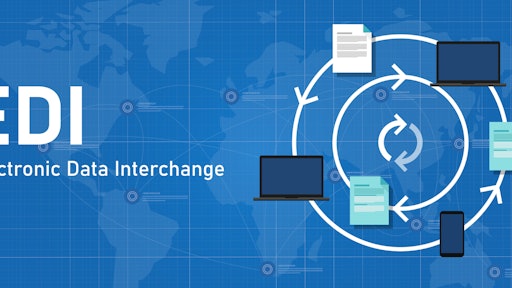 bakhtiarzein AdobeStock_420180075
Electronic data interchange (EDI) is the lifeblood of digital commerce in today's supply chain, as it plays a critical role in helping organizations achieve agility and efficiency in exchanging information that enables the monitoring of service level agreements (SLAs) with partners.
However, each retailer and wholesaler has varying versions of EDI documents, creating a complex landscape that makes it hard to meet compliance requirements and lead to costly fines and mistakes. For example, in analyzing how much EDI integration failures caused non-compliance in 2020, 66% of organizations said their companies lost up to $500K in 2020.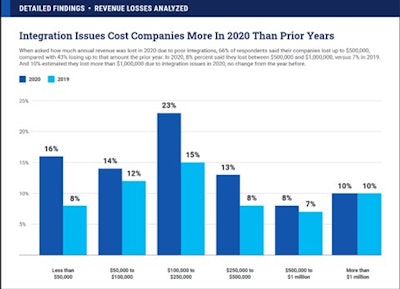 EDI optimization facilitates SLA compliance
SLAs are unique contracts that codify the mutual expectations in a business partner relationship – defining metrics by which service is measured and spelling out penalties for under-performance. EDI exchanges facilitate the transfer of information that proves whether an SLA has been met.
In today's digital-first ecosystems, SLAs are expected in manufacturing, logistics and wholesale distribution, as well as downstream retail settings. In manufacturing, for instance, an SLA defines the level of service expected by a customer from its supplier. In logistics and transportation, it is an agreement between a logistics service supplier and their client.
It's important to realize that SLAs are living documents that call for regular tracking from all parties involved to ensure terms are being met along the way. It sets out the expectations for routine compliance and outlines costs associated with failure to meet specific KPIs. SLA compliance mistakes and chargebacks occur when a company misses the agreed upon terms.
From customers to trading partners, companies must use EDI to enable the many transactions that move throughout their environment. Onboarding a new trading partner also means there needs to be a clear understanding of the expectations that an enterprise needs to meet or risk penalties. Companies that are unable to keep up with demand and fail to complete accurate transactions are also going to be faced with violating their SLAs.
Failure to meet SLAs has a negative impact on an organization in multiple ways. For starters, it's going to cost them customers and trading partners who will simply go to a competitor who is able to keep up their end of the deal. Secondly, a company's reputation can take a hit when word gets around they cannot meet customer and trading partner expectations. Finally, many large retailers and marketplaces impose significant financial penalties if SLAs are not me.
The reality is companies are not equipped from a process and technological resource standpoint to effectively monitor and manage each SLA. The sheer volume of transactions in motion on a regular basis can also create an issue for organizations without the resources to actively create and oversee each SLA from beginning to end, creating a potential pitfall for organizations to fall into non-compliance territory throughout multiple contracts.
For example, when companies for one reason or another fail to upgrade their EDI solutions, they are much more likely to not meet SLAs or deadlines for implementing new trading partner requirements, including advanced shipping notification (ASN) updates. Common ASN compliance fines result from issues such as:
1. Non-existent ASN. An ASN was not issued, meaning the vendor is unaware of an order's location and shipping timeline.
2. Missing issuing timeframes. ASNs have timing requirements for when they should be sent out (i.e. some retailers require an ASN be sent out within 30 minutes of the product being shipped out for delivery). And if those time frames are missed, it can result in fines.
3. Inaccurate ASN. Each ASN provides critical information, inaccurate information will invertedly lead to delivery issues and missing products, as well as compliance fines.
4. Not meeting ASN coding standards. The ASN may include all the needed and correct information, but it may be coded wrong, or the information may be in the wrong order, preventing the receiving party's system from being able to process it.
5. Incomplete ASN. If the ASN is missing information, it can lead to compliance fines.
Ecosystem integration for SLA supply chain success
As organizations move into the two busiest quarters of the year, EDI automation technology that facilitates ecosystem integration and enables organizations to monitor activity across all SLAs will be essential to achieve supply chain success and avoid costly mistakes.
Ecosystem integration is an advanced, business-process-driven approach to connect and integrate the core revenue producing business processes between a company and its ecosystem partners. Ecosystem integration has emerged as both a business discipline and a new software category – because it helps companies quickly build automated processes that can respond dynamically and intelligently to market disruptions.
The goal of EDI-driven supply chain management is for companies to meet SLAs with all their trading partners. As a result, companies who have modernized their EDI solutions and created a technologically integrated environment will rest easy knowing their SLAs will be met, and they can continue to scale and maintain business continuity. Keep in mind this modernized technological environment should allow for active SLA monitoring and for the organization to set up customized alert notification rules to proactively address any risks that may appear throughout the process.
Avoiding costly supply chain mistakes
Having better supply chain agility and control – plus getting potentially cost-saving alerts that help identify and act on at-risk SLAs before they are missed – makes companies confident in their ability to meet partner requirements and scale their ecosystems. A modernized EDI environment offers plenty of benefits, but perhaps the most important is that it is a more reliable way to conduct business within a digital ecosystem and avoid costly supply chain mistakes.