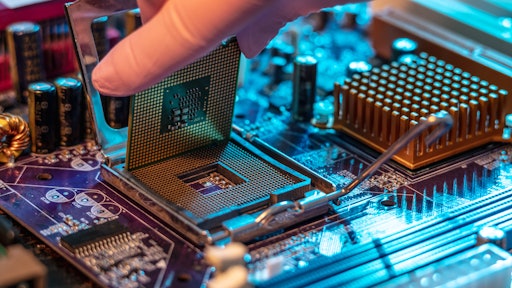 Artem AdobeStock_423257572.
While previous industrial revolutions relied on developments in steam machines, electricity and telecommunications, the Fourth Industrial Revolution is powered by big data, advanced manufacturing techniques, cloud computing, machine learning and artificial intelligence. As the fourth industrial revolution has risen, so too has the notion of Quality 4.0, a term recently coined to refer to the shifts in performance excellence in today's age of digital transformation.
The new moniker recognizes we are living and working in mankind's Fourth Industrial Revolution, where quality standards are being transformed by technology. For example, in today's e-commerce marketplace, consumers don't just return a product when the quality doesn't match their standards; they also publish reviews online. In the Quality 4.0 landscape, businesses must adopt a new approach to managing quality control programs.
Harnessing the power of data
Data features prominently in Quality 4.0, particularly when it comes to the quick collection of large amounts data and efficient processing. Today's best practices in quality rely on data, with technology innovating processing methods and enabling new ways of accessing information about production and distribution.
To be successful in Quality 4.0 implementation, brands must make data central to all decision-making. In traditional models, quality control managers must rely on information that is out-of-date and obsolete almost as soon as it arrives. To complicate matters even further, managers in traditional models are never certain of the accuracy of that data. With suppliers collecting data with pen and paper measurement, too much room is left for human error. Not only is traditional data collection slow and imprecise, the data is not easily accessible on the backend – making a complete, accurate picture of quality control nearly impossible to achieve.
More than one-third (37%) of organizations report poor metrics as the main obstacle in the way of achieving quality objectives, according to a recent survey conducted by LNS Research. However, Quality 4.0 puts technology to work for managers and empowers inspectors on the ground in factories to make accurate observations efficiently. Furthermore, inspectors can provide these insights to quality control managers in real time. Notably, new quality management technology lets brands select and enact standardized metrics for each individual product. Thus, with the help of such technology, brands can customize quality standards to align with their product lines specifically.
Click here to hear more about data in the supply chain:
Fostering stronger connections between brands and suppliers
Importantly, Quality 4.0 makes communication and connection easier. As brands with global supply chains have learned during the Coronavirus disease (COVID-19) pandemic, situations and circumstances can change quickly. Products available today may come into short supply tomorrow and transportation delays could trigger a domino effect on the value chain. Therefore, it's vital decision-makers have good information about their suppliers. This way, they can pivot as necessary and shift to other suppliers if a disruption is to occur.
As an example, the apparel industry, when compared to electronics, is late to the game in adopting Quality 4.0 processes to manage quality programs. In most shipment orders, quality control inspections occur once a garment is manufactured. Defects are only addressed after the fact, making it difficult to identify where in the manufacturing process they appeared. This potentially wastes time and exhausts other resources, especially if defects are the result of problems happening early on in the manufacturing process.
Quality is crucial in manufacturing and supply chain managements. Not only does each defective product represent a loss of time and materials in that one item, but companies also run the risk of ruining their reputation when poorly made products go to market. In the long run, poor quality is expensive with returns and rework generating extra costs and bad customer reviews sinking sales.
With Quality 4.0 practices, brands can use data-driven quality control to generate real-time feedback and take a proactive approach to quality. In the long term, this creates a new framework for supplier relations and allows brands to sustain stronger relationships. Owing to transparency, trust and teamwork, the relationship transcends the typical vendor contract. This puts brands in a better position to build partnerships with suppliers they can grow alongside with, now and well into the future.
Putting Quality 4.0 to work
There are three key steps brands can take when embarking on the Quality 4.0 journey.
1. The first step in implementing Quality 4.0 is to identify an appropriate quality management system (QMS) partner, selecting a program that fits the size of the current business but allows for scalability. Ideally, a QMS is strong on two levels. First, the technology should be stable, intuitive and backed by tech support attuned with the brand's global supply chain. Second, the partner should know sourcing practices deeply and practically. This means they know what quality practices look like in real world factories, with real world products being made by actual people.
2. Training is one of the most important pillars for implementing Quality 4.0 practices. Before putting QMS technology place, brands should prioritize workshops and educational programs for employees and supplier partners. Much of the training is cultural, with Quality 4.0's main strength being the dissolution of barriers between management and factory workers on the ground. In a recent study published by Forbes, 88% of consumers stated that they expect the companies they purchase from will have ethical and environmental standards matching their own. By prioritizing training, brands can help proliferate their best practices and values across their supply chains.
3. In the final step, brands must commit to putting Quality 4.0 across the entire length of the supply chain. Defective products are so expensive that, as explained by TotalRetail, one return of a $50 pair of shoes could offset the profit made from as many as three successful sales.
Adopting a QMS to thrive in Quality 4.0
A robust, modern QMS enables brands to leverage the advances of Quality 4.0. The Fourth Industrial Revolution is inspired by interconnectedness and seamless integration. On this note, a strong Quality 4.0 QMS produces clean, clear reports from technologically-assisted inspection results. The system then transmits these reports to management in real-time. The true secret to the power of Quality 4.0 is the accuracy of that data and management's ability to use it – quickly and accurately – for analysis, problem-solving and strategic planning. If a brand's QMS doesn't provide standardized yet customizable metrics and reporting, they're sorely missing out on everything Quality 4.0 has to offer.
Though the conduit for launching Quality 4.0 is in technology, success is still ultimately in the hands of people. High-standard QMS providers include training as part of an overall package. Brands should select QMS providers offering robust on-boarding as well as sustained training to address upgrades in technology, emerging conditions in the market and changes in business needs.
In a survey published by Boston Consulting Group, 74% of respondents reported Quality 4.0 developments will most greatly benefit manufacturers. Nearly two-thirds of respondents stated Quality 4.0 initiatives will have a significant impact on their businesses within five years. Despite recognizing these benefits, only 16% of respondents reported their companies have begun implementing such initiatives.
The Quality 4.0 adoption gap offers an incredible competitive advantage opportunity for businesses who are ready to make the leap. Partnering with a QMS provider can jumpstart a business's modernization efforts and put them on track to thrive in Quality 4.0.