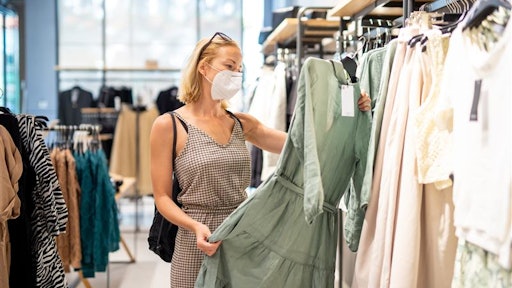 kasto - adobe stock
The effects of the Coronavirus disease (COVID-19) pandemic continue to disrupt supply chains across the world, and as we enter the busy holiday shopping season, the disruption is only expected to get worse. While many retailers have already launched holiday shopping deals in hopes of avoiding shipping bottlenecks, holiday shoppers are being advised to prepare for the strong possibility of delays in receiving online orders as well as inventory shortages for certain products.
While there was a sharp spike in e-commerce shopping in 2020, this trend may shift due to this year's shipping issues. For example, consumers may find it easier to shop in store at their local shopping centers and leave with all their holiday gifts in hand on the same day, as opposed to shopping online and dealing with the possibility of gifts not arriving in time for the holidays.
Now more than ever, it's critical for retailers to understand and strengthen their supply chains in order to keep their businesses operating smoothly and meet their customers' expectations. Location intelligence is a valuable tool that can help retailers enhance their supply chains during this holiday season and beyond.
What is location intelligence and how can it improve supply chain management?
Location intelligence provides insight into global movement patterns in the physical world. By leveraging location intelligence, businesses can gain a deeper understanding of market trends, consumer behaviors, foot traffic patterns, manufacturing activity, logistics operations and more. This knowledge is invaluable when companies need to make critical business decisions.
With the actionable insights derived from location intelligence, businesses can increase efficiency, transparency and flexibility within their supply chains. Here are ways location intelligence can help retailers improve their supply chains.
Consumer interests
A key part of a company's supply chain management is understanding what consumers are interested in. Retailers can use location intelligence to discover consumer interests by looking at the other types of places their customers often visit (e.g., sport stadiums, concert venues, gyms, etc.). Because consumer interests vary greatly between each city, state and region, being able to examine the interests of consumers based on their location is extremely valuable to retailers, especially those that have multiple locations across the country and need to adapt their inventory to meet the needs of various customer bases. For example, if a clothing retailer's customers in a particular city frequently visit gyms, the retailer would infer that these consumers would likely be interested in athletic clothing, shoes and accessories. The retailer could then adapt its supply chain plan to ensure these types of products are sold at this location.
Store traffic
Retailers can also use location intelligence to determine which regions, cities or even individual stores are seeing increases or decreases in foot traffic. By analyzing this data, retailers can learn more about consumer demand during various shopping seasons throughout the year. For instance, foot traffic data could indicate to a retailer that its customers in certain areas are doing their holiday shopping earlier or later than customers in other regions. This information could help the retailer adjust its supply chain strategy accordingly.
Inventory management
By pairing location intelligence with data from inventory management software, supply chain managers can get an end-to-end picture of their supply chain, including which store locations are seeing movement in certain products. For example, if a retailer sees that a particular product is being purchased at a high rate at one store compared to others during the holiday shopping season, then they could quickly pivot their inventory management strategy to ship a higher quantity of that product to the busier store, instead of sending that product to stores that may not need the additional inventory. They could also check if the supplier of this item has been seeing any sharp increases or decreases in shipment activity to better understand delivery risks. As a result, a retailer would be able to increase sales of the product while minimizing excess inventory as well.
Risk management
Location intelligence can enrich the analytics gathered from supply chain management tools and give companies more visibility into their logistics operations. As a result, businesses can better manage risks and proactively address disruptions in their supply chains. For instance, if location analytics showed a sudden decrease in foot traffic at a retailer's warehouse, this would indicate to the retailer that there might be an issue that could impact its supply chain, such as severe weather, labor shortages, or another disruptive event. Being able to recognize and address issues quickly can help make all the difference in preventing delays and keeping a supply chain moving.
Location intelligence can help retailers enhance their supply chains
As the pandemic continues to impact supply chains around the world, and as consumer trends and behaviors fluctuate during this time, it is important for retailers to increase efficiency, transparency, and flexibility within their supply chains. Location intelligence is a powerful tool that retailers can utilize to accomplish this. With location analytics, retailers can learn more about their customers' interests, analyze store traffic, improve inventory management, mitigate risks and more. The insights gained from location intelligence can help retailers better manage their supply chains throughout the busy holiday shopping season and year-round.