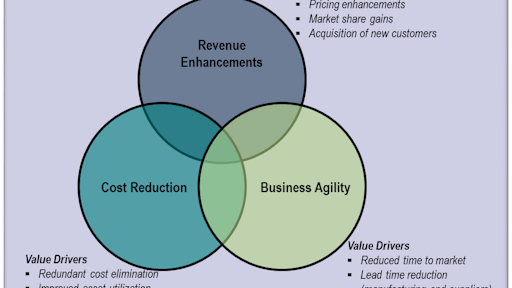 The Hackett Group
The supply chain is considered to be a key area that can greatly benefit from digital transformation. The current set of challenges facing the supply chain that digital technologies can help overcome are:
Lack of coordination across global locations, acquisitions, external partners and customers or consumers
Siloed processes and systems with duplication of functions across systems, business units and geographies
Inability to synthesize and react to large volumes of data
Increased complexity in managing market demands and regulations of diverse geographies
Digital transformation addresses these challenges by integrating the supply chain with technologies that enable deeper and more meaningful insights in a more timely fashion, thereby accelerating business processes, optimizing investments and improving decision making. These insights could include:
Optimized supply chain services across channels, business units and geographies
Improved agility by identifying and rapidly and proactively reacting to new information
Improved speed to market through careful orchestration of proactive market actions and supply chain capabilities
Unbroken audit trail of information to proactively identify and correct root causes of problems
Rapid integration of new businesses via digital plug-and-play architecture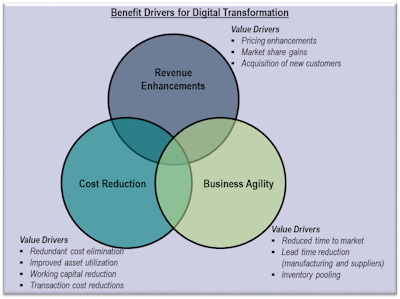 The benefits of digital transformation in the supply chain include enhanced revenue, cost reduction and increased business agility (see Figure 1).
Despite the expected benefits from a digital transformation of the supply chain, many organizations admit lack of clarity on a strategy and roadmap to attain them. While 94 percent of supply chain leaders agree that digital transformation will fundamentally change their company's operating model, only 22 percent of respondents believe that their company has the necessary resources and competencies to execute digital transformation, according to The Hackett Group's 2017 Supply Chain Trends Study.

How we can help:
The Hackett Group can help organizations that have adopted digital technologies transform the traditionally linear and siloed supply chain to a more collaborative and connected model that includes suppliers, customers and consumers (see Figure 2).
The digital supply chain supports:
Extensive collaboration across the extended value chain, inclusive of customers and suppliers
Processes that have been optimized across geographies, business units and cost centers
Real-time responsiveness to upstream and downstream changes in the supply chain
More accurate and timely decisions driven by the integration of financial and operational information
With the new digital transformation framework in mind, the supply chain transforms from a linear and siloed construct to a more collaborative and connected model (see Figure 2) that includes suppliers, customers and consumers.
We also bring with us our experience from such implementations in the past. Here are some guiding principles to get companies started (see Figure 3).