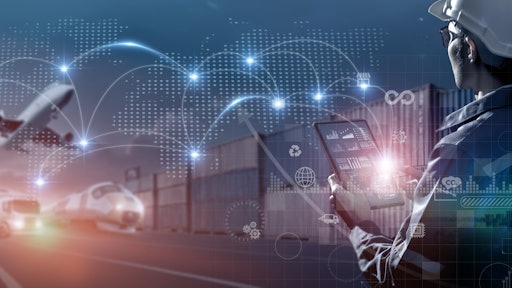 MangKangMangMee/stock.adobe.com
The COVID pandemic served as a stark reminder of a universal rule of supply chain management: always expect the unexpected. Natural disasters, political instability and trade disputes, transportation disruptions including strikes, accidents or issues at major ports or transportation hubs, and manufacturing problems such as equipment breakdowns and quality issues are constant threats to the worldwide movement of raw materials and goods. As manufacturing companies advance their digital transformation initiatives to improve supply chain resiliency, they face a new challenge: managing their ever-growing volumes of data with time-consuming and error-prone manual processes. Automating those workflows will provide complete supply chain visibility to help reduce costly delays and better anticipate and mitigate future disruptions.
Manufacturing companies are embracing cloud computing and advanced AI technologies like large language models (LLM), machine learning (ML) and robotics as part of their ongoing digital transformation initiatives. However, the transition to these advanced technologies is not without its hurdles
PwC's 2023 Digital Trends in Supply Chain Survey reveals a rising level of frustration among executives with new tech implementations. According to the survey, 83% of executives reported that their supply chain technologies hadn't fully delivered the expected results.
Automating Manual Processes
A reliance on time-consuming, manual processes such as updating spreadsheets and archiving emails creates data silos that obscure real-time visibility, increase the risk of human error and make it difficult for manufacturers, suppliers, distributors and customers to communicate and collaborate.
Automation technology significantly enhances supply chain resiliency by providing real-time monitoring capabilities, leading to more accurate and timely decision-making. Automated data collection and monitoring systems offer full visibility into every supply chain step. This continual access to real-time insights makes organizations more predictive and less reactive. Instead of scrambling to react to unforeseen circumstances, decision-makers can leverage up-to-date data to anticipate changes, implement preventive measures and respond swiftly and effectively to disruptions.
Additionally, automation technology can help improve supply chain sustainability by optimizing routes, reducing waste, and improving energy efficiency to reduce manufacturers and supply chain partners' global carbon footprint. This not only contributes to environmental stewardship, but also enhances brand reputation and regulatory compliance.
Automated systems also lead to improved worker productivity. Tasks that are repetitive, time-consuming or prone to human error can be automated, freeing employees to focus on more strategic, value-adding activities. Automation is a force multiplier in a historically tight labor market, enabling organizations to maintain operational efficiency and output levels. By mitigating the impact of labor shortages and enhancing productivity, automation technology plays a crucial role in bolstering supply chain resilience.
Improving Supply Chain Resiliency
The first step to leveraging automation technology is conducting an in-depth supply chain audit to identify areas for improvement by analyzing and reviewing supply chain processes, finding bottlenecks and inefficiencies, and pinpointing areas where automation can streamline operations. Here are eight key areas to consider:
1. Business acquisitions: Use automated data migration tools and system integration platforms to speed the onboarding of newly acquired business units and quickly integrate their systems into legacy enterprise systems.
2. Quality management: Use automated workflows to connect quality data from different business applications and apply predefined rules and procedures to ensure consistent quality across the board.
3. Asset monitoring: Real-time asset monitoring is essential for making informed, data-driven decisions. Automation can allow you to connect with people, tools or equipment to provide real-time status updates and data collection to enhance operational efficiency.
4. Advanced and predictive analytics: Leveraging advanced and predictive analytics can help a company anticipate and respond to potential issues before they arise. Automation tools can extract, process and analyze vast amounts of data and feed that data to machine learning models to predict trends and facilitate proactive decision-making.
5. IT modernization: Automation can break down data silos between ERP, PLM, MES and CRM systems, and facilitate integration between these platforms to foster more efficient operations, reduce errors, and deliver more accurate insights.
6. Scheduling and forecasting: Accurate scheduling and forecasting require data from multiple sources. Automation can assist by gathering, integrating and analyzing this data, providing a comprehensive picture that can guide scheduling decisions and improve demand forecasting accuracy.
7. Part and product tracking: Automation can connect disparate tracking applications to prevent part or product misplacements and overstocks.
8. Supplier and customer collaboration: Streamline communications and improve supply chain efficiency and transparency.
Conducting a comprehensive supply chain audit will identify areas where automation can streamline operations, improve resilience and provide a competitive edge. The goal is not just to automate for the sake of automation but to enhance operational efficiency, increase visibility and drive value throughout the supply chain.
Following the completion of the audit, organizations can implement automation technology where needed and supplement those implementations with comprehensive product tracking, dashboard capabilities and collaboration workflows to create true end-to-end supply chain visibility.
Finally, to ensure that the transition from manual to automated processes delivers the expected ROI, set measurable goals and regularly assess progress towards those goals to gauge the effectiveness of their tech investments and guide future tech implementation strategies.
It doesn't take a once-in-a-century event like a global pandemic to create costly supply chain disruptions. Eighty percent of manufacturing executives reported a major disruption impact over the past 12-18 months, highlighting the necessity for resilient and agile supply chains. Organizations can no longer rely on reactive measures and outdated manual processes to manage these disruptions. They need to proactively leverage automation technology to transform their supply chain operations by increasing efficiency, reducing risk and better anticipating and mitigating the inevitability of the next major or minor disruption.