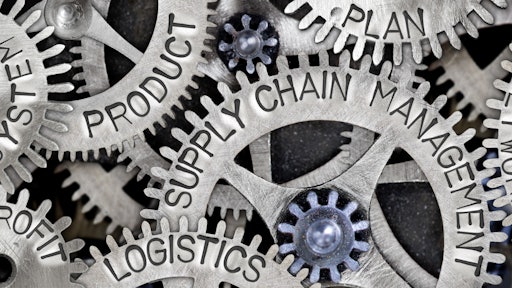 EtiAmmos/stock.adobe.com
How global supply chains are adapting to this rocky economy is garnering a lot of attention worldwide. Of course, every department head is having to keep a close eye on economic indexes, news headlines and other sources as they look to protect their function from the wrath of a recession. But having already witnessed the real-time impact of an unreliable supply chain on almost every facet of doing business during Covid-19, it's understandable why it's stealing so much focus.
Just take a look at the impact that record inflation has had on suppliers. It's forced them to hike prices for their goods and services which, of course, has been detrimental for businesses and consumers' wallets. Meanwhile, materials and labor shortages have dramatically affected production and made stockouts more common for distributors and retailers.
For supply chain managers, these events have ratcheted up the pressure on them to maintain continuity despite constant disruptions. Many have had to cut ties with suppliers due to high costs and consistent delays – and even manage the significant financial losses incurred by both.
As they attempt to lessen the blow of these disruptions, here are 3 things supply chain managers can do to guide their business through the rocky terrain.
Turn Chaos into Strategy Through Automation & Collaboration
There's no sugarcoating it: the day-to-day of the supply chain manager has become much more complex in recent years. At a time when it's never been more important for them to be in control of their supplier base, it's also never been more difficult. So much so that, according to recent research, a quarter of businesses say they're worried about their organization's supply chain strategies and processes for the year ahead.
When you dig deeper into the toll recent disruptions have had on the efficiency of supply chains, it isn't hard to understand why supply chain managers feel like this. The same survey also found that supply chain delays have cost a vast majority (60%) of businesses up to 15% or more of their revenue. A statistic that highlights just how influential an organization's supply chain is to their financial health – and consequently, how important it is for businesses to eliminate any barriers to success.
For supply chain managers, one of these barriers is their reliance on disparate and manual processes. While this is a problem that's hurt every business at some stage, supply chain managers at small and mid-sized businesses (SMBs) have been disproportionately impacted. This is because when you're working within a smaller team, a repetitive task like approving a purchase order or paying an invoice can become much more strenuous when it has to be done manually.
Automation liberates supply chain managers from these cumbersome tasks and enables organizations to achieve so much more with far fewer resources. Something that's a clear draw for businesses in this turbulent economy.
Establish Strong Supplier Relationships
One of the key factors that can contribute to successful supply chain management is building strong relationships with suppliers. Today, how strong your supplier relationships are is often the difference between you getting the goods you need to meet production goals and being under the heel of backlogs.
Unfortunately, supplier relationships are on rocky ground, and it's having a drastic impact on global supply chains. In fact, 56% of businesses say they have had to switch suppliers in the past year, primarily because their suppliers' increased costs or were slower with deliveries. But these rocky relationships can be reconciled. It just requires an investment of time and resources.
For example, there needs to be a focus on trust and transparency. And the only way to do that is by establishing regular communication channels with suppliers whether it be via email, phone call, meetings or through your ERP. Once these channels are built, supply chain managers and suppliers must also be willing to collaborate to identify areas for improvement, cost-saving opportunities and new product development. This not only helps supply chain managers increase efficiency and maximize quality, but it also builds a candid, two-way line of communication that helps suppliers better understand their buyers' unique needs and goals.
Another way to build stronger supplier relationships is by establishing performance metrics to track suppliers' effectiveness and efficiency. Supply chain managers can use these metrics confidently measure the effectiveness of their supplier relationships and make key decisions to optimize and strengthen them.
Although the journey to strong supplier relationships is long and often iterative, the benefits are unmatched. Especially as organizations continue to overcome the drastic impact this tumultuous global supply chain has had on operations.
Harness the Power of Data in Real-time
The supply chain has always had some level of unpredictability. But it's fair to say that recent challenges have made it much more difficult for supply chain managers to gain a reliable picture of global supply chain conditions.
Just take a look at the transportation jams that have stumped businesses since the pandemic began. Congestion at shipping ports especially has dramatically increased shipping times and costs. According to a report in Nikkei, shipping took two to three times longer than usual when these issues were at their peak last summer.
These pressures highlight the importance of having real-time visibility across your supply chain – and the need for a granular data strategy. Data has long been a source of competitive advantage for organizations. Leveraging it not only helps supply chain managers monitor performance in real-time – whether it be tracking orders and deliveries or managing inventory – but it's the key to being able to get ahead of disruptions that might hurt your business and bottom line.
For example, supply chain managers can use real-time data to determine the probability of a shipment arriving on time, the likelihood of cost increases and forecast lead times. This empowers them to react faster to global supply chain disruptions and take action confidently to minimize their risk.
Turning Supply Chain Chaos Into Strategy
Modern supply chains are too complex to be managed effectively without real-time data. The good news is that 89% of businesses understand this and are planning to make strategic investments in their supply chain management this year, with 44% planning on utilizing data collection and analytics technologies to gain real-time insights into their supply chain operations.
One space we're seeing increased investment in is the adoption of supply chain management systems that enable supply chain managers to execute the three tips outlined above from one platform. Indeed, the development of these types of innovations is one positive that's grown from an undeniably difficult period for supply chains. They help supply chain managers improve supplier relationships, streamline important business practices and monitor and manage the global supply chain all on one platform. In other words, these solutions act as their single source of truth. An indisputable asset for supply chain managers seeking new ways to protect their function from the wrath of unpredictability and economic turbulence.