Clearmetal
Supply chain leaders are increasingly looking for ways to become more efficient, adjust for greater order volume and comply to a growing litany of regulation. As supply chain operations grow increasingly complex, coupled with countless challenges, many in the industry are turning to automation technologies to streamline operations. When it comes to adding technology to the supply chain there are many paths to take to reach improved efficiency and profitability.
According to a recent supply chain study, digital technology is a must for industry competitiveness. In the study, Gartner analysts predict that the "next 3-5 years will usher in not only an increase in the adoption of digital supply chain technologies, but also new, more IT-focused roles that supply chain leaders must integrate. Heads of supply chain technology must take note of these," it noted.
During the next few years, roughly 50% of supply chain organizations will invest in applications that support artificial intelligence (AI) and advanced analytics capabilities, the study reports.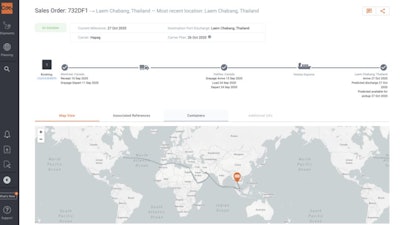 Data platforms
Automation in freight
Many supply chain companies are implementing software platforms that integrate warehouse management and freight systems, order fulfillment and other, disparate systems to achieve greater analytics and predictability.
ClearMetal, a software-as-a-service (SaaS) platform for international freight visibility, dynamic transport planning and customer experience, is one of those systems supply chain companies are implementing.
The program continuously collects data from shippers, carriers, vessels, ports, terminals and satellites; cleans, organizes and canonicalizes the data; then applies AI and machine learning technology to identify patterns and provide real-time visibility into where freight is and when it is going to arrive.
"This is crucial because it allows manufacturers and retail shippers to make better transportation planning decisions, provide their customers more accurate on-time delivery estimates and drive costs and inefficiencies out of the supply chain," says Craig Lewis, chief revenue officer at ClearMetal.
The system gives global brands the visibility into their international supply chains.
"ClearMetal is the first and only logistics technology company to guarantee the complete and timely delivery of its data to international ocean freight shippers. Munich Re Group, the world's largest reinsurer, is underwriting ClearMetal's guarantee," Lewis says.
Manual data collection and manipulation takes too long to be beneficial, he says.
"Imagine making decisions about how to dress for the weather based on what the weather was like last year, instead of looking out the window and deciding what to wear based on what is happening now," Lewis says. "That is essentially what shippers do when they manually gather data to plan transportation and inform decision-making. Automated processes that leverage technologies like machine learning ensure information is continually updated with the most accurate information."
Two processes often completed manually include transportation planning and invoicing, which ClearMetal can complete automatically.
"When it comes to invoicing, it is not uncommon for shippers to manually track shipments across several carrier websites to identify when containers were delivered to their customers," Lewis says. "Prior to becoming a ClearMetal customer, the finance team at one of the largest exporters in the U.S. manually cross-referenced 600-plus ocean bookings each month to confirm that orders were delivered before invoicing customers. This process was labor-intensive, error-prone and prevented the shipper from invoicing its customers in a timely manner. The ClearMetal platform minimizes the effort required to manually track and compile deliveries and enables finance teams to reduce invoicing delays."
That company was able to reduce their manual work by 75%, he says.
The system uses alerts to identify when shipments are delivered automatically. The transportation planning system allows shippers to automate, so they no longer need to plan routes based on outdated transit tables and data. ClearMetal is also able to mesh transportation data with customer data, such as purchase order numbers of ASNs; AIS data, like Internet of Things (IoT) data for vessels and vessel schedules and use historical training data sets to improve the overall quality of the data.
Click here to hear more about machine learning and technology in the supply chain:
Lewis suggests that companies wanting to transition to automation technology take the following steps:
Executive commitment. Management must make it a priority, inspire the organization with a vision that is palpable and make it clear why it's important.
Define a clear strategy. This must span the supply chain teams and other functions in the company such as procurement, manufacturing, human resources, finance and IT. This is a cross-functional commitment and requires teamwork across these boundaries. Imagine automating invoicing when goods arrive at a customer, versus missing revenue for a given quarter because it wasn't clear the customer received the product. This happens today, for most companies, and yet it can be automated with supply chain software, he says.
Break it down into manageable components. This way, smaller teams can move with velocity, responsibility and accountability to achieve wins along the journey. It garners quick wins, too, as these build momentum, Lewis says.


COVID-19 and healthcare systems
Another software platform, GHX, connects those who buy, sell and use the products needed to deliver patient care. It automates the flow of accurate orders and payments between parties and reduces the administrative burdens of healthcare so that more time and money can be spent on patient care and improving outcomes, clinical research and product innovations. The platform is used by more than 85% of U.S. hospitals and health systems and thousands of suppliers.
GHX, an early adopter of cloud-based technologies with solutions that span the "procure-to-pay" continuum, uses technologies such as global catalog and content syndication tools, order management solutions, contract management and pricing accuracy capabilities, as well as AI/machine learning-based rules engines, business intelligence and data visualization offerings and electronic invoice processing and payment.
"The pandemic highlighted what it looks like when there is a lack of automation," says Steve Jackson, general manager of exchange services at GHX. "Supply chain teams were under a significant amount of pressure to quickly meet unexpected surges in demand for products needed for patient care and staff safety, but without automated systems, placing orders, managing shortages and backorders and processing payments became a time-consuming burden."
The Coronavirus disease (COVID-19) pandemic revealed technology gaps in the healthcare system and in the future, the industry will turn to remote process automation (RPA) for efficiencies, he says.
"Thinking about today's digital environment, people are still heavily relied upon to interact with the ERP to place and approve orders, manage contract and pricing exceptions, reconcile invoices and manage payments," Jackson says. "Most of these tasks are repetitive and follow existing business processes and rules. An RPA-enabled future will help supply chain professionals spend their time on more strategic initiatives that have an impact on patient care."
To transition to more of an automated platform, Jackson offers the following tips:
Widen the aperture. Organizations now need visibility across the value chain, not just the traditional supply chain. This requires accurately forecasting demand, expanding sourcing strategies and strategic suppliers and planning for unforeseen disruptions from the initial order through the receipt of products.
Align commercial interests. COVID-19 has accelerated healthcare's move from a fee-for-service model, where a healthcare provider is paid a fee for each service rendered to a value-based reimbursement model, in which providers are rewarded for high-quality care, not just high-volume. As this shift occurs, supply chain leaders need to understand how products affect the length of a patients stay, rates of readmission, the associated costs and the resulting long-term patient outcomes. This requires providers and suppliers to share insights and data related to clinical efficacy and cost and partner in accepting risk.
Embrace the cloud. Legacy ERP systems have shown their limitations as care expands beyond the four-walls of the hospital into the community, and even virtually. Healthcare leaders now, more than ever, require a data and content strategy that supports more purchasing locations, greater contracting controls, and automation to manage discrepancies as care is increasingly dispersed. That's why forward-looking providers are increasingly adopting cloud-based ERP systems.
Jackson says there is more demand for healthcare's supply chain to be resilient and better respond to demand and disruption.
"The pandemic has forced healthcare to closely scrutinize its methods and invest to fill the gaps where cumbersome manual processes still exist," he says. "GHX is closely partnering with its network of suppliers and providers to help improve visibility, automation and collaboration, so that healthcare is in a better position to prevent the level of disruption we experienced during the past year. I also want to underscore our deep appreciation for the level of ingenuity and resourcefulness supply chain leaders and clinicians across the country demonstrated in meeting the many challenges of the pandemic."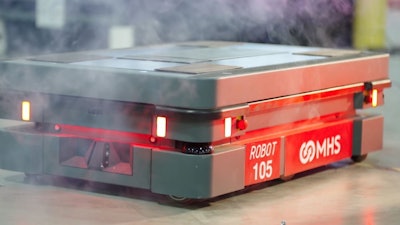 Hardware and robotics systems
Modern conveyors and sortation equipment
Material Handling Systems (MHS) develops automation solutions for primarily the e-commerce distribution and fulfillment and parcel markets. MHS integrates automation technologies like conveyor and sortation equipment, along with robotics and the software and controls that run these systems.
"Automation projects are very complex, with a lot of moving parts – design, engineering, manufacturing, all the way through installation and commissioning," says Rush Fullerton, VP at MHS. "A breakdown anywhere can threaten to derail the whole project, resulting in delays and running up unplanned costs. As the old idiom goes, 'what costs a dime in engineering costs a dollar in the shop and $100 in the field.'"
MHS offers a range of automated equipment, emerging technology and the software to control them, including automated storage and retrieval systems (AS/RS) and software. Among the automated equipment are extendable telescoping conveyors that can ergonomically unload trailers and roller-belt solutions that convert bulk flow into a single-file stream of product ready for high-speed sortation systems. MHS sortation technology ranges from cross-belt loop sorters to sliding shoe sorters. Robotics offerings include mobile robots used to handle point-to-point transportation within logistics facilities to robotics that use a gripping mechanism to pick and place individual items.
There's no room for the manual processes of yore, as the modern distribution center calls for the speed that comes with automation.
"Today's DCs must be built for speed," Fullerton says. "They are the critical hubs that make the promise of next-day delivery a reality, which also influences the design of distribution networks as a whole, as well-placed DCs can accelerate service and set up last-mile delivery for success. DCs are popping up closer to populated areas, which means pressure to implement smaller, more space-efficient systems to mitigate the impact of more expensive commercial real estate prices while housing massive, diverse inventories consumers expect."
Automation allows operations to reach higher levels of throughput and make more efficient use of limited space compared to purely labor-driven workflows, especially with the high turnover rate of warehouse labor, he says.
"E-commerce is growing at a scale in which both scaling up for peak volumes and handling long-term growth cannot be achieved by simply adding labor," Fullerton says. "With these foundational realities in mind, along with recent growth in e-commerce as a result of COVID-19, scaling up for peak season is no longer a fleeting, temporary act. Instead, it requires a more permanent, strategic shift to automation."
MHS' extendable conveyor reaches inside a trailer and can allow a worker to simply turn and place parcels at an ergonomic height.
"This smart deployment of automation boosts individual productivity by minimizing walk time and helps reduce repetitive bending and twisting to help reduce fatigue and enable longer lasting productivity," he says.
Automation can even take on the lack of uniformity when it comes to e-commerce packaging, he says.
"Contemporary e-commerce brings special challenges in the form of package variety and irregular items that can challenge automation to fully deliver on promises of peak efficiency," Fullerton says. "With consumers ordering everything from jewelry and apparel to power tools and furniture, critical automated systems must keep up. Traditionally, non-conveyable items that are especially heavy, oddly shaped, oversized or otherwise challenging for automated equipment have been a major driver of temporary labor in distribution centers."
Larger in-house capability means a supplier can move resources around internally, without relying on a limited pool of outside specialists.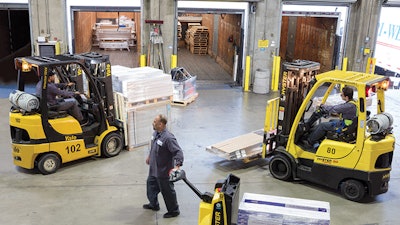 Robotic lift trucks
Yale Materials Handling produces four robotic lift truck models and robotic counterbalanced stacker, end rider and tow tractor models. Some customers use only one or two lift trucks, while others have scaled up to 100 for their operations, says Kevin Paramore, emerging technology commercialization manager at Yale.
The lift trucks use advanced navigation technology to move around the warehouse, including Light Detection and Ranging (LiDAR) Simultaneous Localization and Mapping (SLAM).
"The industry has developed over time when it comes to the navigation technology used for automated mobile transportation solutions," Paramore says. "It's gone from magnetic tape used by older automated guided vehicles to laser guidance and then LiDAR SLAM with feature-based navigation, the navigation that our modern robotic lift trucks use today."
Yale's robot manager software uses an API to connect to WMS systems, so when a work order is entered into the WMS, the robotic lift truck takes action.
The robotic lift trucks help ease the burden of workforce shortages, he says.
"Hiring for certain positions like third (night) shift lift truck operator positions can be especially challenging, but robotic lift trucks have no objections to working 24/7," Paramore says. "When it comes to onboarding new hires, distracted or inexperienced lift truck operators may drive too fast, cut corners too sharply, or even drive through prohibited areas, which can lead to mistakes, damage and injuries. In contrast, robots precisely follow programmed site-specific rules of the road such as maximum speed or minimum distance from pedestrians or objects."
The lift trucks can communicate with the WMS to find out when inventory of certain products is low and can receive replenishment requests.
"When a SKU runs low, the WMS triggers replenishment request and robotic reach trucks retrieve inventory from storage and bring it to the pick tunnel," he says. "Inventory can be deposited into flow racking from outside aisles, into single or double-deep racking outside the tunnel, or bulk staging outside. If storage is overhead, the robotic reach can pull pallets down from high-density vertical and double-deep racking when a replenishment request is triggered. Importantly, the robotic lift truck remains outside of the pick aisle to avoid impeding pickers. This helps operations improve labor efficiency, by allowing employees to focus on the more complex task of order picking, not back and forth load transportation."
The difficulty of shifting from manual to automated lift trucks depends on the applications the trucks need to complete.
"Generally speaking, a robotic tow tractor application, in which the robotic tugger simply pulls carts from location to location, is simpler than an application with a robotic reach truck," he says. "If you start using the robotic reach truck to store and retrieve pallets from locations 15-30 feet in the air, there are more possible storage locations to consider, which increases complexity and influences cost. On complex systems, faster payback can come with larger fleets."
To implement automated processes and machines, warehouse leadership needs to understand every facet of how the facility operates.
"While the lift truck operator who moved a certain pallet knows where they put it, the rest of the organization might not," Paramore says. "The pallet will sit until that employee returns. In order to automate that pallet movement, operations must have improved visibility of where pallets must be and when."
Before an investment in automation is made, leadership needs to determine what they want to accomplish.
"Businesses should also know personnel costs, desired throughput rates and how much they spend on avoidable damage, both in terms of lost inventory and equipment damage," he says. "This information is important to understanding return on investment. Cost savings are critical to scale from a pilot project to a larger scale automation investment."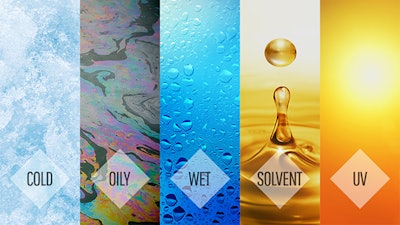 Dangerous goods handling
Shipping dangerous goods (DG) is complex, high risk and comes with a variety of regulations to follow. Despite that, 55% of dangerous goods professionals still use manual processes, according to a survey by Labelmaster.
"This means searching regulatory publications by hand to find the latest rules related to packaging, labels and documentation, along with manually maintaining classifications for products considered hazardous," says Mario Sagastume, VP of software and customer success at Labelmaster. "Not only is such an approach overwhelmingly inefficient, it's also highly susceptible to human error."
Labelmaster helps companies manage dangerous goods and hazmat shipping and ensure compliance with complex, changing regulations with solutions ranging from hazmat labels and UN-certified packaging to hazmat placards and regulatory publications, to advanced technology, regulatory training and consulting services.
"Shipping and handling hazardous materials can be a complicated and time-consuming," Sagastume says. "Thousands of items classified as hazardous and the regulations that govern their transport are complex, continue to evolve, and can vary by country, transportation mode and more. This lack of regulatory harmonization can make it challenging for organizations to ensure all shipments — including labels, packaging, documentation, etc. — are compliant with the latest regulations."
One of the challenges of the DG industry is the lack of understanding by company leadership of the impact compliance and lack of compliance can have on operational performance.
"Many view DG management as a 'necessary evil' and, as a result, don't invest in the necessary resources, technology and training," he says.
Labelmaster's survey found that 27% of DG pros feel that the investment their company makes to support DG compliance does not meet current needs, while 54% wish their companies would understand that supply chain and DG shipping management could be a differentiator.
"Despite modern technology advancements in all areas of the supply chain, many companies still rely on manual processes to handle DG compliance, even if they use software to prepare shipments in the first place," Sagastume says.
Advanced shipping software includes capabilities such as electronic signatures, templates, training schedule management, parts inventory and diagrams for packing and markings. It can also integrate with an enterprise resource planning (ERP), warehouse management system (WMS) or TMS.
"Utilizing DG shipping technology helps organizations have more complete and accurate master data," he says. "Having access to detailed information about a product's components, makeup, dimensions and origins not only helps those directly responsible for DG management but also manufacturing and procurement, along with 3PLs, carriers, customers and other supply chain partners."
When shifting to automation in the DG space, facility managers need to be cognizant of whether their TMS, ERP, WMS and order management system (OMS) have DG or hazmat functionality. According to Labelmaster's survey, only 29% of DG pros said their ERP system possesses the DG functionality needed, and nearly 60% said their WMS do not have the necessary functionality.
"That's why shippers should consider utilizing dedicated DG shipping software to automate the process and provide the functionality businesses truly need to automate and compliantly manage DG shipping," Sagastume says. "Organizations must remember that using technology to automate processes is just a step, and it's critical to invest in the people and processes in order to derive maximum value from that technology."