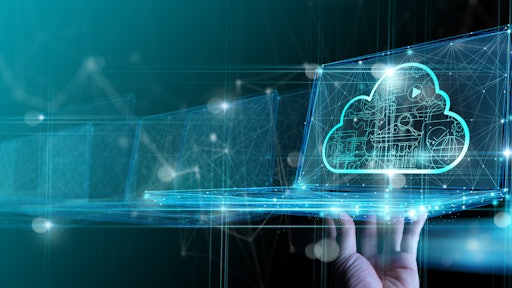 greenbutterfly/adobe.stock.com
Amid supply disruptions, demand volatility and growing uncertainty, there is growing interest in technologies that support the optimization of operational efficiency and performance of the supply chain. One prominent one is the cloud.
Today, the cloud underpins most new technological disruptions and the supply chain is no exception. With typically low barriers to entry and more scalability, cloud-based solutions have been on the rise, and reports indicate that global cloud adoption will continue to grow. According to the 2022 MHI Annual Industry Report, cloud computing is expected to achieve an adoption rate of 86% over the next five years. Additionally, Gartner forecasts that by 2026 public cloud spending will exceed 45% of all enterprise IT spending.
It seems the move to the cloud is a shift that virtually every organization is either going through or thinking about. Indeed, the cloud comes with well-known benefits such as optimizing costs and providing the ability to scale, but there are some questions that need to be asked to fully understand the true value of the cloud for supply chain leaders. In this article, we explore three questions everyone should ask regardless of whether you are already invested in the cloud or just beginning to look at the transition from an on-premises solution.
How is the cloud relevant to supply chain?
Today's turbulent environment – characterized by changing demand, supply disruptions, labor shortages, economic uncertainty and so much more – means that supply chain leaders are increasingly expected to meet constant and unforeseen challenges. The digital planning solutions that they rely on, in turn, need to keep pace with the ever-increasing complexity of the demands being placed upon them. The need to make quick and confident supply chain decisions – taking into account up to date and accurate data – has been a key driver of cloud-based planning adoption, leading to a growing urge to integrate multiple sources and process enormous amounts of data in real time to support decisions. The cloud, as a delivery platform, provides companies with a unique ability to integrate these capabilities with a low barrier to entry, for both commodity as well as specialized services.
The cloud is at the forefront of technological innovation, providing planners with access to the latest and most advanced analytical technologies, whether this be machine learning, artificial intelligence, or graph data models to create digital supply chain twins. Hence, when it comes to digital transformation and the future of the supply chain, the cloud is a critical component – a continuum of capabilities that can help organizations create better and more powerful operating models.
The cloud enables solutions that provide companies with visibility to make faster and more informed decisions, plus the ability to anticipate and predict market changes and risks across the supply chain network. Supply chain leaders are increasingly leveraging the cloud's unrivalled computing power to scale operations up and down at unprecedented speed, while gaining access to the latest technologies to quickly gather, process and react to data from across the supply chain.
Why modernize in the cloud?
Cost optimization is one of the main reasons companies migrate their supply chain planning to the cloud. There is little to no upfront capital investment, no need for costly setup or fees for upkeeping legacy systems, as cloud technology is kept in optimal shape through regular updates. Beyond that, the cloud has significant advantages when it comes to scalability; in an increasingly volatile market, cloud-based solutions allow for harmonization and coordination of data across the supply chain, with a better ability to scale up and down to meet demand and targets.
Then, there's the major benefit of business innovation. Simply put, the cloud enables supply chain innovation – it's critical for harnessing the revolutionary advances in data and analytics, to help companies with seamless data integration and stronger relationships across the network.
An integral part of cloud-based solutions is the constant up-to-date data. This fosters true end-to-end visibility, allowing for more operational control, and providing insights that can power the right decisions to keep your supply chain running during times of uncertainty.
Is investment in the cloud truly necessary?
So, what if supply chain planners decide not to invest in the cloud? The biggest problem with this scenario lies in the hard truth that, without the cloud, supply chain resilience is nearly impossible to achieve.
The cloud is vital for real-time collaboration and data analytics across multiple nodes of the supply chain. Take the cloud out of the equation and planners will miss out on having the technology that makes end-to-end supply chain integration a reality, where information is shared transparently, securely and efficiently both within the organization and across multiple enterprises to drive a true digital twin model of the supply chain.
With the constant stream of disruptions and unforeseen challenges in the world of supply chains, it's not easy to be certain of what to do to ensure your supply chain runs to the best of its ability. While implementing modern technologies always comes with challenges, the goal must be the same: to build a resilient, cost-effective, optimized supply chain for future success – and thanks to cloud-based planning solutions, this is well within reach.