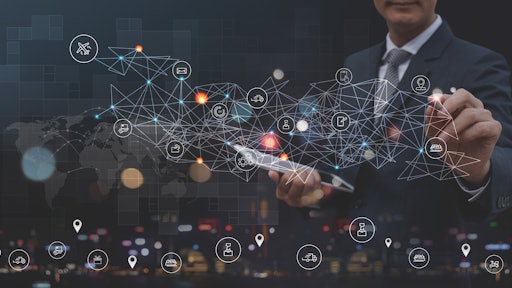 tippapatt/stock.adobe.com
The global supply chain has been in the spotlight for the past two years, highlighting the inefficient, antiquated processes of this century old industry. The COVID-19 pandemic brought many supply chain problems to light, particularly in the customs clearance area. E-commerce spend in the United States rose 9% from 2020 to 2021 as consumers were forced to stay home or were leery of in-person shopping. Shelter-in-place orders taxed an industry dependent upon manual data entry, onsite at ports, creating incredible delays and product shortages from toiletries to sporting gear.
Traditionally, the processes that govern cross-border trade are manual and paper-based, requiring duplicative entries that are highly prone to error. These entries are then routed through an unstructured system, usually based on emailing attached documents, which creates extreme complexity for an importer, exporter or freight forwarder trying to manage hundreds of shipments simultaneously. Once the shipments reach the port, an antiquated drayage process can be timely and costly.
Logistics as a service (LaaS) providers offer software solutions to help provide visibility into the entire supply chain. What makes a superior solution is the combination of cloud-based platforms and artificial intelligence to digitize and share documents, offering real-time tracking for users to see all shipments at once. In the same way that a ride-sharing service allows users to track an approaching vehicle in real-time, LaaS providers, like KlearNow, who combine tech, direct integration with customs and services can provide full visibility into the movement of shipped goods and help unblock supply chains.
The global logistics industry ranges from $8-12 trillion dollars annually, calculated as a percentage of global GDP. It's fair to wonder why digitized solutions haven't permeated such a vast and powerful industry. While the global players in logistics have mastered moving goods around the world over the past 100 years, they've grown so large that agility and adaptability are nearly impossible. LaaS providers are succeeding where industry titans struggle – in adapting to changing customer demand quickly, and providing the solutions needed to get goods where they need to go faster.
Digitization provides three key benefits – creating visibility of a shipment from port to warehouse, improving efficiency through reduced manual labor and errors, and reduced costs and fees for each shipment.
Creating visibility from port to warehouse
Critical information travels nonstop through the logistics industry, but it's nearly impossible for that information to be viewed in real time using current systems. Once a shipment leaves the exporter, it's then tracked through a highly manual and paper-based system of checkpoints that often leaves both importer and exporter manually searching for the shipment. While this process is cumbersome for tracking just one shipment, imagine companies that do hundreds or even thousands of shipments a daily.
Using a digitized process, a shipment's information can be uploaded and stored in a single system available to importers, exporters, freight forwarders and customs brokers. A shipment's location can be updated in real-time for all parties to view. All parties can collaborate proactively to move a shipment from its origin, through customs and drayage and to final destination much faster using fewer brokers, saving money.
Improving efficiency and mitigating errors
In 2021, 36.9 million shipments passed through U.S. ports, according to U.S. Customs and Border Protection. That number is expected to increase annually as ecommerce continues to rise. Today's paper-based systems require significant labor to accurately document, approve and transfer shipments throughout the supply chain. Since humans are inherently imperfect, errors and issues arise when documents travel through so many hands.
Logistics technology reduces the need to rely on manual labor and subsequently reduce costly errors in the system. Not only is this critical with customs clearance, but it's also equally imperative with drayage. Drayage may seem like a small leg of the supply chain, but it's an integral part of the entire logistics industry process. Like the game of dominoes, if the first domino, or container, doesn't move correctly, it affects the entire row.
LaaS software also has been proven to reduce the time and costs associated with manual entry errors. KlearNow's system can reduce FTEs from four to one. In a world where demand is high and labor remains scarce, this reduction in human capital could produce significant gains in efficiency and productivity for all partners in the supply chain and enable humans to do more strategic work.
Reducing costs and fees
In addition to being overly complex, shipping is costly, with multiple fees incurred as shipments pass through customs brokers. Any unexpected delay racks up more charges, with demurrage fees at the ports equaling an average of 7 percent of total shipping cost. Most shippers simply allocate these fees as the "costs of business," but with technology, they can be eliminated.
Logistics technology has been proven to save 20-30 percent per shipment due to more efficient processes, less manual labor and mitigating unexpected charges. Shipping costs have continued to rise, with the median cost of shipping a standard rectangular metal container from China to the U.S. hitting $20,586 in late 2021, according to the Freightos Index. LaaS technology is essential to helping any importer, exporter or freight forwarder compete in the increasingly expensive market.
The benefits that logistics technology creates are hard to overstate. Technology can create collaboration, communication and transparency in the supply chain that benefit both the shipping companies and the end consumers. With the global supply chain still under extreme stress with no sign of ecommerce slowing, now is the time for all shipping partners to adopt innovative logistics technology.