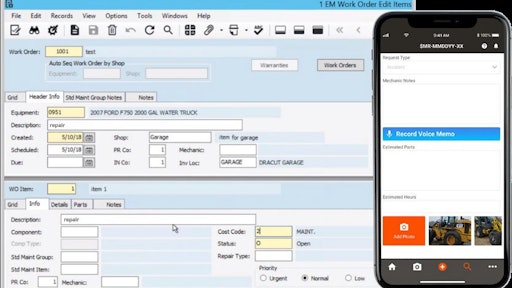 Tenna
Construction equipment fleet management software leader Tenna today announced an enhanced integration with Viewpoint Vista, now part of Trimble Construction One.
With help from integration platform-as-a-service (iPaaS) partner Ryvit, Tenna now shares construction equipment maintenance work data with the Trimble Construction One Vista Suite.
Viewpoint and Tenna have customers in common, not surprising given Viewpoints more than 8,000 customers globally, and this shared customer base asked for this integration according to sources at Tenna.
Tenna integrates seamlessly with other enterprise resource planning (ERP) and project management software products, and unlike many construction equipment fleet operation applications is designed to easily assign equipment to projects and capture location and utilization, which then can be linked to projects in ERP and project management applications.
Expanded for Construction Equipment Asset Accounting
"We already integrated with Viewpoint Vista, (hosted or within Viewpoint One) and Spectrum," Tenna Co-founder and Vice President of Product Jose Cueva said in correspondence with ForConstructionPros. "We also integrate with other ERP and accounting software products, including Sage 100 Contractor and Sage 300 Construction and Real Estate, Coins, Foundation and Fleet Cost & Care. These integrations focus on equipment location, usage and mileage. This new and deeper integration with Viewpoint Vista though is the first that exposes our maintenance work order functionality to an ERP product."
A work order, which contains information on maintenance activities and parts and materials consumed against equipment, and associated mechanic labor is created in Tenna. This new unidirectional integration with Viewpoint Vista then passes that information on to the ERP when created in Tenna, automatically creating a record of the work order in that application to record the costs associated with the parts, labor and consumables from the work order in Tenna, enabling full asset lifecycle management cost for construction equipment. Tenna sends an update to Vista when the work order is completed, updating final total notes accordingly.
The new, enhanced integration with Viewpoint Vista follows sound usability principles because it hands off data between systems along departmental boundaries so that personnel across multiple roles—project staff, shop managers, mechanics and accountants—use one system for their respective needs and workflows which communicates seamlessly with systems used by other departments. No group of employees should need to learn or use both interfaces. Tenna is used in the shop and the field to schedule and manage assets while the ERP is used by finance and senior management to monitor and manage cost of fleet maintenance, ownership and operation. Integrations like this are not to be confused with iFrames, or interfaces that must be manually completed through a batch update or may copy files over periodically—a true interface like this one completed by Ryvit for Tenna and Viewpoint is near instantaneous.
This enables not just the capture of maintenance cost, but an enterprise asset lifecycle management approach to equipment fleets.
"This integration, like Tenna and Trimble-Viewpoint's greater partnership, solves a multi-million-dollar business need for contractors, making it easier for them to see where they are bleeding capital and helps them get better control over how they leverage their current resources to ultimately benefit the books," Tenna Chief Business Development Officer Russ Young said. "Knowing more by seeing data clearly within the integrated systems and being able to better account for equipment costs and investments allows contractors to take strategic actions to own less, rent less, better maintain and optimize what they have, and deliver work more with less downtime, which leads to increased project margins and higher revenue."
Speaks to
Trimble

Construction One's Approach

Viewpoint Vista, as part of Trimble and their Trimble Construction One suite, is now positioned as part of a broader offering with other products Trimble has acquired in recent years. Sources close to the company say that while the product expresses application program interfaces (APIs) that streamline integrations like the one announced by Tenna, Trimble's Viewpoint go-to-market strategy will likely rest heavily on integrations with products branded under Trimble Construction One.

"We are creating an industry platform," Trimble Vice President and Category Manager Rachel Winkler said in a recent briefing with ForConstructionPros. "And that platform connects workflows that create value for the customer. So, a construction platform would be everything that a contractor needs or an owner needs to maintain their space or an architect or designer on the front end of the construction process might need. What we are doing is identifying what these different areas need, pulling these things together and starting to connect them. We need APIs. We need to be able to connect the platform."

This platform would encompass not only Viewpoint, including Vista, sister ERP product Spectrum and other products acquired and integrated to various extents by Viewpoint prior to the Trimble acquisition, but several other products including:
e-Builder, a solution designed for project owners
Tekla, a provider of 3D, model-based software for building information management (BIM)
QuickPen, BIM and estimating software for mechanical and electrical contractors
SketchUp 3D Modeling Software
Novapoint, cloud-based BIM and 3D modeling for construction
Meridian Systems, a construction project management solution
Vico Software, building and construction project management using 5D BIM
Trimble does offer its own product that overlaps with Tenna—Trimble Pulse. Launched in 2019, Trimble Pulse is a GPS-enabled asset management application aimed at construction contractors. The application handles fleet optimization, vehicle diagnostics, fleet optimization, diagnostics, fuel consumption and idle time monitoring. Trimble Pulse also has its own integration with Viewpoint.
When asked why a contractor would opt for the broad Trimble Construction One offering rather than point solutions from other companies integrated through APIs, Winkler sold the offering's breadth and strengths in areas like analytics.
"Show me something better," Winkler said. "What can anyone else out there offer compared to what Trimble and Trimble Viewpoint together have to offer? If you are strictly in the design world, maybe you can answer Autodesk. If you are only in project management, maybe you can say Procore. If you are looking to integrate ERP that integrates to your field service, with project capabilities and human capital management. Some of them may say parts of our solution are not multi-tenant. But let me show you where our solution is in fact multi-tenant. And did you know our labor forecasts for Q1 were 7 percent more accurate than Dodge reporting, and we were only 250 jobs off how many were actually hired in that quarter?"
Sources close to the company confirm that Trimble seems to be focused on providing a solution for every industry need from within their own Trimble Construction One product line. But at the same time contractors who have wanted to integrate with external solutions since the acquisition have had no trouble doing so. As Trimble executes on their integration and product line rationalization strategy, another selling point according to sources will be the increased formality and structure Trimble has placed under the Viewpoint product, as opposed to past ownership.
BOTTOM LINE: Deepening integrations and increasing interoperability between solutions will be a critical priority for the construction industry. This includes integrations that support processes that cross between solutions used internal to a single company--like Tenna and Viewpoint Vista. It also includes situations involving inter-company processes like change orders, document revisions and bids that flow between owners, general contractors and subcontractors. This integration is significant because of how it will support equipment asset lifecycles. But it is also significant because this product from Trimble can now more seamlessly integrate with a solution that overlaps its own product line. This may be counted as evidence that vendors and API technology have matured to the point that as the construction space digitizes, vendors will work and play better together than software vendors have in other industries in past decades. That is good news for contractors and an industry that demands interoperability.
Companies in this article