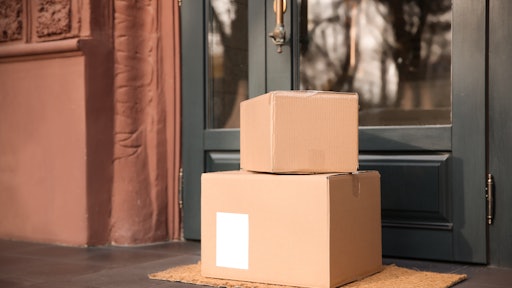 AdobeStock_321471783
Bringing a product from the manufacturer to the customer is a lengthy, multi-step journey. Supply chain and logistics companies aim to make this process as efficient and cost-effective as possible by looking at the supply chain holistically and leveraging technologies throughout the first, middle and last mile.
With technology deployed through the supply chain, mobile workers gain greater visibility into operations so they can understand where a product is in its journey and therefore meet customer demands. Here is how.
First mile: From the factory to the warehouse
From increasingly integrated international supply chain networks to high transportation costs and container shortage, first-mile logistics – the movement of goods from the factory to the warehouse – faces unique challenges. To create operational efficiencies and foster more informed decision-making, suppliers and manufacturers use mobile technology and data analytics to gain visibility into where materials and products are in their journey to the warehouse and where they are slotted.
For example, warehouse workers leverage inventory management systems to boost fulfillment efficiency and optimize operations. When these systems run on a rugged mobile device such as a tablet, they can be easily outfitted on a forklift to give workers real-time insights as to where assets are stored and where they are traveling within a warehouse. As slotting becomes increasingly optimized and palettes become more individualized and complex, this level of visibility and awareness from anywhere across the warehouse is critical to avoid wasted or duplicate efforts.
When mobile solutions are paired with technologies such as RFID tags, product information gets transmitted into a central inventory database where data can be easily accessed by warehouse workers. This not only boosts productivity by automating the inventory process, but also reduces human errors and offers real-time visibility.
Middle-mile: From the warehouse to the store
The Coronavirus disease (COVID-19) pandemic boosted consumer spending and increased expectations for faster shipping and delivery. To adapt to supply chain pressures, many retailers have turned their brick-and-mortar locations into warehouses and fulfillment centers, or "dark stores," to provide a local storefront for curbside pickups, as well as order exchanges and returns. This allows retailers to be more proactive and nimble with changes to consumer needs and expectations. In fact, it is predicted that by 2023, more than 50% of all e-commerce purchases will be delivered from local inventory.
This is where the middle-mile visibility comes into play. When products travel from the distribution center to individual store locations, transportation and logistics professionals can leverage technologies to identify the status of a shipment. For example, mobile solutions can track where a product is in the transportation network and alert retailers how soon it will arrive at the storefront. This allows retailers to prep the inventory space in advance and make sure product information is up-to-date on their website.
When fulfilling an order at a local dark store, a handheld device with a barcode scanner makes it easy to categorize each item and update inventory records. The data captured on these devices can help retailers operate more efficiently by keeping shelves stocked and updating inventory information in real-time via a secure network.
Dark stores have allowed retailers to move closer to their customer base, serving multiple locations with high order density efficiency. The dark store trend is extending beyond the pandemic as more retailers find new and innovative ways to utilize local fulfillment centers to plan smarter and provide additional options for consumers with regards to stock availability.
Last mile: From the store to the home
Today, customers expect same-day delivery, with 23% being prepared to pay extra for it. With heightened demand, transportation and logistics companies rely on technology to ensure transparency and traceability throughout the last-mile journey.
For example, sensors and Internet of Things (IoT) technologies are used in delivery trucks for more accurate in-transit visibility, and robotics, sensors and edge devices are enabling near instantaneous deliveries and facilitating under two-day shipping.
Reverse logistics are also a critical component of the last mile. This leg of the supply chain points products back to the warehouse, challenging companies to maintain visibility throughout their operations to streamline activities after the point of sale. With the rise in e-commerce sales comes the rise in returns, with more than 30% of all purchases being returned. Reverse logistics is here to stay.
Well-planned and thoroughly implemented reverse logistics processes can help retailers easily collect data information and reasons for customer returns. Streamlined and error-free returns can also help companies save on returns related losses while improving customer satisfaction – this is crucial during a peak shopping season.
Increasing visibility with mobile solutions
From the manufacturing facility to the warehouse to the store and to the end customer, mobile solutions can help companies control their operations in a more efficient and connected manner. This includes combining manual processes to facilitate online and in-store returns and keeping track of product data in real-time to facilitate actions as needed. With the help of mobile solutions, organizations can navigate each phase of the supply chain journey more seamlessly and build resilience to adapt to market changes and disruptions.