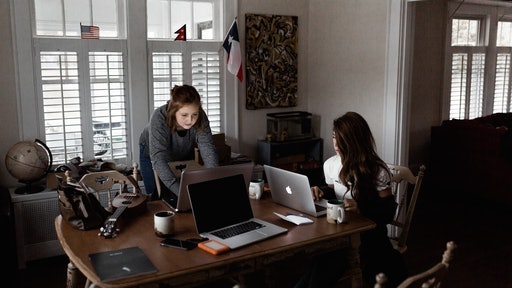 Pexels
In March 2020, remote work was considered a temporary measure to help stop the spread of the Coronavirus disease (COVID-19) pandemic. Twelve months later, it looks like working off-site is here to stay. Some companies are continuing remote work policies as a measure to protect their employees.
With the pandemic still raging across the globe, the question many organizations are asking is, are supply chain teams prepared to continue working off-site? The answer is, that depends on what software and processes they decide to use.
For months, teams adapted as best they could to what they initially hoped was a temporary situation. The strategic approach was to defer large investments in new solutions while the depth and breadth of pandemic-related issues were sorted out.
After about a year of trial and error, organizations have a better handle on which things worked and which did not to maintain smooth-running supply chains. As we head into 2021, here are a few recommendations based on those experiences.
Consider adopting cloud software
While some people are still skeptical about cloud software security, it includes significant measures to ensure that data is always protected. Supply chain companies can leverage multiple benefits through the use of cloud applications. One benefit is the ability to connect people in remote workplaces, handy for many reasons, i.e. the nature of the work, but of particular value during a lockdown to prevent the spread of a deadly virus.
Organizations not quite ready to move their data to the cloud may prefer to start their journey with cloud applications that do not share confidential data, for example, label software to manage label templates. Supply chain and warehouse teams can use cloud platforms to store label templates in one place and give access to third parties as needed. As a result, label data is secure, time spent emailing label templates back and forth is eliminated, and printed labels will always be accurate.
For organizations that are ready to start using cloud-based software, the implementation can often be completed quickly. Some on-premise solutions already have cloud-based versions, thereby avoiding the time and cost of software training as the interface remains, if not the same, very similar.
It is on the companies to choose which areas they would like to move to the cloud. Important questions to ask during planning include:
● Can this specific manual task be automated? And if so, how much time could we save by automating it?
● Is this data accessible to every person involved?
● Can this data be accessed from any device or location?
Choose implementation partners wisely
When choosing a cloud solution, it is also important to partner with the right implementation company. Small companies with on-site teams may prefer a partner with a representative close to the area or willing to travel. In contrast, large companies with teams in multiple locations may value a partner with demonstrable experience working across locations that can successfully implement a new solution remotely.
To illustrate the first scenario, consider a manufacturing company in Florida with one factory that supplies multiple clients. Their on-site team is small, and they are looking for warehouse management software to streamline their picking/shipping process. Their team does not have a dedicated IT person and requires a partner that can implement the solution and train on-site engineers.
With the second scenario, consider a company based in New York with warehouses in Illinois, Texas, and Georgia, and each warehouse partners with a different third-party logistics (3PL) provider. This company wants to implement labeling software to manage and centralize label templates from its headquarters in New York and make those templates accessible to each warehouse and 3PL. A partner with experience working remotely across locations can successfully implement the solution, foresee any potential issues, and address those issues before they create difficulties.
Provide remote-work solution training
Working remotely has put a renewed emphasis on technology, but do remote employees have the technology needed to connect with co-workers? Before the pandemic hit, employees could walk to a colleague's desk for a quick chat; now they rely on technology to connect. Moreover, some supply chain events have been moved online for the first quarter of 2021, and others have been postponed until the end of the year in the hope that pandemic restrictions can be safely pulled back. Organizations can be proactive by ensuring that their teams are equipped with the proper software, and that they know how to use it to participate in virtual events.
Remote work drives employees to adopt new technologies for connecting with colleagues, prospects and vendors. Providing new technology training and tools to connect can reduce frustration and ensure team cohesion. All supply chain processes are interconnected, providing employees with resources to remove remote-work communication barriers is essential.
Look for supply chain synergy
Like anything, remote work benefits do not come without a downside. Without the proper processes, tools, and training in place, remote work may decrease collaboration and promote working in silos. Using a cloud collaboration tool and making time to meet with other teams to learn about their challenges can increase synergy and productivity.
For instance, while conversing with a supply chain manager, a warehouse manager learned that one of the supply chain goals is to decrease time to market. Both teams can work together and review new processes to optimize a warehouse. They could leverage slotting software to help the supply chain team achieve their time-to-market goals while simultaneously optimizing the warehouse.
Standardize processes
Last but not least, standardize your processes. Standardized processes help to streamline operations and reduce uncertainty. With remote teams working in different locations and time zones, it is important to maintain process consistency across the supply chain.
For example, a company can save time by having an AC contingency plan - maybe a list with new vendors - for shortages shared and unified across the supply chain, or a centralized platform to review, approve and share barcode, shipping and other labels.
Conclusion
Supply chain leaders should prepare for at least another year of remote work and explore new strategies that support operational continuity. As the saying goes, expect the worst, but hope for the best.