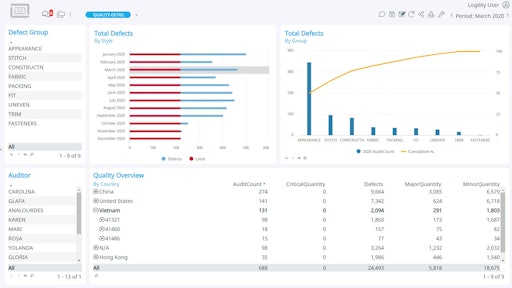 Logility
The Coronavirus disease (COVID-19) pandemic has impacted every industry throughout the world during the past year, forcing companies to quickly adapt to unparalleled challenges. This is especially true of the supply chain. That's why the software companies serving the industry have updated and adapted their offerings to keep up with those changing demands.
Software providers are utilizing advanced technology to create efficiencies within the supply chain processes of product creation, distribution, returns and more. Quality control is no less important today than it was before the pandemic, and with employees working remotely, it's been especially important to track those benchmarks and audits.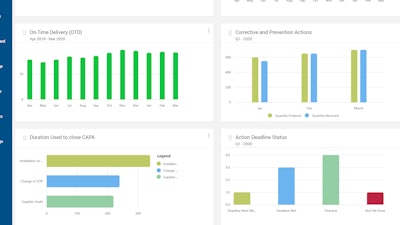 Streamlining processes
One of the successes of supply chain management in 2020 was the ability to simplify processes and quickly make operations more efficient, says Vinayak Agashe, vice president of engineering at GEP. When it comes to supply chain management during a global pandemic, GEP is no slouch. In fact, the company earned a Special Edition Partnership Award from Bayer in September 2020 for its efforts to keep Bayer's procurement operational during pandemic lockdowns.
GEP software enabled manufacturers to shorten the supplier review process during the pandemic, without jeopardizing quality. Before the pandemic, qualification of a parts supplier took three to four months on an average, Agashe says.
"In contrast, to increase production of life-saving ventilators from 400 to 4,000 a week, manufacturers completely redesigned the product and reinvented the way they sourced parts," Agashe says. "There simply wasn't the time to go through the traditional qualification process for ventilator manufacturers to meet the surging demand."
So, instead, Agashe says, manufacturers slashed their sourcing process with a combination of:
Using off-the-shelf parts and components.
Implementing a rapid quality review process for new parts and suppliers.
Establishing a single digital platform to track all parts and suppliers to accelerate the entire qualification process.
As a result, certain ventilator manufacturers shortened the qualification lifecycle from four to one month.
"We're all seeing exactly the same combination of activities used to accelerate the development, testing and distribution of the COVID-19 vaccine by the entire global supply chain, encompassing transportation, cold storage, manufacture of syringes and PPE, all the way to the digital databases being used to track people's shots," Agashe says.
Increased automation in supply chain management
Without question, expectations for the supply chain are higher than ever. Product and material shortages, along with shipping delays, increased consumer demand for better technology and faster results.
"The first essential lesson for companies from the pandemic is the importance of having one integrated cloud-based, AI-driven system for overall quality management," says Barnali Mukherjee, GEP's senior vice president of supply chain solutions, who also presented in Supply & Demand Chain Executive's SCN Summit: Future of Supply Chains Week. "It needs to support and track inspection, audit management and the ability to take corrective action."
Many companies don't yet use an integrated system for each part of the business.
"Today, most companies are emailing spreadsheets back and forth, manually entering and reviewing quality data by each part for every supplier and then trying to triangulate between different systems, enterprise resource planning, quality management, vendor management collaboration, sourcing, procurement and product lifecycle management (PLM) solutions, a process that is simply no longer tenable," Mukherjee says.
Mukherjee says she is seeing an increase in automation in the manufacturing process, which is improving supply chain quality control.
"Automate as much of the quality assurance system as possible in order to have accurate and useful data available in real time by, for instance, installing sensors on the manufacturing line," Mukherjee says. "Companies are automating the inspections of components and uploading the results directly to their integrated quality management system to eliminate manual process and accelerate and improve the quality assurance program."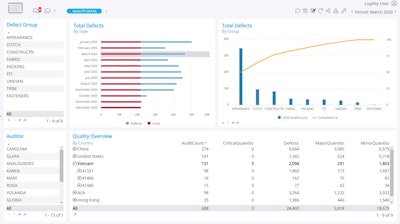 Machine learning and artificial intelligence
For Logility, which offers a digital supply chain platform that can take on more than 10 million SKUs and create a demand model algorithm for each one, quality control involves advanced technology, like machine learning and artificial intelligence (AI). Supply chain management needs to be intuitive, says Mark Burstein, chief strategy officer for Logility, by using data analysis to predict various consumer demands, freeing up time for users to plan ahead and respond quickly to unforeseen hiccups.
"When we talk about quality control, we talk about AQL, or acceptable quality level," he says. "We can provide quality audits for each product coupled with technology that utilizes the extensive knowledge we have of the industry to provide automatic audits that monitor production quality, as well as regulation monitoring for safety."
The platform also provides management of inventory, supply, sourcing, PLM and compliance, among other features.
As vendor accountability becomes increasingly important in the supply chain industry, users are demanding more data on suppliers and vendors. Logility's platform includes a vendor scorecard to help users determine which suppliers to keep and helps improve relationships with those partners, Burstein says.
Traceability
The future in supply chain quality control solutions is in traceability, Burstein adds. In December, Logility and New Generation Computing announced a traceability solution that documents the chain of custody from origin to importer of record. Not only does it provide data on the environmental impact of materials and products, but also the fair treatment of human labor.
In late 2020, U.S. Customs and Border Protection announced it would detain at U.S. ports all shipments of cotton and cotton products originating from the Xinjiang Production and Construction Corps in China and its subordinate and affiliate entities. The entity and officials are being sanctioned for their connection to serious human rights abuse against ethnic minorities in Xinjiang, which reportedly includes mass arbitrary detention and severe physical abuse, among other serious abuses targeting Uyghurs, a Turkic Muslim population indigenous to Xinjiang, and other ethnic minorities in the region, according to the U.S. Department of the Treasury.
"The apparel industry will do what it takes to eliminate the use of forced labor in the supply chain," Burstein says.
The U.S. Customs order includes any products made in whole or in part with or derived from that cotton, such as apparel, garments and textiles. The announcement means brand owners and retailers must either remove affected products before they enter the U.S. market or present evidence that proves the merchandise was not manufactured using cotton that originated from the XPCC.
Traceability ensures equitable vendors are being used, and allows users to document the origin of materials. Eventually, it will track and verify the sustainability of a product.
"That's the moon shot," Burstein says.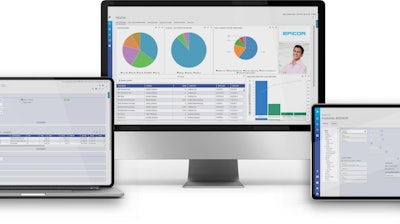 Flexibility in quality control
Epicor Software Corp. provides industry-specific enterprise software to the manufacturing, distribution, retail and service industries. The Epicor QMS, powered by ETQ Reliance, is a cloud-based QMS that adds additional functionality to traditional ERPs and enables customers to better track compliance and quality issues.
"Epicor offers a complete end-to-end ERP solution that includes a strong core quality assurance module," says Christine Hansen, principal manager, product marketing at Epicor. "For many businesses, this manages their core quality needs for non-conformance corrective action, online inspection, training, preventative maintenance and engineering change that's all encompassing within the ERP. For some of our customers, they have more complex regulatory and quality needs, so we also offer Epicor QMS powered by ETQ Reliance."
Each industry tends to use its own unique workflow when it comes to production, distribution and quality control, she says.
"A simple process might be a first article inspection, for example, or a process inspection, or maybe it's receiving a return material authorization, an RMA, and the checks and the workflow that you would need to send to validate that," Hansen says.
More complex workflows require additional functionality.
"In a manufacturing process, when you're building something, you will have quality checks that happen during the process," she says. "We have some of that as an embedded component to the product, but depending on the level of quality needed, some of our customers will choose to use the QMS for that. For many businesses they're looking to scale their business needs as they change and automate quality processes along the way."
Improving remote functionality
During the COVID-19 pandemic, there has been an increase in the number of employees working from home in all industries. But, they still need to perform audits of processes and suppliers, so there is a higher need for remote functionality.
"What we've seen overall is how being a digitally-transformed enterprise from the front office to the production floor is more important than it ever has been," Hansen says. "Being disconnected, yet connected, requires technology and deploying the right technology that can scale to the business needs and help to evolve when the need is critical to business success. They're wanting that digital thread, if you will, through the business that stakeholders can leverage for greater decision-making."
Epicor released updates to its ERP to help manufacturers adapt to the changing workplace by providing higher-security access to data and order creation remotely.
"Businesses aren't traveling to the supplier or traveling to perhaps another plant as much to do audits and those types of things," Hansen says. "Even individuals within the plant are collaborating differently and using technology to support that. From an audit management perspective, they might be more selective in terms of audits and as a result, perhaps delaying some things until they can be on site when needed."
Moving to the cloud
In some cases, businesses are offering a supplier portal so suppliers can perform self audits. These new expectations are upping the reliance on cloud-based systems.
"We're seeing more drivers to the cloud than ever before and having a cloud-based, adaptive QMS solution really does deliver what businesses are looking for in the long term," she says. "We're seeing also a lot of validation of our supply chain in particular, where businesses have new heightened metrics around supplier management and how they're managing them, not only from a business perspective, but also from a quality perspective, as well."
Customers are increasing their expectations about what technology can deliver, not only within the framework of customers and suppliers, but internally.
"They're also thinking of their internal supply chain, which might be another (manufacturing) plant. It might be another location within my business and within my organization," Hansen says. "There are technologies that some businesses are starting to leverage for multi-plant, multi-company capabilities where they can more easily transact within business units to have greater visibility across that internal supply chain. For example, if I'm purchasing something from a plant in Germany, I can actually have visibility into those inventories, I can track how long it takes to receive that [product] and I would have visibility into the quality events for that, and we'd be able to have a greater sense of visibility across the process."
Companies in this article