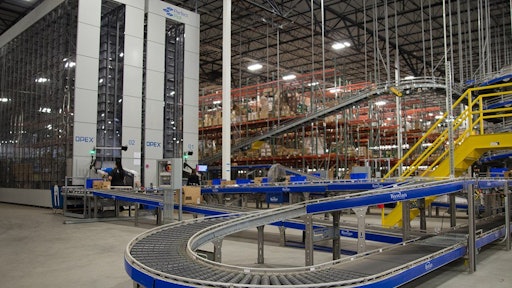 Bastian Solutions
Various goods-to-person technologies have risen to the challenge of social distancing by creating naturally spaced workstations for employees and allowing companies to continue their business momentum. In some cases, ramping up to match shifts like we've seen in e-commerce. In Q3 2020, about $1 in every $5 was spent on online sales, according to U.S. Commerce Department retail data.
As months go by, social distancing practices are becoming the norm and with the potential benefits moving beyond the Coronavirus disease (COVID-19), they may stick around for quite some time. Preliminary seasonal influenza activity remains lower than usual for this time of year, according to the Centers for Disease Control and Prevention (CDC).
The impact of illnesses on the delivery and manufacturing of products and services is heightened in 2020 with conversation about the pandemic sweeping the world. There's a notable spotlight on how companies across industries are pivoting and adjusting to keeping operations running smoothly and their employees safe.
Throughout these times, spreading out your team does not have to equate to slower operations. Undoubtedly, it's an investment to change operation processes, but different technologies available today can garner benefits that will carry you through numerous circumstances that can typically hamper your production.
Creating controlled workspaces
The CDC recommends that proper social distancing be about 6 feet (about 2-arm lengths) apart from other people not in your houseful in both indoor and outdoor environments. This preventative action, along with other measures, can help slow the spread of illnesses through airborne and surface-touch – influenza or viral gastroenteritis, for example.
In warehouses this translates to:
· Improving person-to-person spacing
· Reducing surface touch
· Ability to perform contact tracing
Typically order pickers travel up and down aisles moving product between pick locations. This can be anywhere from 40-50% of a traditional picking function. During seasonal peaks this means increased labor and movement in the distribution center.
There are many goods-to-person systems (GTP) to consider that use robotic mechanisms to navigate tracks to dense storage. They then deliver goods to workers at set stations.
This creates controlled workspaces and a naturally socially distant environment, reduces navigation throughout the distribution center and simplifies contact tracing, and as a result of the automation, promotes process efficiency.
Get ahead of business loss
Staff being out for several consecutive days can wreak havoc in distribution centers ultimately requiring various compensatory scenarios to take place – slowing production, hiring backfill positions, shifting schedules or other temporary measures.
On average, traditional picking rates are about 100 lines per hour. Currently, for COVID-19, employees are asked to quarantine for at least 14 days. The flu or other such illnesses may allow for faster recovery, but the impact is still notable. A 14-day leave can mean 11,200 lines that that person could not process. At about 1.5 lines per order, that's 7,500 orders missed and a potential of $374,000 lost at an average of $50 per order.
The good news is that various GTP technologies options can not only help support during these scenarios, but can also help you to get ahead of seasonal or general order surges.
Implementation doesn't need to be long and arduous. After design, testing and shipment, some systems can be implemented and installed in about as little as three weeks. With entry price point starting at $300,000, this is an affordable option to introduce automation. Depending on the complexity, GTP offers options that scale.
Taking care of your employees
GTP system integration can simultaneously improve employee morale with added ergonomic benefits – less walking, bending and reaching. The picking movement from the workstations is described as the "golden zone" for waist and shoulder height. In other words, reduced strain on the body. Guidance from light bars and software support can make the stations even more comfortable and ergonomic.
The managed zones not only support social distancing but also help with contact tracing objectives helping to identify illness spread quickly, target cleaning efforts and protect the rest of the warehouse from contamination.
Developing a robust system
Uncertain times call for having a robust system that can be relied upon. More important than speed-to-market distribution is a system that can be the backbone when it needs to be.