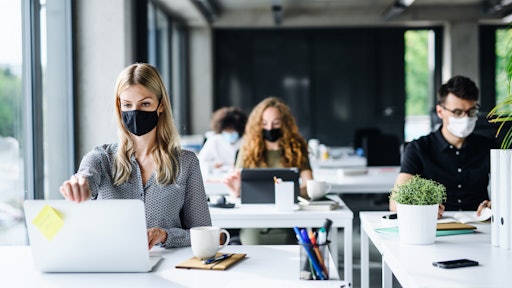 Halfpoint
TIA Announces New VP of Government Affairs, Melissa Newman
The Telecommunications Industry Association (TIA), the association representing the manufacturers and suppliers of high-tech communications networks, announced that Melissa Newman was hired to serve as the vice president of government affairs. Newman brings extensive experience in the telecommunications industry, most recently serving as the VP of external affairs and senior legal counsel at Transit Wireless. She will lead TIA's public policy strategy to support legislative and regulatory initiatives.
Myriota Appoints Steve Winnall First VP of Engineering
Myriota, provider of low-cost and low-power satellite connectivity for the Internet of Things (IoT), announced that Steve Winnall has been appointed to the newly created role of vice president of engineering. Winnall brings more than 20 years of experience in deploying the world's cutting-edge technology, with extensive experience scaling startups into world-leading enterprises. He also previously led product development for LIDAR sensor leader, Baraja, as well as Finisar (II-VI) a telecommunications company. He has worked in verticals focused across self-driving cars, telecommunications, defense and medical devices.
ChoiceWORX Appoints Joe Schechter to Its Executive Management Team
In support of its accelerated business growth, ChoiceWORX, the AI-fueled digital labor platform company for enterprise IT service and support, announced that executive business leader Joe Schechter has joined the company as president, chief operating officer (COO) and interim chief financial officer, reporting to Sam Gross, founder and chief executive officer.
From start-ups to Fortune 100 organizations, Schechter has held executive leadership roles across a broad range of vertical industries, including financial services, manufacturing, aerospace, natural resources, and information technology, in the United States, Europe, Australia, and Asia.
Katharine Weymouth, Deborah Bial Join Xometry's Board of Directors
Xometry, the largest on-demand manufacturing marketplace, announced today that Katharine Weymouth and Deborah Bial will join Xometry's board of directors as independent directors. As veterans of digital media, B2B marketplaces and education, Weymouth and Bial bring strong expertise and insights to help propel Xometry's growth. Xometry recently announced a $75 million equity round led by T. Rowe Price Funds. Since its 2013 inception Xometry has raised $193MM.
Weymouth is COO of DineXpert, a marketplace connecting independent restaurants with high quality local suppliers. She previously held numerous leadership positions at The Washington Post, including Publisher and Chief Executive Officer from 2008 through 2014. Bial's extensive experience in facilitating dialogue related to the issues of access, equity and diversity has gained her national recognition in the higher education community in the United States. She is president and founder of the Posse Foundation, a youth leadership development and college success organization that sends teams ("posses") of students from diverse backgrounds to selective colleges and universities.
Christophe Bodin Joins Tradeshift as Chief Revenue Officer
Tradeshift announces that Christophe Bodin has joined the company as CRO. Bodin will oversee all customer-facing segments across Tradeshift's enterprise SaaS business. He will be responsible for scaling revenue across these business lines and refining go-to-market strategy as the company enters its next phase of growth and expansion.
An expert in end to end customer experience with over 25 years of success across the software industry, Bodin joins Tradeshift from cloud-based planning software company Anaplan, where he was Chief Customer Officer. He played a pivotal role in helping Anaplan scale revenues during and following the company's highly successful IPO in 2018, leading the company's global professional services, customer care, customer success operations teams, and the Anaplan Academy.
Vecna Robotics Appoints Automation Industry Veteran Jeff Huerta SVP of Sales
Vecna Robotics, the autonomous mobile robot and workflow orchestration company, announced the appointment of Jeff Huerta to senior vice president of sales. Huerta's responsibilities will focus on scaling Vecna Robotics' sales operations to meet the explosive demand for its world-class robotics platforms and orchestration software.
Huerta brings more than 15 years of automation leadership experience to Vecna Robotics, with a strong track record of building world-class sales operations. Prior to joining Vecna Robotics, Huerta was vice president of north america sales at Balyo, where he led the go-to-market strategy for the company's self-guided trucks. Previously, Jeff held sales and marketing positions with SICK, where he managed and developed the OEM packaging sales team for the North American market.
Rebirth Analytics Adds Five Risk Management, Supply Chain Veterans to Advisory Team
Rebirth Analytics, a predictive, proprietary, risk-finding technology driven by the power of AI, announced the addition of five industry leaders to its advisory board. With expertise in risk management, supply chain, finance and sourcing, Rebirth's advisory team represents leaders from well-known companies including Stacey Kobayashi, former director of international transportation & supply chain, at Nike, Starbucks, Ace Hardware, Quiznos, and Titleist, Tim Leung, director of computational finance & risk management at University of Washington, Tony Catalfano, former CEO at Worldpay, Inc., Pablo Ramirez, former director of procurement & ethical sourcing manager at Chipotle, Winrock International and Starbucks and Joseph Williams, Seattle director for the Pacific Northwest National Laboratory (PNNL).
Altumai Adds Insurance Industry Veteran, Peter H. Foley to Leadership Team
AltumAI, a leading worker health and safety software and analytics firm appointed insurance industry veteran Peter. H. Foley to group insurance officer. Based in New York City, Foley has joined the altumAI executive leadership team to build out the altumAI futureWork solution, that combines its leading-edge worker health and safety technology for risk avoidance for a new workers' comp user experience and insurance outcome. Foley brings over thirty-five years of financial services experience with a major focus on the P&C, Specialty A&H, Reinsurance and Alternative Risk sectors, including 11 years working in London, with the responsibility for North America, Europe, Middle East and Far East.
Avetta Adds Key Executives to Deliver on Next Generation Supply Chain Risk Platform
Avetta, a provider of supply chain risk management, announced three new executives have joined the Avetta leadership team. Taylor Allis joins as chief product officer, Christopher Lewis has been promoted to chief technology officer and Jitesh Chanchani has joined as senior vice president of partnerships. The additions help Avetta continue to accelerate its Supply Chain Risk Management vision with technology, products and solutions for clients and suppliers worldwide. In his role as chief product officer, Taylor Allis strengthens Avetta through strategic innovation, feature enhancement and global expansion. His unique experience combined with an innate vision drives safety, sustainability and efficiency across global supply chains. Prior to joining Avetta, Allis led the product strategy and vision at Enablon, a Wolters Kluwer business, and a leader in Operational and Sustainability Software
Form.com Names Nancy Milhous CFO
Form.com, provider of mobile inspection, audit, and survey technology, announced that Nancy Milhous joined the company as the chief financial officer. Milhous brings Form.com deep financial expertise and a track record of helping growing software companies expand globally. As CFO, she will play a critical role in shaping the company's growth strategy.
Companies in this article