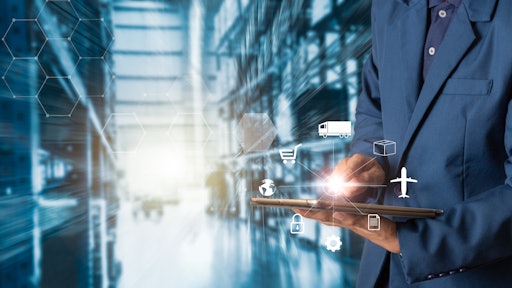 Without efficient supply chains, the industrial world would slow to a crawl, or perhaps even halt in some cases. The Coronavirus disease (COVID-19) shows how the ever-changing impacts of how important both supply chain efficiency and redundancy is. The supply chain is clearly critical to an ever-expanding global economy, and all manufacturing and materials organizations within it. The World Economic Forum highlights this potential impact, documenting that if every country could remove friction in communications infrastructure and border administration and transport, the global GDP would increase by nearly 5% and global exports by nearly 15%. For context, eliminating import tariffs would grow the global GDP by only 0.7%.
Automation is imperative, so why isn't it happening?
Most executives now understand their supply chain's strategic role and the likelihood of driving innovation within their supply chain through digitization. However, a McKinsey & Company survey indicates only a 43% level of digitization within organizations, and a mere 2% of companies are focusing on supply chain in their future digital strategies. Another survey from Gravity Supply Chain reveals 85% of U.S. retailers have not completed supply chain digitization, while a majority believe it is critical to omnichannel experiences.
A Deloitte survey reveals that 51% of respondents in the manufacturing sector actually think their supply chain's digital development is above average compared to their competition. And, yet only 28% of these respondents have begun to digitize their supply chain operations.
The Deloitte study indicates transparency is the critical operational objective for manufacturers as a marker of efficiency. Still, only 6% are engaged in an ecosystem that provides enough transparency for its members to access each other's data during business transactions.
These disconnects have the potential for devastating consequences to organizations that remain in digitization stasis, with a high possibility of business disruption as the price.
So, why aren't organizations taking digitization seriously?
Substantial obstacles to change
Internal research from Avetta points out three consistent and critical challenges for procurement leaders when considering digitization—budget, lack of organizational urgency and new technology implementation with legacy systems.
This study, by Janet Hartley and William Sawaya of the Kelley School of Business at Indiana University, reiterates our internal research and provides insight into how these lagging organizations can more rapidly progress in their digitization efforts.
The authors interviewed a broad range of supply chain professionals, and their study results provide a clear vision into the past to broadscale integration of emerging technologies for supply chain management, concluding with these top steps to take:
1. Identify a supply chain technology visionary who understands these new technologies and can be the connection between supply chain and IT to lead the company on the rapidly changing digital landscape.
2. Actively develop a clear roadmap for future digital technology either internally or with the assistance of outside resources.
3. Update existing/foundational information systems such as ERP and e-procurement, which will continue to serve as key sources of essential supply chain data.
4. Documenet, track and confirm compliance requirements through those systems for both suppliers and employees.
Specifically related to risk management, adopting consistent contractor hiring policies and procedures during the digitization process is crucial. Policies should be simple and clear, and everyone should understand that adherence to the policies and procedures is required.
As new technology is adopted, be sure to clearly define all participants' roles and responsibilities, while ensuring they are clear on the business objectives for each new technology component. Finally, companies should institute a top-down culture within the processes of procurement, health, safety and environmental risks. Communicate the policies in detail to contractors to make certain they are aware of expectations.
The benefits derived through the implementation of transformative technologies for supply chain management include reducing the linear nature of current methodologies and creating a more interconnected supply chain.
The evolution of the supply chain will be driven by new technologies that will make the supply chain an even more important strategic function and drive greater global growth. A change that enhances data-driven decision-making for organizations and creates a basis for flexibility. Supply chain digitization will help organizations become more profitable in their sectors, as well as increasing contributions to the global economy.