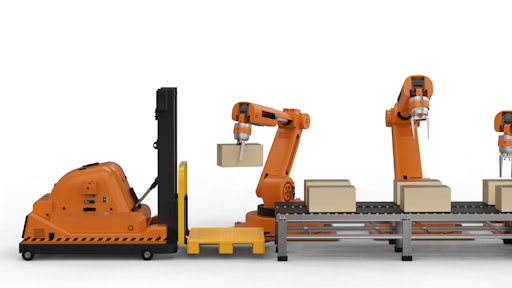 Getty Images
It's no secret that robots have been entering warehouses left and right, helping workers pick orders faster than ever before. Now, the technology is gracing the aisles of traditional brick-and-mortar stores, potentially threatening the human workforce.
Walmart and Target are taking drastically different approaches to adding robots in stores. According to CNN, Walmart plans to add self-driving robots that scrub floors to 1,860 stores by February. Meanwhile, it will also add robots that scan shelf inventory at 350 stores and bots at 1,700 stores that automatically scan boxes as they come off trucks and sort them by department onto conveyor belts. Both tasks that the robots will take over are typically done by humans. With the addition of the automation, it will alleviate the amount of time workers spend on repeatable and manual tasks in stores, allowing them more time to sell merchandise and other customer service roles.
However, Target isn't planning on adding robots anytime soon, insisting that the human touch is still important to its operations.
"You won't see robots in Target stores anytime soon," Target CEO Brian Cornell said in a statement. "We really think, even in today's environment, where people are talking about AI and robotics and different elements of technology, the human touch still really matters."
Target announced it would spend an extra $50 million in payroll hours during the holidays.
Is Retail at Risk?
Upwards of 7.5 million existing retail jobs are at risk of being replaced over the next 10 years by some form of automation, according to a study by Cornerstone Capital Group. However, a report by Symphony RetailAI found that only 16% of retailers have currently deployed an artificial intelligence engine to support operations.
"As retail becomes more intelligent and consumer preferences become more fluid, the study's findings make it clear that now is the time to invest in AI to improve merchandise management outcomes," Kevin Sterneckert, CMO, Symphony RetailAI says. "Whether testing AI for isolated functions such as demand forecasting or personalization, or deploying across the enterprise, early adopters will be uniquely positioned to create a differentiated value and sustainably grow revenues and margins."
Meanwhile, 59% of retailers surveyed believe AI will help with sell-through inventory and 56% expect it to improve margins. In addition, retailers are most excited about AI's support in reducing out of stocks (56%) and over stocks (34%), creating real-time inventory visibility (41%) and improving inventory accuracy (34%).
Still, 85% of Americans support measures to restrict robots, according to a 2017 Pew Research Survey. The stance has grabbed the attention of Andrew Yang, Democratic candidate for President, making it a pillar of his campaign to protect workers from automation.
Regardless of public opinion, technology has several advantages during the peak shopping season, reducing challenges that are prevalent during the busy time frame.
"Automation can help smooth variability across seasons by supplementing the work logistics companies are doing. By employing a bot side-by-side with employees, they can leave the high-volume, repetitive work that the holiday season demands for bots, while reserving the problem-solving and relationship management that accompanies it for humans," Sophie Thompson, director of solutions delivery at Catalytic says. "Automation also allows logistics companies to staff only for what they need year-round by filling in the gaps in the busy season. Automation can also work around the clock, better keeping up with increased demand during the holidays."
It is clear that automation is changing the way that retail works as it begins to align with the growth in e-commerce.
Repetitive work is predicted to be among those that are more vulnerable to automation, though, jobs are being created through the industry's growth and adoption of technology. Programmers and robot mechanics are now on staff, though those positions require more education or skills.
However, the people that will be replaced will still have a place to go as companies transition them to more customer-oriented roles.
CNN reports that Walmart will use some of the hours it saves from robots to assign workers to roles such as selecting customers' grocery pickup and delivery orders. In the last three years, the company has created 50,000 of these new positions.
"We're looking at our jobs through the lens of technology and asking ourselves which human tasks add value — and which should be automated," CEO Doug McMillon said in a statement last year. "The workplace is going to look different in a few years — not just in retail, but across the economy."
Supply Chains Will Benefit from Automation
Supply chains will benefit from using automation either in stores or warehouses - especially during the holiday seasons.
Automation will help logistics companies keep up with the demand in a faster manner this season, which is projected to be the biggest one yet. By improving and standardizing the customer experience, automation can improve customer satisfaction. Meanwhile, AI could also be a solution that helps supply chain professionals determine data overload and improve outcomes.
"The quick turnaround time required to create and schedule loads and the unpredictability day-to-day mean this area of the supply chain is primed for automation," Thompson says.
Ultimately, automation will takeover the retail landscape - whether it be for the better or for the worst. The technology will free up employees from completing repetitive, time-sensitive work, allowing them to focus more on the human customer experience.
The technology will only succeed if customers are on board as well. Getting customers acquainted with a standard process will only simplify the implementation of automation and increase its benefit for anyone that is involved.