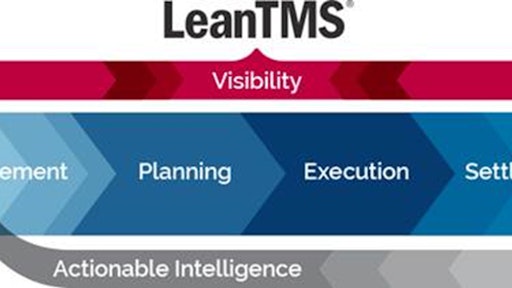 LeanTMS® is an easy-to-use transportation management system (TMS) with robust functionality. As a true software-as-a-service (SaaS) model, users benefit from faster innovation, scalable solutions and a world-class data center called the LeanLogistics Transportation Network. With one platform and a single workflow for transportation planning, execution, settlement and procurement, LeanTMS delivers increased efficiency and reduced spend.
LeanTMS is a single-instance, multi-tenant solution, which means there is one piece of technology privately accessible to all clients. The benefits of a true SaaS model include continuous improvements through software upgrades, lower startup costs and quicker implementation. Plus, the LeanLogistics Transportation Network is a byproduct of the true SaaS environment. It is filled with 16 years of data that can deliver actionable intelligence—a process to make better business decision to give companies a competitive edge.
The software is highly configurable to each company's individual transportation needs. LeanTMS offers an end-to-end holistic approach to transportation management in one workflow. This also allows for greater visibility across an entire transportation network. On average, companies save between 5 and 10 percent of their freight spend in the first year.
With LeanTMS, companies can achieve:
Visibility across the entire transportation network.
A return on investment within six to nine months.
Real-time data through one single SaaS solution.
Continuous improvements and cost savings.
Management of all aspects for the transportation process.
Centralized control to manage transportation.
The ability to scale infrastructure and quickly adapt technology to changing business needs.
Collaboration Creates Change
The LeanLogistics Transportation Network is a professional social network on steroids. It allows users to connect with peers, aggregate data and execute transactions. This neutral network is one of a kind with 16 years of transportation data. Thanks to a true SaaS model, everyone connected to LeanTMS can experience the decision-making power of the transportation network. The immediate benefits are business process efficiencies and lower operational costs. The long-term and sustainable value is a permanent change in your supply chain operations through internal process improvements.
Watch Your Network Grow
While every organization has specific requirements, implementation of LeanTMS begins by networking your transportation offices, warehouses, distribution centers (DCs) and carriers. Additional facilities or departments are added on as needed. Central command is established through LeanTMS. You are now in control of your transportation network.
The information in the transportation network can provide you with actionable intelligence to refine internal processes, which leads to better business decisions that impact the bottom line. As your transportation data aggregates through this neutral network, it becomes more meaningful to your team with increased collaboration and problem-solving. Load density begins to inch up, inbound becomes manageable, empty miles notch down and the number of appointments filled surges. Key performance indicators are developed for in-house and contract carriers, third-party logistics providers (3PLs) and other service providers.
As needed improvements come into focus, you can use the network to connect to other member carriers and service providers, gaining access to capacity or better rates in your key lanes. Complex activities become more systematic and problems are solved faster through collaborative teams in the network. Your users have a faster route to meaningful data and an easier way to communicate with others.
The LeanLogistics Transportation Network allows users to find people who have the right knowledge to further collaborate and engage with each other. Individual productivity rises by cutting down the time it takes to complete key tasks. When users can find the right people and get the right information, they can truly grow and become more productive.
With a community of leading companies in food and beverage, manufacturing, retail, 3PL, and other industries enabled by SaaS technology and a neutral network, LeanLogistics is the backbone for supply chain collaboration. The network provides LeanLogistics customers with complete visibility to real-time industry data to save time, money, resources and assets across the entire transportation process.
All this from a TMS? Yes, LeanTMS.
For more information: