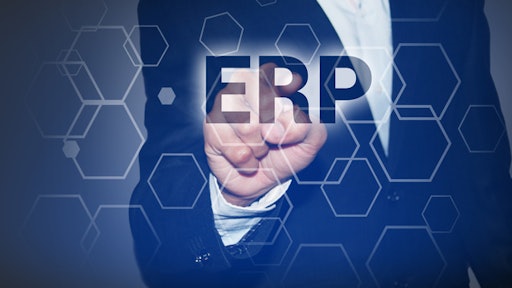 One of the most difficult decisions supply chain organizations face is investing in enterprise resource planning (ERP) software, be it the company's initial foray into this area or the need to replace an existing system. With a plethora of systems available, and the capabilities unleashed by cloud ERP and software-as-a-service (SaaS) ERP, which place ERP software applications on a provider's servers, the decision of what system to invest in becomes extremely complicated.
The emergence of SaaS ERP in recent years has been called an "embarrassment of riches" by some, due to the expansive functionalities it bestows. At the same time, the volume of choices now available to supply chain organizations makes it difficult to determine the best ERP solution. Given the rapid pace of change that most organizations face in their own business environments, choosing the right ERP can be the most important decision they ever face.
The needs of the organization are not the only consideration when assessing ERP needs. Budget and staff capabilities also come into play. In addition to the cost of a new system, the evaluation and selection process itself will tax an organization's time and resources.
Evaluating ERP needs requires a committed leadership that understands the organization's long-term goals. Organizations often focus on immediate needs only to eventually consider a new solution in the face of changing market conditions, new regulations and geographic or product expansions. To prevent this, they need scalable solutions that support future growth and new technology.
The Hershey Company, a global confectionery and snacks manufacturer, fully understands the value of making the right ERP choice. This company has witnessed consistent market share growth thanks to its ability to derive insights from data, according to John Bilbrey, chairman, president and CEO. The company recently signed on to implement SAP's S/4HANA ERP platform to help its employees move from being reporters of data to using data for active decision support in real time.
When asked what area of the business gained the most from his enterprise connectivity vision, Bilbrey's answer was the supply chain. Improved visibility allowed the company to avoid 20 million pounds of otherwise wasted corrugated cardboard in shipping and merchandising. And, they are looking forward to even more end-to-end visibility into the supply chain as the ERP initiative progresses.
Key ERP Trends
One trend is that of two-tier ERP, defined as the practice of running two ERP systems at once--one larger system at the corporate level, and one smaller system at the plant, division or subsidiary level. Two-tier ERP systems make sense when an organization has an existing ERP system but operates satellite operations that require unique functionality for local markets. The larger system can create difficulty in operations and not address local variances, such as regulatory issues. In such a case, the satellite office adopts a smaller version cloud ERP. The two-tier solution has proven popular for organizations that acquire other operations that have their own ERP systems.
"In a two-tier deployment scenario, an organization running a legacy on-premises ERP system for their administrative work may not give them the pace and flexibility required for their operational units such as plant operations, sales and service and subsidiaries," says Umran Hasan, senior marketing manager for Microsoft. "In such cases, they can deploy a cloud solution like Microsoft Dynamics AX and integrate it with their on-premises administrative ERP system."
Kevin Beasley, chief information officer at ERP provider VAI says the two-tier option often makes sense when an acquisition occurs. Integrating the two companies' data can take years.
In 2013, Shaw Industries Group Inc., a carpet manufacturing company with more than $4 billion in annual revenue, deployed a NetSuite cloud ERP to run a manufacturing plant in China and 10 international subsidiaries. One factor was the need for a rapid installation. "It [the cloud ERP] enabled them to get up and running more quickly and more agilely," says Ranga Bodla, wholesale distribution industry lead at NetSuite.
"Shaw Industries has an Oracle on-premise ERP at its main headquarters in the United States," says Bodla. He says it did not make sense to move the main ERP to China. The China-based operation also required dual language capability.
Customization Challenges Users
A second trend has been to limit the amount of customization a customer has to make to an ERP system. Customization adds cost and the need for additional support. The more customization, the greater the chance for disintegration within the organization.
ERP providers address this issue through upgrades, partnering with other providers, and by acquiring ERP providers that bring functionalities for specific types of customers.
Despite all of the flexibility that cloud ERP provides, the need for customization continues in the face of a data explosion caused by business expansions, partnerships, mergers and acquisitions, government regulations, scientific and technology breakthroughs, and an expanding omnichannel.
"The entire game in our market is to deliver solutions that support most of customers' business processes out of the box, which reduces the demand on in-house information technology staff for customization, integrations and overall software maintenance cost," says Jean Huy, Sage's vice president of global product marketing. ERP providers are meeting this need by specializing, he says, to support industry-specific best practices as part of the core ERP workflow.
Huy notes that Sage X3, his company's solution for the midsize enterprise, focuses on process industries, hard goods manufacturing and wholesale trade. "We support best practices for managing manufacturing and distribution supply chains out of the box, but add-on software may be required to meet requirements in the construction industries, transportation or some service industries for example," he says.
He says there are "services partners" that help customers complement their solution with add-on software that can be more effective than developing company-specific ERP customizations. Such services have customized on-premise ERP systems for years. "They're now moving to the cloud and providing those services in the cloud," Huy says. Companies such as Kern Inc. configure workflow systems in the cloud so customers don't have to invest in software for applications specific to their own company. Kern cloud application services provides a subscription service that manages tasks that are not supported by ERP software.
One customer has 19 department-level applications that complement an Oracle ERP, says Chris Collier, vice president and director of Kern Inc. Collier says ERP software does not dive into the "nitty gritty department level applications" that many customers need. One such application is auditing service requests automatically. Kern configures document management workflow systems. These systems can directly integrate with the supply chain. The documents get routed directly to the appropriate department in the company based on a document workflow criteria.
Kern provides a service that the ERP provider would charge a lot more for as a customization, Collier says. "They can get it done quicker [with Kern] at much less cost," he says.
Industry-specific ERPs
Industry-specific ERPs have also emerged as a way to reduce customization. These vertical ERPs are most prevalent in industries with regulatory requirements such as food. In manufacturing, verticals are prevalent where the level of difference between SIC codes is extensive, such as pharmaceuticals.
Craig Downing, senior director of cloud marketing at Epicor Software Corporation, notes there are a lot of ERP add-ons in some markets to address managing regulatory requirements.
Real-time Visibility Addresses Change
Because of the fast pace of change in today's business world, customers want ERP deployments faster. This challenges the ERP provider because the customer has to be trained to use the new system and to gain its full value.
UFP Technologies Inc., (UFP) a producer of custom-engineered components, products and specialty packaging, changed ERPs four years ago to manage planning and manufacturing functions, says Keith Cote, plant manager and director of IT. The company uses Epicor ERP for quoting and estimating, order management, procurement, planning and front-end business functions.
In selecting a new ERP, UFP worked with a consultant who gathered specific requirements. They narrowed 12 candidates down to two, then gave the two candidates sample scenarios to address. The smoothness of the integration was a key consideration in UFP's ultimate selection decision.
There were multiple plants to share information, view inventory and other information across the enterprise, and this information had to be consolidated at the corporate level, Cote says. UFP has to manage repeat business and new business simultaneously. "Epicor managed that process pretty well,," he says.
UFP used an on-premise version of Epicor ERP, although it is available on the cloud. The on-premise offering was the dominant offering at the time.
Wholesale Distributors Embrace ERP
While ERP began in the manufacturing sector, another trend is for wholesale distribution companies to embrace it."Many distributors are afraid of Amazon," observes Karen Lynch, vice president of global wholesale distribution at SAP North America. Customers who use Amazon for personal needs are looking to use it for business. One of the problems facing wholesale distribution companies is they are steeped in traditional business methods based on personal relationships, methods that are falling by the wayside.
Wholesale distributors have much to gain from digital transformation, Lynch says. It makes it easy to deploy online product catalogs. It can enable a rich online ordering experience, and on-demand employee training, something that younger employees relish. It enables wholesale distributors to re-imagine their business models to become value-added distributors and "infinite inventory" distributors.
One of the biggest challenges customers face is learning about all the new ERP capabilities, says VAI's Beasley. "ERP has evolved quite a bit over the past many years," he says. Customers are tasked with breaking old habits to utilize new features than can help them.