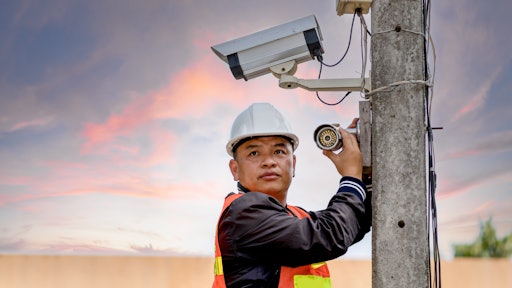 Teerapong23/adobe.stock.com
Betacom and its partners Axis Communications and Evolon Technology have revealed a new AI-powered perimeter surveillance solution, Betacom PSS. This solution delivers 24/7/365 days a year physical threat detection for airports, warehouses and manufacturing facilities.
"Axis is a partner-oriented, open-platform technology provider," said Anthony Incorvati the Transportation Practice Leader of Americas Region. "Bringing market leading providers together is what we are all about. We are excited to grow the relationship with Betacom and to leverage the long-standing relationship with application partners like Evolon."
From Betacom:
Betacom

PSS extends a customer's surveillance systems in areas where traditional solutions are cost-prohibitive to install and operate. Leveraging a private wireless network and deployment costs are up to 70 percent less than wired solutions where fiber and power installation run $2 to $3 million per mile.
The solution also offers unlimited data usage for video transmission at no additional cost, which can eliminate millions of dollars in data fees.
Additional operational savings come from the solution's AI-driven capabilities, which distinguish between types of threats so that on-site security teams are only dispatched when real threats are identified. The

Betacom

PSS solution can be integrated into existing surveillance and central control systems.

Betacom's

end-to-end solution can be installed quickly and unobtrusively. Wireless implementations eliminate much of the permitting and all of the personnel, machinery, trenching, and conduit placement associated with underground cable deployment. This also diminishes the impact on the environment, which can help customers achieve their sustainability goals.

Betacom

partnered with industry leaders Axis and Evolon to create the PSS solution that

Betacom

deploys and operates. Axis fixed thermal and pan/tilt/zoom (PTZ) cameras are deployed together to provide high performance optical image contrast to maximize accuracy in threat detection.
The Axis open platform with its ability to have in-camera applications like Evolon reside on the edge helps to provide an optimal system by reducing bandwidth, latency and infrastructure costs. The option to power Axis cameras using solar power or uninterrupted power supplies (UPS) increases deployment flexibility and eliminates the need for on-grid power.
With Evolon AI technology integrated into the Axis cameras,

Betacom

PSS provides object classification, which is more powerful than motion or object detection. By leveraging AI and Deep Learning to recognize a person or vehicle as a threat, based on predetermined criteria and threshold levels, object classification greatly reduces false alerts. Evolon eliminates up to 98% of false alarms through detection, analytics, and AI learning.