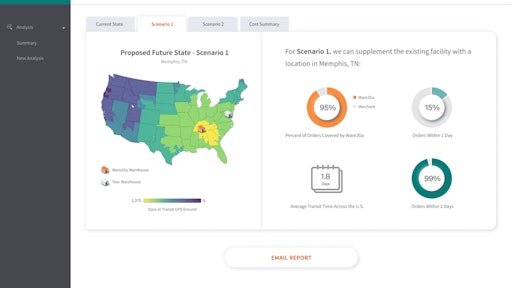 Ware2Go
UPS's Ware2Go launches new platform NetworkVu that innovates warehouse placement decisions through analytics and data for BigCommerce and Shopify users. The application taps into sales and transit data and then suggests ideal warehouse placements to optimize delivery speeds within ground networks and controls costs, using machine learning. The machine learning can access data directly through native integration in merchant's e-commerce carts or they can upload historical data themselves.
Per Ware2Go:
E-commerce merchants recognize the need to get goods to consumers quickly, making strategically placed warehouses and fast shipping a requirement in today's competitive market. The challenge for many fast-growing and mid-sized merchants has been developing the business case to support a distributed warehouse model without significantly increasing cost to serve.
Millions of orders can be processed within minutes to build a full analysis that illustrates through heat maps, charts and cost analyses the current delivery times and cost per shipment compared side-by-side with two alternate scenarios that show ideal warehouse placement, improved delivery speeds, potential cost savings, and top-line revenue impacts.
"We set out to create a new way for merchants to engage with their data and make decisions that impact growth," said Patrick Cadic, CRO at Ware2Go. "While merchants are equipped with insights and data on the sales side, they rarely have the opportunity to see how fulfillment affects their bottom line or could be leveraged to generate demand. With NetworkVu, we're showing merchants how to approach their supply chain just as strategically as they approach sales."