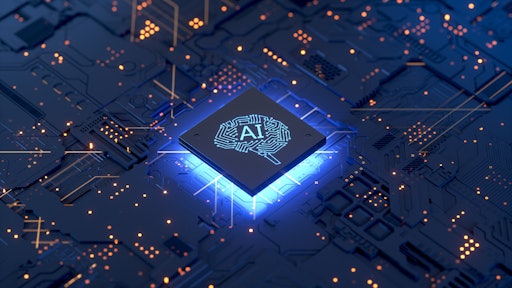 Shuo AdobeStock_265254915
Digital transformation for global supply chains has been a buzzword for more than 10 years at this point. However, despite a non-stop barrage of marketing, a majority of firms are still puzzling out how to accomplish this vague, poorly defined goal. Everyone knows they need to make this transition - the pandemic and its disastrous impact gave our industry all the incentive it needs to move to a digital model. The risks posed by legacy supply chains is considered a "Top 5" risk to UK CEOs, according to KPMG. That same study said that six in 10 CEOs felt their supply chains had come under increased stress. That same number of CEOs realized they needed to improve their supply chain resilience to avoid more disruptions for the next three years.
Still, implementing digitization for global supply chains is easier said than done. Core to this transition is the deployment of multiple integrated artificial intelligence (AI), machine learning, and automation technologies that give companies the granular visibility, increased agility, and enhanced productivity required to become truly digital.
Where to start with automation and AI? After all, warehouse automation goes back as far as 120 years, to the first conveyors, while automated storage and retrieval systems were first deployed in the 1950s.
A good place to start is with robotic process automation (RPA). Forward-thinking companies are now looking toward RPA systems combined with AI strategies to remain competitive in an increasingly digital-first world. This convergence of technologies, known as intelligent process automation, can also incorporate other technologies including machine learning, dynamic load balancing, sentiment analysis, and other advanced applications. RPA increases operational and cost efficiency and improves cash flows. This technology automates and synchronizes operations across diverse systems.
AI and automation also provides companies with granular visibility into what's happening across the entire supply chain. A report from McKinsey tied supply chain risk directly to this lack of visibility. Specifically, the study claims that " … supply chain risk manifests at the intersection of vulnerability and exposure to unforeseen events. The first step in mitigating that risk is a clear understanding of the organization's supply chain vulnerabilities. Which suppliers, processes, or facilities present potential single points of failure in the supply chain? Which critical inputs are at risk from shortages or price volatility?" This ability for AI and RPA solutions to monitor disparate systems and aggregate this data across applications to provide administrators with actionable intelligence gives organizations the information they need to identify these points of failure, a critical element in any digital transformation.
This same visibility and transparency enables supply chain organizations to be more agile. With AI delivering real-time actionable insights, firms have the ability to quickly adjust to specific points of failure or to shift resources to better meet customer demands. Smart, AI-enabled supply chain and business solutions also allow firms to build greener methods into their products and manufacturing processes, all the way from the designer's drawing board to the customer's front door. Sustainable product design helps you control costs and reduce waste.
One of the more intriguing aspects of implementing AI and automation is the creative use of humanlike bots that appear to think and learn on their own. The recent advances in large language models (LLM) and generative AI are indicative of this trend. A primary objective of this type of AI is to provide a company's human workforce with additional knowledge, support, and insights acquired through systems integration and automation via bots. By automating the repetitive, manually-intensive, and otherwise mundane tasks, organizations can amplify the human potential of their operations workforce and utilize their individual talents where they matter the most – in the areas of the business model where professional, human interactions with end clients are crucial.
The transparency that AI brings to a supply chain's digital transformation also enables organizations to minimize risks from potentially unreliable suppliers or manufacturers. Provided these systems are implemented and policies are enforced, maintaining compliance and reducing risks to the overall business is much easier. Not only can these measures protect businesses from unethical and environmentally irresponsible partners, they can also track and document all the labor, handling, and materials components from source to destination.
Over the past four years, RPA has proven successful in automating business processes and decreasing operative costs. However, many organizations have run into critical challenges in leveraging these technologies to speed their digital transformation. Some of these issues include process selection and change management, but also more tactical issues like the gap in skills required to build robots, challenges in supporting RPA through IT infrastructure, and higher than expected bot implementation and maintenance costs.
Whilst automation continues to see significant growth in supply chain transformation, the provider side has been evolving to offer new solutions that combine the performance benefits of RPA with a more user-friendly solution that requires fewer resources from the business.
These capabilities are just the beginning for AI, advanced automation, and RPA in today's supply chains. As competition continues to intensify, particularly with today's laser focus on supply chain resilience, AI and RPA represent a clear competitive advantage that supply chain CIOs need to evaluate and they continue their digital journey.