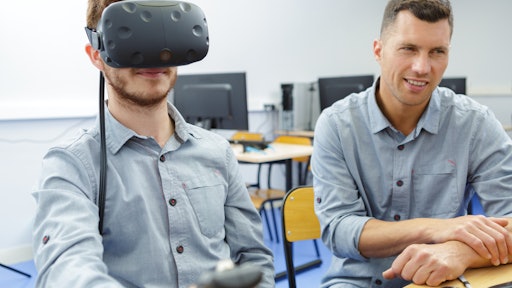 auremar AdobeStock_388838052
The logistics and warehousing industry have witnessed several challenges over the past few years, from massive labor shortages to global supply chain issues to shipping bottlenecks. Now, as retailers face heightened consumer expectations for quick shipping, the pressure is on logistics and warehousing professionals to ensure all operations and equipment continue to run properly and without any interruptions.
With these pressures in mind, logistics and warehousing professionals are frequently in search of new ways to make their functions more efficient and effective. Digitization of the supply chain has completely revolutionized the way warehousing operations are carried out. Augmented reality (AR) is one technology that is helping logistics and warehousing managers to resolve issues faster, better and more efficiently.
While the expectation is often that AR might require headsets or advanced devices, users can easily experience the vast benefits of AR with a simple smartphone or tablet. Technology has changed the way logistics and warehousing professionals are tackling issues like workforce shortages and equipment problems, while at the same time helping them deliver on their sustainability goals.
Here's some ways AR is making an impact on logistics and warehousing.
The need to upskill existing talent and attract new warehousing workers
Since the pandemic, many warehouse employees left their jobs for new opportunities or to explore other industries and other staff simply chose to retire early. This left understaffed facilities and a lack of skilled talent to complete key logistics and warehousing tasks. Because of these challenges, logistics and warehousing personnel are increasingly looking to upskill existing personnel and hire new talent to keep pace with continued consumer demand.
AR provides a cost-effective way to quickly enable knowledge transfer and upskilling of new or early career logistics and warehousing employees. With AR, new employees can access rich content and remotely connect with other logistics and warehousing personnel across sites to quickly get up to speed. These tools improve employee experience and ensure their satisfaction, along with giving them an opportunity to gain new skills necessary for success on the warehouse floor while in the flow of work. The technology also provides a point of differentiation when attracting younger generation workers who are accustomed to using digital technologies in other aspects of their lives.
Proactive maintenance of equipment
Warehouse management is a crucial job and requires great caution to maintain safety and productivity. One of the most essential elements in any logistics facility is its machinery, which helps with moving, loading, and picking goods internally from various docks and stations until they are shipped off. When a machine stops functioning, it disrupts operations and may lead to delays in order fulfillment, and can even become a safety issue for those on the warehouse floor.
AR tools can be used to help warehouse staff troubleshoot these issues through visual support provided by a remote expert, who can assist even the least-technical person to implement equipment fixes. Data gathered from these interactions over time can then be used to identify when a piece of equipment may need repair before an issue arises, so logistics and warehousing workers can take a more proactive approach to the maintenance of equipment.
Impacting ESG Initiatives
Companies are working to decrease their environmental footprint and limit safety hazards in line with growing environmental, social, and governance (ESG) requirements. By using AR to proactively troubleshoot equipment, warehousing and logistics personnel can positively impact sustainability by ensuring that assets are running properly and efficiently and therefore not wasting energy. Further, when AR is used to repair equipment remotely, this reduces unnecessary truck rolls and associated fuel consumption, making an impact on the business's overall carbon emissions. With properly running equipment, logistics and warehousing managers can better ensure employees are operating safely on the warehouse floor.
As demand for logistics and warehousing continues to grow, AR is a powerful tool to aid in running efficient, hassle-free operations. The technology allows for smarter logistics and warehousing, providing a way to quickly upskill and reskill personnel, help with proactive equipment troubleshooting and ultimately impact ESG initiatives. AR's immersive knowledge-sharing technology can make a significant impact on successful logistics and warehousing operations through live, remote training and troubleshooting guidance, resulting in huge cost savings from deflected service dispatches and faster time to resolution.