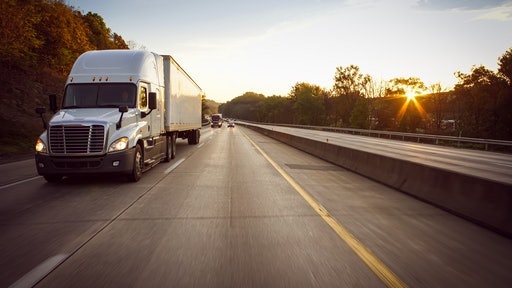 5m3photos___Adobe_Stock___On_the_Road.5f971fe4e60c1
In the past year, the global pandemic has changed much of what is considered to be the status quo. From education to transportation, all involved had to take a deep look at how things worked and how they were going to be changed due to the Coronavirus disease (COVID-19). But, now that we've had a full year of adjusting to new hurdles, it's time for industries to start thinking about long-term changes that need to be made in order to thrive in the New Normal. Now is the time for logistics to start investing in technology.
With the U.S. government recently unveiling its infrastructure bill, the priority is clear -- a plan is going to be put in place to repair the nation's ailing bridges, roads and airports. This undoubtedly will help the supply chain and logistics industry make necessary improvements, but the most significant impacts will be felt by carriers. Carriers will now have the tools necessary to be more efficient in their day-to-day work, which means that they will begin to expect the shippers they're working with to meet them at the same level. Simply put, it's more crucial than ever before for shippers to start investing in technology and software that will allow them to stay on pace with the rest of the industry by enabling a faster, more precise process for routing shipments.
The benefits of a tech-focused solution
The logistics and supply chain industry has always been focused on relationships. For too long, many industry players associated technology with the demise of those relationships, but that's not the case. Technology solutions such as cloud computing, artificial intelligence and machine learning actually allow for the furthering of relationships. With technology solutions, shippers are able to be more efficient with their communication to carriers and vice versa, all of which allows for businesses to operate better. And, the industry is starting to finally take notice of this trend. In fact, firms have invested $28 billion in logistics startups, with nearly all of these investments happening since 2015, and digital brokerage platforms are expected to grow 30 times over the next 10 years.
This focus on digital transformation across supply chain and logistics is coming at an opportune time especially as the pandemic expedited the need for technology adoption. With new infrastructure investment on the horizon, shipping leaders should look to three specific areas of tech investment to keep up with the evolving market:
● Cloud-based technologies. At the start of the pandemic, many found themselves working from home with no return to the office in sight. While some industries were able to seamlessly make this transition, logistics and supply chain leaders faced massive hurdles because processes were cemented to physical locations. But, those who made the move to cloud-based transportation management software (TMS) platforms were able to more seamlessly transition to work from home and get the job done with little to no notice from their customers and partners. Cloud-based technologies allow for flexibility that is now imperative to a successful workflow.
● Artificial intelligence and machine learning. The trend of artificial intelligence (AI) and machine learning (ML) shows massive potential for growth in the industry. Over the past year, we also realized the crucial role AI and ML played in optimizing shipment processes as people were demanding groceries and supplies at a higher rate than ever before. Efficient, optimized logistics processes were essential, and both AI and ML are allowing for this to happen at a faster pace. For example, the technology helps identify gaps in the less-than-truckload (LTL) market, so these gaps can be exploited to create full-truckload (FTL) shipments. This way, more products are transported, carriers are allowed to make their trips even more efficiently and shippers are able to capitalize on more goods than before.
● Listening to big data. We're continuing to see the power of data integrations in all kinds of industries, but supply chain and logistics have a lot to gain from prioritizing this technology. By utilizing the data captured in typical business processes, shippers have the chance to better communicate with suppliers all over the world as well as automate certain responsibilities in order to streamline processes and increase efficiency overall.
There are several other types of technology that are starting to invade the industry, but if shippers can prioritize these three areas initially, they will find themselves in a much better position to succeed in the coming years.
A tech-focused future
As economies across the world globalize, we'll continue to see demand grow for innovative players and services across the logistics and supply chain industry. Technology will be an essential part of this progress, and with further adoption of the cloud, AI, ML and more — we'll see players continue to thrive in a global world. We won't see the relationship foundation of the industry fade, but rather see it strengthened by more efficient and effective processes that will advance the industry as a whole. Those that are able to prioritize these tech integrations will find themselves successful in the years to come because of investments made now.