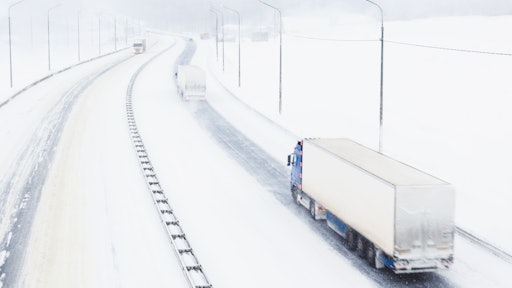 Vitaliy Kaplin AdobeStock_246902110
Hazardous weather conditions contribute to more than 1.2 million vehicular accidents yearly, many of which are not small collisions like fender-benders or sideswipes. The accidents result in more than 418,000 injuries and 5,000 fatalities each year. The primary reason for this is that severe weather reduces visibility and contaminates roads with water and ice, often leading to loss of control if precaution is not taken. Regardless of whether a driver has anticipated the weather impacts, conditions often change rapidly and throw a wrench in the best-laid plans.
While rain commonly poses problems for drivers, many other forms of severe weather can occur, from damaging winds to flooding, tornadoes, hail, ice, snow, sleet, fog, dust storms and poor visibility – not to mention deteriorating infrastructure that exacerbates the risk. Unsurprisingly, severe weather and its effects also contribute to more than 500 million hours of delays on highways each year. It's clear that unexpected weather can wreak havoc on roadways and drivers.
Getting ahead of the storm
Unfortunately, experts say severe weather could become more common as the earth warms due to climate change. While policymakers attempt to bring policies that can combat climate change, other parties are more swiftly creating solutions to help fleet owners and managers better prepare, forecast and decrease the risks that severe weather can bring their drivers.
With real-time condition monitoring and public alerting systems available, fleet managers can significantly reduce the risk of accidents and delays associated with severe weather in several ways. The solutions efficiently decrease the risk of accidents by alerting drivers in real-time when hazardous conditions exist in the area or where they are heading. Intelligent software and systems that continuously monitor and assess rapidly changing conditions and reliably transform data into actionable insights and alerts can help ensure fleet drivers arrive at their destination safely and on time.
The transformation of data into actionable insights can be accomplished in a few different ways. For example, complete systems are designed – from sensors to data loggers and software – to deliver mission-critical information that allows fleet managers of all sizes to solve every potential challenge and make the best decision possible for their drivers. Here's how some of the technologies work:
Mobile road weather sensors for vehicles
These sensors assess road weather conditions specifically for ground transportation fleets, road maintenance operations and more. A vehicle-mounted sensor can monitor road conditions in real-time from a moving vehicle. Fleet managers and drivers can use infrared technology to detect wet conditions, ice and snow without embedding any sensors in the pavement. These ruggedized sensors work in the harshest environments to elevate awareness and alert operators to dangerous road conditions, reducing accidents, protecting property and lives and keeping the supply chain moving.
Road condition monitoring. Road weather systems are placed along roadways to detect the pavement and meteorological conditions to maintain roads effectively. Sensors can accurately gauge surface temperature, air temperature, wind speed and direction, precipitation, pressure, relative humidity and dew point. It helps improve operational and maintenance response time with quality, real-time, localized road conditions. When combined with cameras to verify conditions and artificial intelligence to interrogate imagery and identify people and vehicles in harm's way, a complete solution is available to enable rapid responses.
Driver warning systems and decision support software. Advanced warnings to drivers raise awareness of potentially hazardous road surfaces and conditions. Systems are completely configurable to accommodate smaller implementations all the way to county-wide programs. All data and images are collected in one platform for complete situational awareness of storms and road conditions.
Meteorological services. A team of expert meteorologists provides customized, real-time weather consulting and tracking – 24 hours a day, seven days a week. This provides users early insight into potential risks days in advance and builds confidence in making crucial operational decisions.
Ensuring safety during weather chaos
Many emergency response officials are already utilizing this type of innovative road weather solution every day and in many ways, including:
· Automating motorist warnings and road closures using signage and control gates
· Remotely monitoring and alerting locations where drivers may be at risk
· Improving response time to verified hazardous conditions and accidents
By employing data capture and extensive sensor networks, many community leaders also leverage these tools to assess all possible storm events and conditions. Leaders can have a common operational picture of potential hazards ranging from winter and severe weather to wildfire and flood risk and publish to community websites to apprise and collaborate with the public and first responders. This elevates awareness and enables proactive measures ranging from staff mobilization to automated controls and emergency actions like evacuations and road closures.
The follow-through
There is no way to hold off severe weather, so the next best thing managers can do is implement end-to-end solutions to track fleets and road conditions and monitor and anticipate weather impacts on operational plans. Reducing risk can be done through an approach where networks, sensors and artificial intelligence seamlessly work together to inform proactive decisions, plan accordingly, keep everyone safe and limit damages.