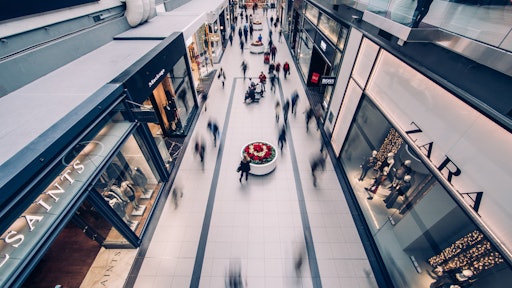 Getty Images
As more major retailers require customers to wear a mask in-store, a survey by First Insight found that the vast majority of women (80%) feel unsafe trying out beauty products, 68% feel unsafe trying on apparel in dressing rooms and 61% feel unsafe trying on shoes. This represents an uptick compared to First Insight's last study in April when 78% and 65% of women felt unsafe trying on beauty products and apparel, respectively. The study also found that, of the generations, Baby Boomers still feel the least safe returning to the shopping environment overall, while 73% of Baby Boomers surveyed said they would not feel safe trying on clothes in dressing rooms compared to 71% from the last study in April.
The study also found that in considering where to shop, a growing number of consumers feel unsafe in shopping malls, warehouse clubs and big box retailers. According to the survey, 32% of respondents feel unsafe or very unsafe when visiting shopping malls compared to 29% in the last survey. Warehouse clubs saw a similar uptick (20% vs. 18%), with small increases in big box retail (18% vs. 17%).
By comparison, consumers are feeling more safe visiting essential businesses like grocery stores than they did in April (11% vs. 13% saying they feel unsafe or very unsafe) with drug stores holding steady at only 15% feeling unsafe. Worth noting, more consumers are feeling safer visiting local small businesses with those who feel unsafe shopping there dropping to 17% from 21% at the end of April.
"Retailers need to be aware that while people are shopping and there is definitely pent-up demand, many consumers are still very much afraid to be in-store and to try products or use dressing rooms," said Greg Petro, CEO of First Insight. "We are seeing increasing Coronavirus case numbers in states across the country, and retailers are definitely solidifying their COVID-19 policies to help customers feel safer, including mandating masks be worn, limiting people in-store and conducting temperature checks. As stores continue to operate during the pandemic, it is critical that retailers communicate with their customers, understand expectations when it comes to safety, and simultaneously offer the products they need. Those that do will have the greatest chance of success in this difficult environment."
Additional findings include:
Growing majority of consumers say mask policies make them feel most safe in-store
The number of respondents who said a face mask policy makes them feel most safe shopping in-store increased since April to 84% from 79%, with temperature checks at the door also important to more consumers (71% vs. 69%). However other practices were important to fewer consumers now versus in April, including store-provided hand sanitizer (78% vs. 80%), limiting the number of people in-store (77% vs. 80%), one-way directional aisles (67% vs. 71%) and no-contact payments (68% vs. 76%).
Consumers buy apparel and footwear the most, but purchases increase across every category
The number of respondents that reported buying more apparel has increased 44% from April to 23% (up from 16%). Similarly, 50% more respondents are buying more footwear, up from 10% in April to 15% in July. Nearly 36% more people are buying more home décor, with an increase of 14% to 19%. Accessories are also seeing a 30% increase from 13% of respondents saying they are buying more compared to 10% in April. Home improvement saw the smallest increase in purchases since April, with 23% of respondents saying they are purchasing more in this category vs. 21% in April.
More consumers are delaying travel plans
A growing number of respondents plan to delay flights, road trips and cruises for more than a year compared to April 30. For instance, 24% of respondents said they would wait a year or more to take a road trip less than 100 miles compared to 16% in April (a 50% increase). Similarly, 40% said they would wait a year or more to travel on a domestic flight, compared to 30% in April (a 33% increase). The number of people waiting more than a year to travel internationally inched up also, with 51% of respondents saying they would wait at least a year to take an international flight, compared to 47% in April. Lastly, more than half of respondents (55%) said they would wait more than a year to take a cruise, slightly up from April (54%).