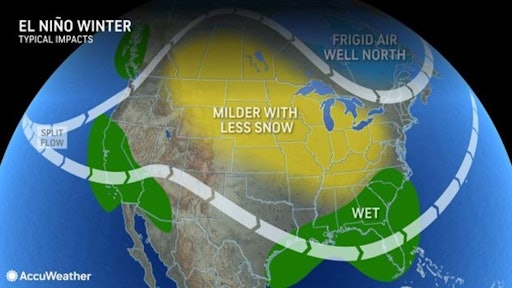 AccuWeather
The upcoming winter is shaping up to be much different than last winter, especially across the central and eastern United States, and AccuWeather forecasters say one month may leave the biggest impression.
"February can be an active and intense month," says Paul Pastelok, lead long-range meteorologist and veteran forecaster for AccuWeather.
Key takeaways:
The strengthening of El Niño will play a significant role in the weather across the United States throughout the entire winter season. The pattern is marked by warmer-than-normal waters in parts of the tropical Pacific Ocean, a counterpart to La Niña, which has ruled for the past three winters. The change in water temperatures reshapes the jet stream and, ultimately, weather patterns in various parts of the world, including North America.
While Buffalo, N.Y., may not receive as much snow as it did last winter, the millions of people who live along the Interstate 95 corridor are predicted to see more powder than they did during the 2022-2023 season.
A tumultuous weather pattern may unfold over the Southeast this winter. In addition to El Niño, water temperatures in the Gulf of Mexico continue to run above the historical average. These two factors will create the "perfect setup" for severe weather and tornadoes across the Gulf Coast during the winter.
This winter is not expected to be a repeat of last year with the seasonal snowfall totals forecast to be less than half of the totals from last year. The less frequent snowfall will be accompanied by fewer cold waves, especially during the first part of the winter.
A shift in the polar vortex could open up the gates of the Arctic to unleash frigid air across the central and midwestern U.S. late in the winter, resulting in some of the coldest conditions of the season.
The upcoming season looks like it will follow the traditional El Niño pattern with the jet stream directing storms into California, Nevada and the Four Corners. This differs from the El Niño of 2015-2016 when storms largely avoided California. Cooler waters southeast of Hawaii could cause the storm track this winter to focus on areas south of Southern California occasionally.
In New York, for example, heating degree days are predicted to be 4% below the historical average, compared to 15% below last year, which is an 11-12% increase over last year. A similar story will unfold in Boston and the rest of New England.
"In the United States, our AccuWeather long-range forecast prediction is for it to be colder this winter than it was last year, with temperatures closer to normal," adds Dr. Joel N. Myers, founder and executive chairman, AccuWeather. "We expect to see an increase in U.S. demand for heating overall compared to last year, even though many places in the North will still average below historical demand."