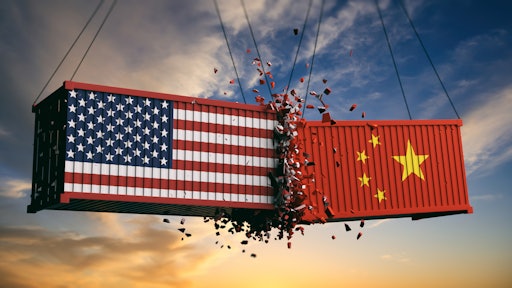 Getty Images
Donald Trump and China's President Xi Jinping have signed Phase 1 of a trade deal between the two countries.
The agreement comes two years after the United States announced that it would place steep tariffs on steel and aluminum, prompting retaliation from some of its biggest trading allies. The Trump administration then placed an additional 25% tariff on $100 billion worth of Chinese goods, calling for new limits on Chinese investment in U.S. technology in an effort to protect America's "economic seed corn."
The country immediately fought back, revealing a list of 106 imports from the U.S. that will be subject to 25 percent tariff. The tariffs severely impacted some of the U.S.' top industries, including farmers.
American taxpayers reportedly spent roughly $28 billion bailing out farmers, including payments to trade groups and purchases from food banks, CNN reports.
Under the 86-page agreement, China will buy an additional $12.5 billion in U.S. agricultural products in year one, and then $19.5 billion in year two. In exchange, the U.S. will reduce tariffs on $120 billion in Chinese products from 15% to 7.5%.
The changes will go into effect within 30 days of the signing, however, it is unclear if China will reduce tariffs imposed on the U.S.
According to CNN, the initial deal will better protect American companies that have complained of thefts to their intellectual property and trade secrets. In addition, it may remove a major barrier that required the sale of technology for access, loosening up requirements for banks.
Meanwhile, the countries will not devalue their currency for competitive advantage.
"We hope this deal will usher in a new era of trust between both countries and pave the way for Phase 2 negotiations to begin in a timely manner," said US Chamber of Commerce CEO Thomas Donohue.